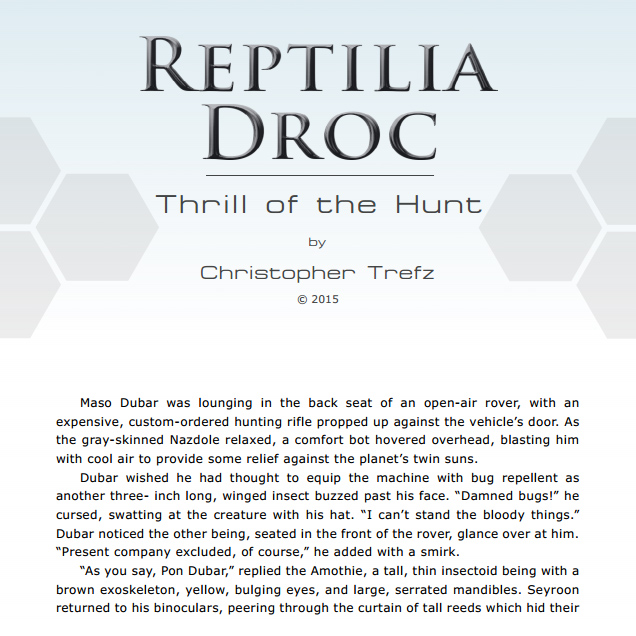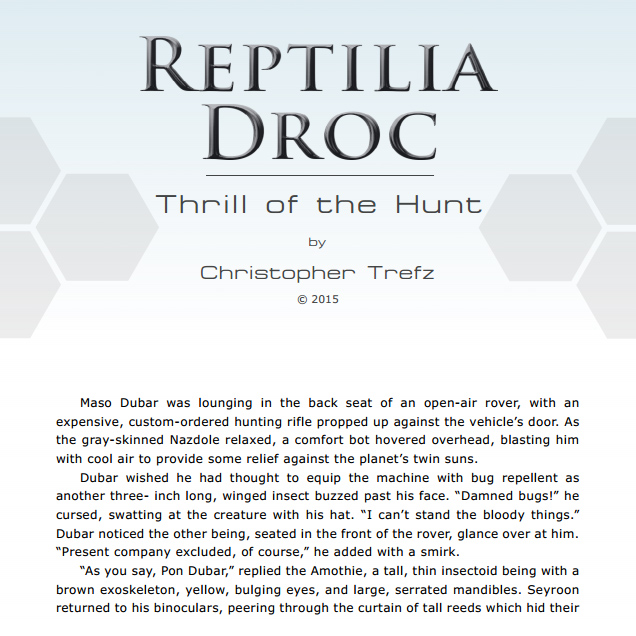 It appears you don't have PDF support in this web browser. Download PDF
Wealthy, corporate director, Masso Dubar, enjoys hunting exotic animals. For his latest trophy, Dubar has traveled to a distant planet called, Amothwa, with his sites on an endanger predator. Dubar has every advantage on his side, from an experienced guide, to advanced probes and weapons, but regardless, he may find himself to be the Hunted.


Reptilia Droc short story series:
1. Reptilia Droc: Survivor (PDF)

2.
Reptilia Droc - Thrill of the Hunt (PDF)
3.
Reptilia Droc - HideNSeek (PDF)
-------------------------------------------------------------------------------------------------

Leave a comment and I'll return the favor.

Follow on Facebook for news and works in progress,
www.facebook.com/reptiliadroc

Visit my web site
www.reptilia-droc.com/
for more in-depth articles on the Droc universe.

I have not downloaded the pdf yet but it reads really well. Is this a series, do I need to start from a certain story?
Reply

Hi, thanks for reading. Each short story in the series is a stand alone episode with different characters, so you can jump around if you like.

However, each story you do learn a little more about the Droc and what's going on. So a suggested reading order would be 1. Survivor, 2. Thrill of the Hunt, 3. Hide'N'Seek. I'll probably go back and number them in the titles for clarity, but first I might add one more story in the middle.

Then basically all the short stories together are a prequel to my Novel I'm finishing up, called "Scavenger".
Reply