Wow Christmas came early this year!
Believe my surprise when I saw my Sonichu medallion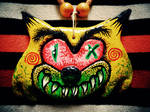 that I made for my Chris Chan cosplay from last years furry convention in this guy's YouTube thumbnail.
It didn't make my day...it made my entire year!
Please give this video by Mundane Menoirs a watch, and maybe even like and subscribe to him.
Because I did and he deserves it!