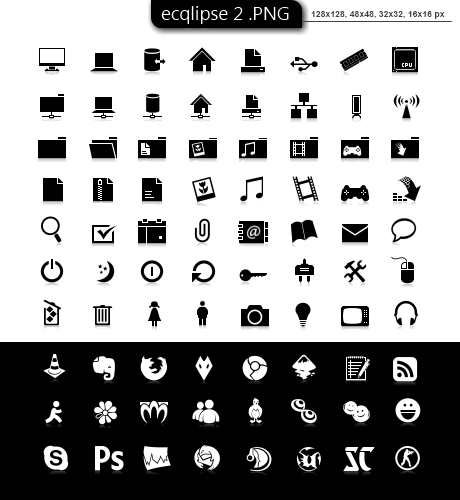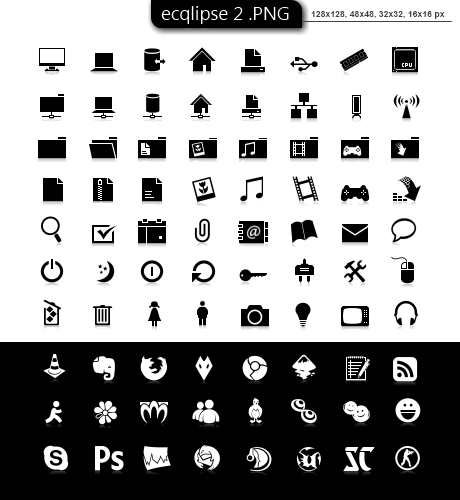 2010/12
The icons have been featured as part of fediaFedia's
Omnimo 3
Rainmeter theme in the software collection of German computer magazine
c't, No. 26, 2010/12/06.
2010/03
The packet includes
116
system and
165
application dock icons in
128x128, 48x48, 32x32
and
16x16
pixel size.
---------------------------------------------------------
Additional Links:
ecqlipse 2 in .ICO format



anthonium's IconPackager port
(Note! anthonium's IP theme uses the icons before the 2009.03.05 update)



You may also like aRIP's Open Office Reflections + Adobe CS3 Reflections icons.



Punio4's Orange Box Pack (with Steam, Half Life 2, Team Fortress 2, Portal icons) + Warcraft III , Companion Cube and Xion icons





For additional system and application icons (e.g. Acrobat Reader & MS Office) please have a look at santidiablo's ecqlipse 2 supplementary icons set.



... and comptechgeek's Application Icons pack if you use following apps: xbmc, imgburn, dvddecrypter, ultravnc, filezilla, dvdshrink, and songbird



If you still miss some icons, give Linkz57's Syzgy - A work in progress huge icon pack a try.



CrystalxInfinity's More Ecqlipse Icons including SUPER, NitroPDF, Aptana Studio, and VMWare Client

The owner of this deviation has disabled comments.