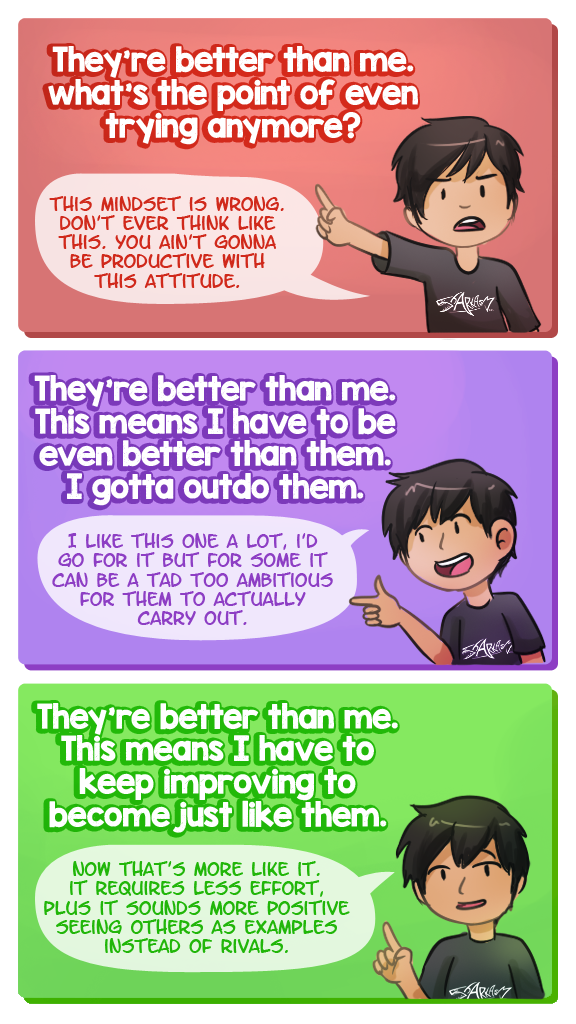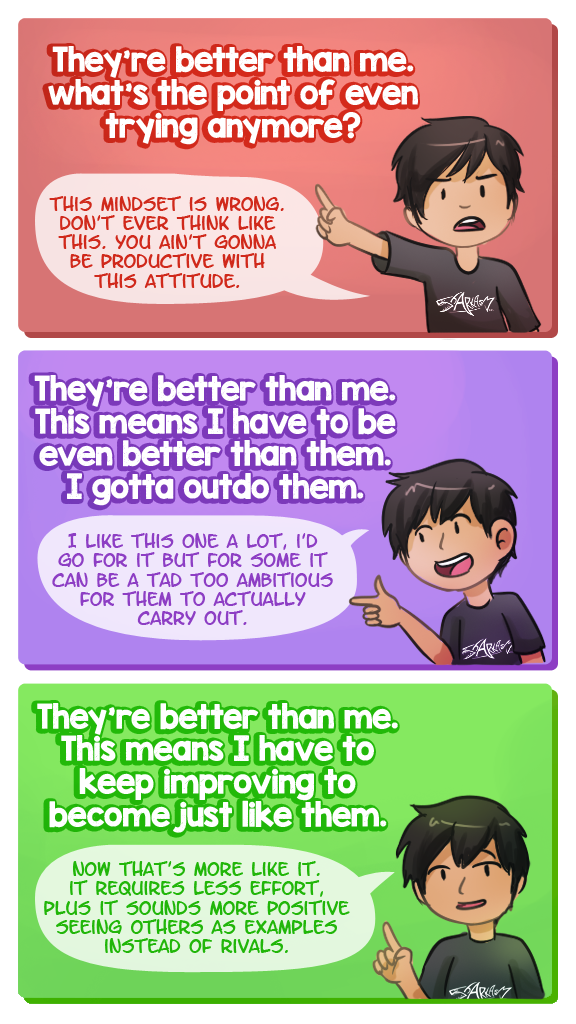 This year, I've started to take steps to become less bitter towards more successful & "lucky" friends & start congratulating them instead of begrudging them, which my friends have told me to like AGES ago, cuz I'm one bitter dingus. Though I haven't changed my mindset completely but maybe these tiny reminders might be a little help for when we all have those moments.

I REALLY need this right now, thank you.
I've been in the dumps for too long and I honestly honestly need some appreciation, and so far all I've been doing is fighting my own battles, but that's fine. I usually don't show people that I'm jealous/bitter with something, but deep down it's really very dangerous if I let it out, so it's always been difficult for me as an unseen/ghost artist.

Every time I tried to ignore my failures and just ditch my arts/music/creative stuff and just go to work, they always come to haunt me in the form of missed songwriting contests, female producers, local producers, mashup creators, everything else that I could've been but will probably never be because I'm invisible, I have no connections, my stuff are "childish" and eh the list goes on and on.
After 11 years of being a nobody, and still being a nobody (though I only got my first and probably last newspaper feature this year), I really REALLY want to just quit and be a normal person or just escape back to my world like I always did, so that I won't get hurt anymore, but there's always something telling me that I still have a chance to make it big very soon. But ugh haha, I'm honestly tired of hoping and trying.
But anyways, thank you, I just wanted to share this, I guess. I'm a very negative person but it doesn't mean I'm negative all the time. I'm really trying to fight in any way that I can. Again, thank you!

Reply

Whoa... no prob

So thats why you've been sorta missing on the internet, I didn't know about it, glad you informed me.
People don't talk about this much, they don't realize how relatable & universal self-doubt & envy is among creative people, & how it sometimes make a lot of people lose faith in what they can do. This is how I've been feeling too, pure frustration. I dont have much connections either & thats frustrating. I've put my works up there but no one seemed to listen/read/comment on any of my songs & comics... but somehow that doesnt stop me completely from creating, & so shouldn't you. Some people need that extra push to make them realize they're not given these talents & skills just to waste them away.
And your content might not be marketable or suitable for everyone but you make artworks & music for yourself, because it's an idea you had to let out. You gotta put yourself first until someone decides to hire you (yeah i'd like to believe this will happen).
Ditto to you on that last line

We're all struggling to be more positive in life

p.s. I left you a message in Soundcloud

been listening to your stuff too & adding some in my favs.
Reply

Thank you for the nice reply!

Indeed, that's why I'm still here and doing stuff, even if just for myself, and even if I'm not the first or the best in anything, and even if people call me a copycat of anyone or compare me to anyone, what matters is what I'm doing is what I really want in life.
Thanks for the warm message again! I checked my SC but strangely I haven't received anything, or maybe I accidentally deleted it before? Could you send it again? Thanks!
Reply

What a nice and positive notion

Reply