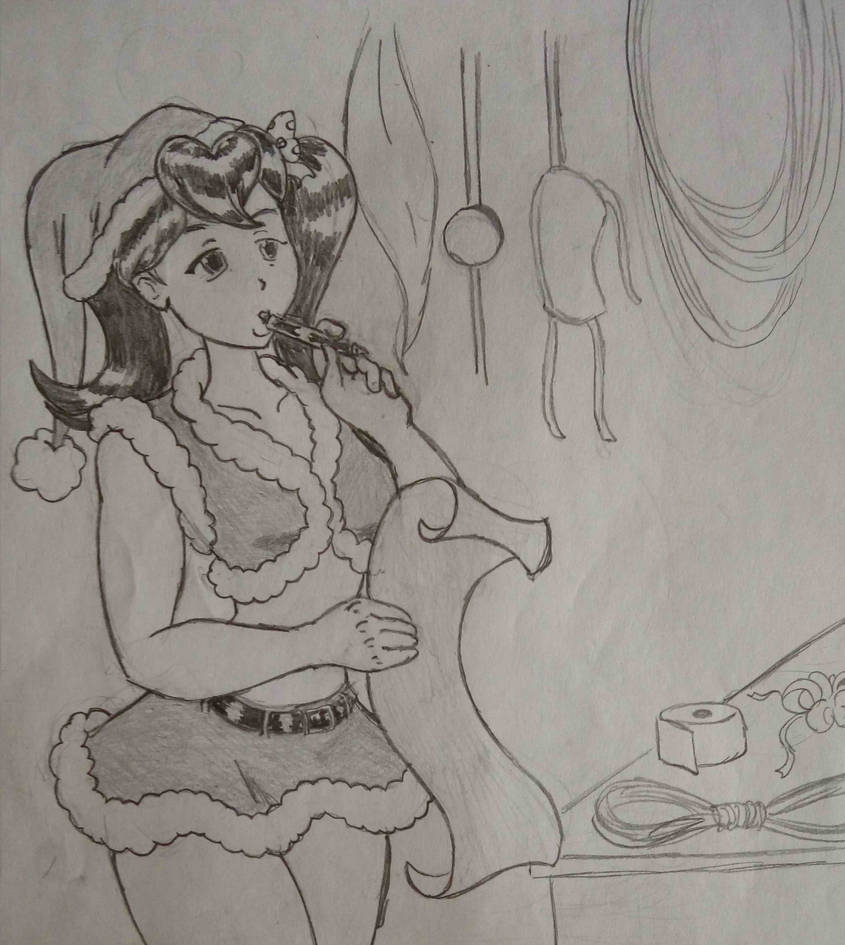 Christmas is very close, and we all know what comes with it! If you're wondering what is this sexy Santa writing, the answer is, of course, the naughty girls list!! And if you look at that table, you know she's not exactly thinking of giving them charcoal.
This quick drawing is because I want to draw something special for Christmas, so I want you to suggest the names of the possible victims you would like to see nabbed and punished for these holidays. Ideally, they should be girls that are or were naughty, though that's not exclusive, if a girl was nice she might even get a gift instead! If lots of characters are suggested, we will do a second round to vote which of them were the most naughty and sexy Santa here will make sure to give to each what they deserve!
Thanks for reading and replying!
--------------------------------------------------------------------------------------------------------------------------------------------
La Navidad está muy cerca, ¡y todos saben lo que eso implica! Si se preguntan lo que mama Noel está escribiendo, la respuesta es, por supuesto, la lista de chicas malas! Y si miran esa mesa, podrán ver que no está pensando exactamente en darles carbón.
Este dibujo rápido es porque quiero dibujar algo especial para Navidad, así que quiero que sugieran nombres para las posibles damiselas que les gustaría ver secuestradas y bien envueltas para estas fiestas. Idealmente, deberían ser chicas que se portaron mal, aunque no es excluyente, si alguna chica buena cae en la lista podría recibir un regalo incluso! Si varios personajes son sugeridos, hacemos una segunda ronda para votar quienes fueron las que peor se comportaron, ¡y esta linda mama Noel se va a asegurar de darle a cada una lo que se merezca!
Si leen y comentan, ¡muchas gracias!
EDIT: It seems that the "were naughty this year" part was a bit confusing, since Santa checks out every year I was referring to that, though they don't have to be characters from this year or nothing like that. If no one suggested anyone, I had thought of some quite old villainesses! It doesn't have to be that strict with the naughty=villain part, a character that was mischievous, or bitchy, is fair game.
EDIT: Parece que la parte que refiere a este año fue inintencionalmente confusa, no quería referirme a personajes actuales. Pueden ser personajes más viejos. En cuanto a que sean villanas, no es obligatorio, una chica traviesa o molesta o de personalidad no tan agradable es una buena elección!