Hello again Moon-Pies

I needed to updated my commission-option a bit and it would be super awesome if you like my art so much that you order one from me



How you can order:
If you send me a reaquest for a commission I assume that you have read and understand the entirety of this journal and that you agreed to my terms
Send me a note on deviantArt or a e-mail to chitsukilin69@gmail.com titled "Commission", NOT a comment on my page (otherwise I might overlook it).

Please send me in this note a brief info on what kind of commission you want (if they are against any of my rules I won't accept it).

Please send me all needed information and the payment within 5 days of receiving my answer.

Prices:

Important! Sketches will be in b/w. Color would be + 7 € (per character)
Prices for a 2nd character will be 50% of the price for the first character. Example: One character Sketch: 20 € + a 2nd character (50% of the price) = 30 €
Waist Up (One charcter, cell/soft shade):
Normal prices:
Sketch: 20 € (+ 10 € for a 2nd character)

Flats: 25 € (+ 12 € for a 2nd character)

Colored: 40 € (+ 20 € for a 2nd character)


Examples (colored):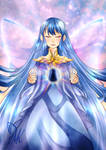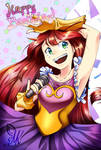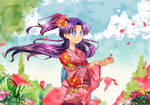 Full Body (One character, cell/soft shade):
Normal prices:
Sketch: 30 € (+ 15 € for a 2nd character)

Flats: 35 € (+ 17 € for a 2nd character)

Colored: 50 € (+ 25 € for a 2nd character)

Examples (colored and colored sketch):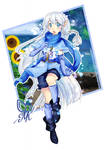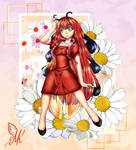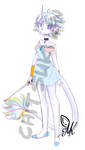 Chibi (One Chibi, Full Body, cell/soft shade):
Normal prices:
Sketch: 15 €

Flat: 20 €

Colored: 30 €

Examples (colored):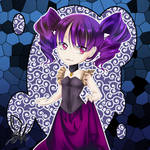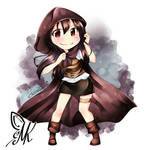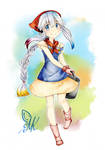 Terms:
Payment:
Only Paypal!
When I accept your requested commission, I'll send you the e-mail I use for PayPal.
Payments must be sent in euros.

What I can do:
I ONLY draw Oc's (if they are yours or I have the permission of the orignal owner, they also can be OC's/FC's from a TV show or something <: ) + a simple/transparent Background (detailed background will cost more)

mild NSFW, pastel gore, avatars, icons
I'll only draw in my own style, so please check my gallery so that you can see what you could get


What I DON'T do:
Copyrighted characters (like, from TV shows or something like that)
I don't do comics, porn/sexual/fetish/gore ect. content (seductive poses are ok tho :> ), age regressions, IDs
Informations I need:
Please send me a note or e-mail with the following informations:
Character name, age, personality traits, maybe things they like/don't like ect. (just a brief info tho )
References (of the character, maybe cloths, backgrounds, ect.)
Color Palette
Background: (simple/transparent for free, detailed will cost extra depending on the detail)
Note: any suggestions for a pose, expression ect., extra infos
Deadline:
After I accepted your requested commission and you received my message/answer, you have up to 5 days to send me the information I need and the payment. I will NOT START with the commission untill I get the payment!

I will cancel your commission if the payment isn't recieved after those 5 days without you giving me a reason why.

You'll get the finished picture within 1 – 2 months (this is only for the rest of the year, because I am currently doing an internship and I have hardly time to draw)

Preview:
To make sure that everything is fine, I'll send you a sta.sh link with the sketch so you can tell me if that is what you want. After your ok I'll finish the picture.
You will get:
A full digital picture, 300 dpi, A5 size (14,8 x 21 cm), (Chibi pictures will be 1700x1700 px) with my signature in it.
Rights:
All commissions will be
signatured
by me. YOU MAY NOT REMOVE THE SIGNATURE UNDER ANY CIRCUMSTANCE.
The commission is ONLY FOR PERSONAL USE.
NO commercial use.
You are NOT allowed to reupload your finished commission on deviantart, unless it's used as fanfiction covers, in that case,
credit and link me in the authors comment.
If you upload your finished commission anywhere,
credit me and put a link to my account.
On my side, I will only post your commission to my personal websites, including the name of your character, you as the owner and a link to your dA in the description.
Refunds:
I can refund 100% of the payment only if I haven't started the sketch. If you're not satisfied with the sketch, you can cancel your commission and get a 50% refund. Once I have your ok on the sketch and I've started or finished the coloring, there will be no refunds.
If you have any other questions, just ask ^-^
Status:
|

- not started |

- sketch finished |

- halfway finished |

- done