Closing out the year With a collab jam!
Lets' try something special with this shall we?
BATTLE 63: Collab JAM
* download 'VS Screen' template at the following link :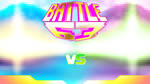 * Pick a character from ANYTHING - No OC and
include URL link to characters
.
* MUST be a
collaboration.
- You will pick a character and draw a "Rule 63" gender bent version of the character you chose, while your Collab partner will draw the standard version. Your partner will pick a character to draw gender bent and you will draw the standard version.
* You can tweak the character's design (if you want), but they MUST still be recognizable.
* Full Colour + Torso (Waist up) for each character
* Both Artists can upload into the

Gallery folder :
www.deviantart.com/chipperchap…
* Make sure both artists are tagged/linked in the submission!
* Don't RUSH yourself. You have over 1 month to do this. You can do more than 1 collab if you want! we want to make sure and give plenty of time for people who might be busier during the holiday season.
This jam will end on:
Thursday the 31st of January, 2019 11:59pm PST
If you have any questions, please do ask here!
Example entry: