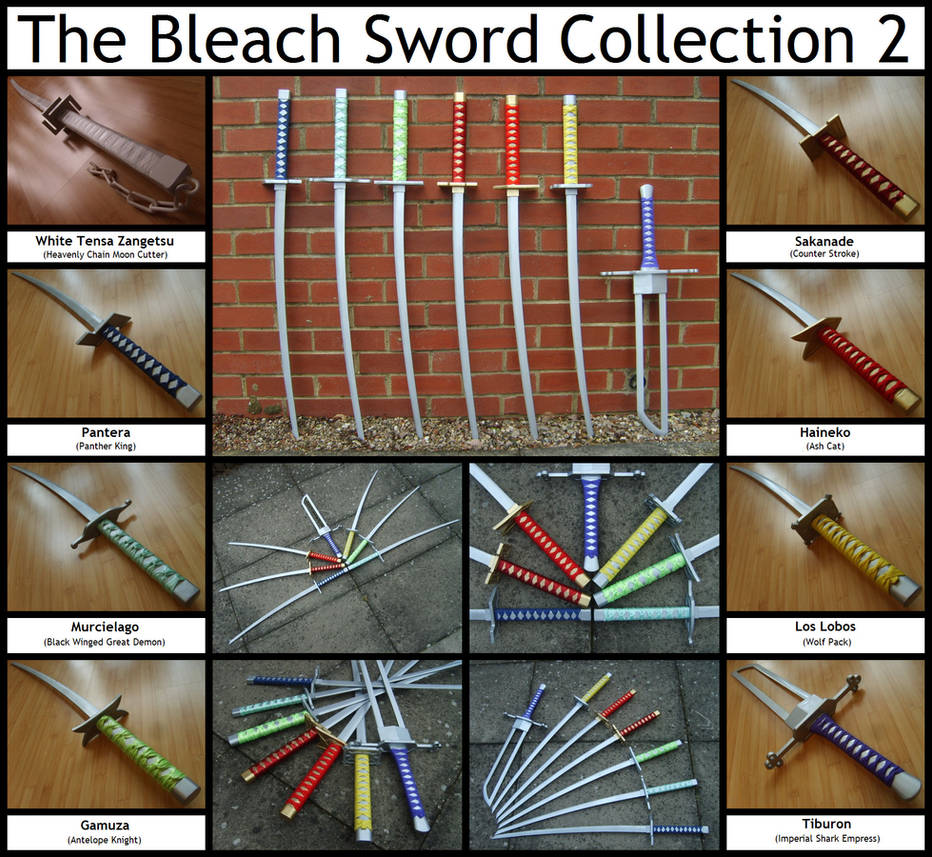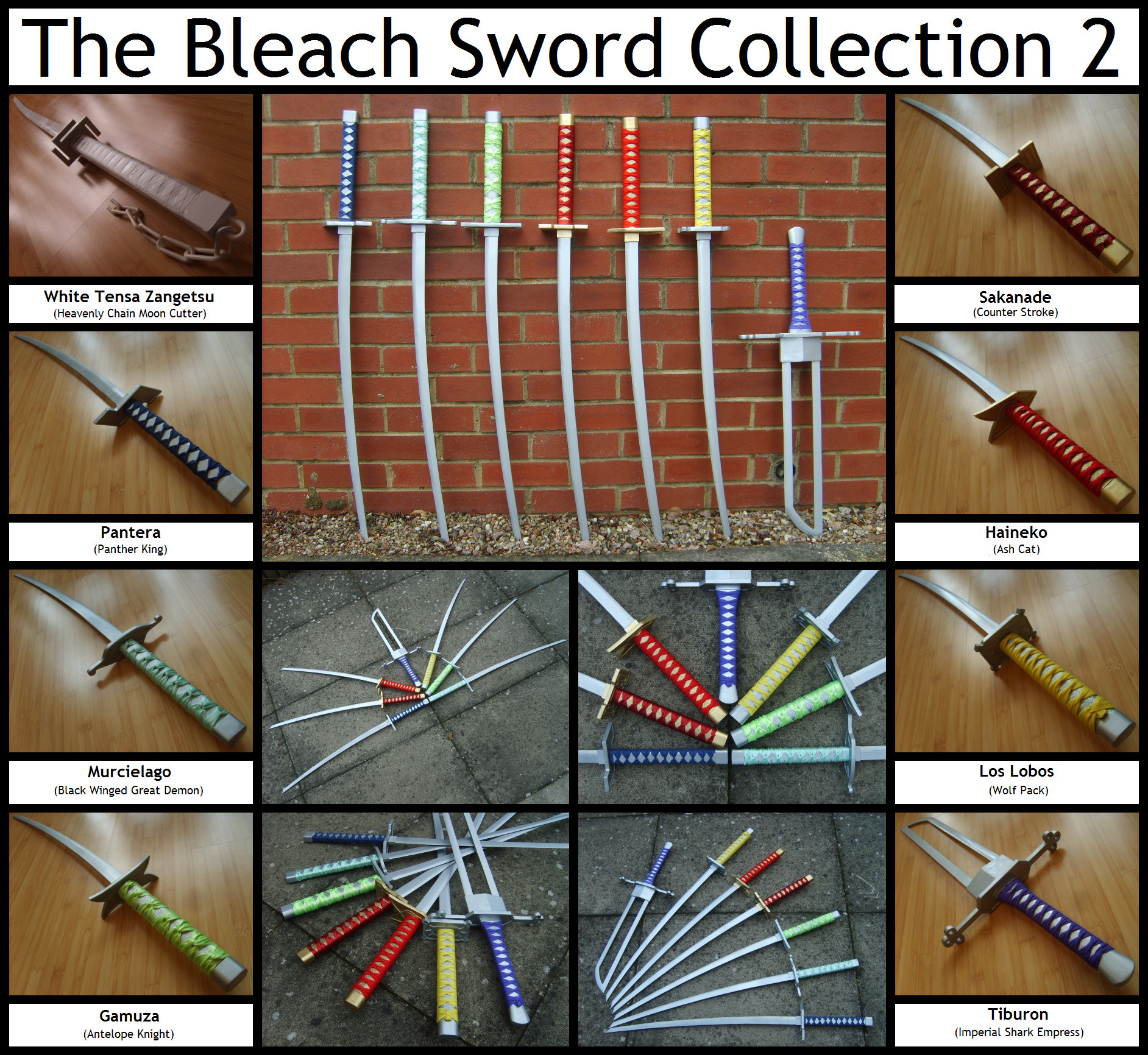 Watch

The Bleach Sword Collection 2

And so another 8 Bleach Swords have been made, sure has been a long time eh? Well the previous Bleach Sword Collection you can find here:
[link]
so now I have to bring you the 2nd collection to fufill the gap since you last saw sword. I also made this deviation back in september, only to upload it almost half a year later!
Hollow Ichigo: White Tensa Zangetsu (Heavenly Chains Moon Cutter) [link]
Currently my most popular deviation I have with almost 50,000 views. It was made as a 9th special sword originally and was not suppose to be apart of any collection. However after not having time to make an 8th sword for the 2nd collection I just designated this sword as the first sword of the collection.
Grimmjow Jeagerjaques: Pantera (Panther King): [link]
So this sword was made quite some time after white tensa zangetsu and was suppose to be a change on how I did things. I originally tried painting it with a fine chrome spraypaint however the results were disastrous, and I had to use a power sander to remove all the paint. It was also the first time using better tsukamaki.
Ulquiorra Schiffer: Murcielago (Black-Winged Big Demon): [link]
With Ulquiorra's fandom sky rocketing I knew I had to make his sword because it would bring in alot more views, which it did. Out of all my swords this has the thinnest blade because I actually shaved it too much. It was also the first time using ribbon for tsukamaki, which I actualy did pretty badly but I got the exact color.
Neliel Tu: Gamuza (Antelope Knight): [link]
After discovering that Neliel was actually an adult and wielded a sword and was stomping Nnoitra's goofy ass for a short while I had to make her sword. In comparison to Ulquiorra's sword Gamuza was much wider and a bit more bulkier. I was also improving my tsukamaki a bit better with ribbon, still bad though.
Shinji Hirako: Sakanade (Counter Stroke) [link]
With Shinji being the badass he is and being the best vaizard of the lot his sword was a done deal. Everybody though the tsuba was difficult to make but it was simply like building a maze with matchsticks, if it's curves it would have been a nightmare. I also finnally mastered how to do tsukamaki with a ribbon.
Rangiku Matsumoto: Haineko (Ash Cat) [link]
I don't know why I didnt make Haineko in the first bleach sword collection, however I thought I might as well make it in this one. Also seeing as how I was lacking in female zanpakuto users I thought of adding another one to the count. I also started using shoelaces for the first time which I did perfectly.
Coyote Starrk: Los Lobos (The Wolves) [link]
It is funny how starrk's aspect of death is lonliness because this is my most unpopular sword to date. Is it because there is few starrk fans? or that it looks too simular to my previous swords? either way I made it damn good and not too many people appreciate it, so that's why it is my weakest sword.
Tia Harribel: Tiburon (Imperial Shark Empress) [link]
With an appalling audience for Los Lobos, my final 8th sword Tiburon would have to be much better. It was a sword that was unlike any other sword I made and so I pushed my skills to the limit to make it. If people didn't like it then heads would be bashed however, thankfully a few liked it at least.
Daily Deviation
Given 2010-12-07
This deviation is featured as a part of
Fan Art's Project Educate week!
This time featuring the fantastic art of FanArtisan Crafts!
The Bleach Sword Collection 2 by *chioky
The suggester said:
"Although *chioky has respectfully retired from swordmaking his hand-made swords will always be admired and loved, most noteably his Zanpakuto replicas from Bleach. It's difficult to pick and choose which one is the best but it is more than obvious he has put forth an amazing amount of effort and detail into each and everyone of his crafts."
(
Suggested by

NutKayss

and Featured by rydi1689
)