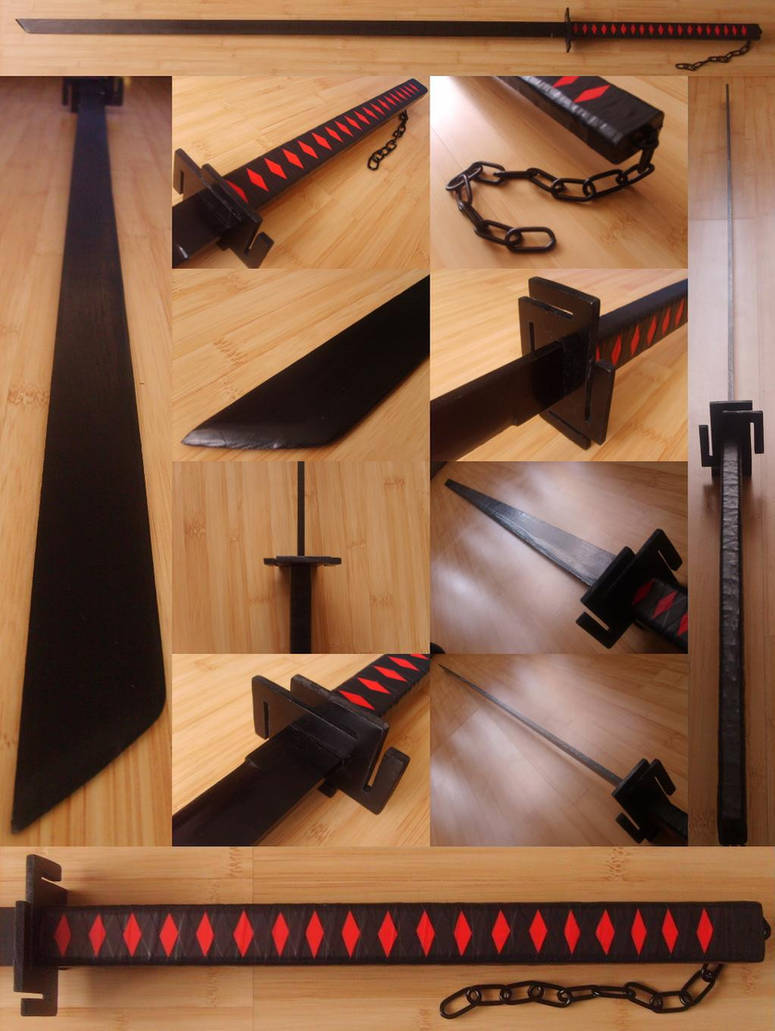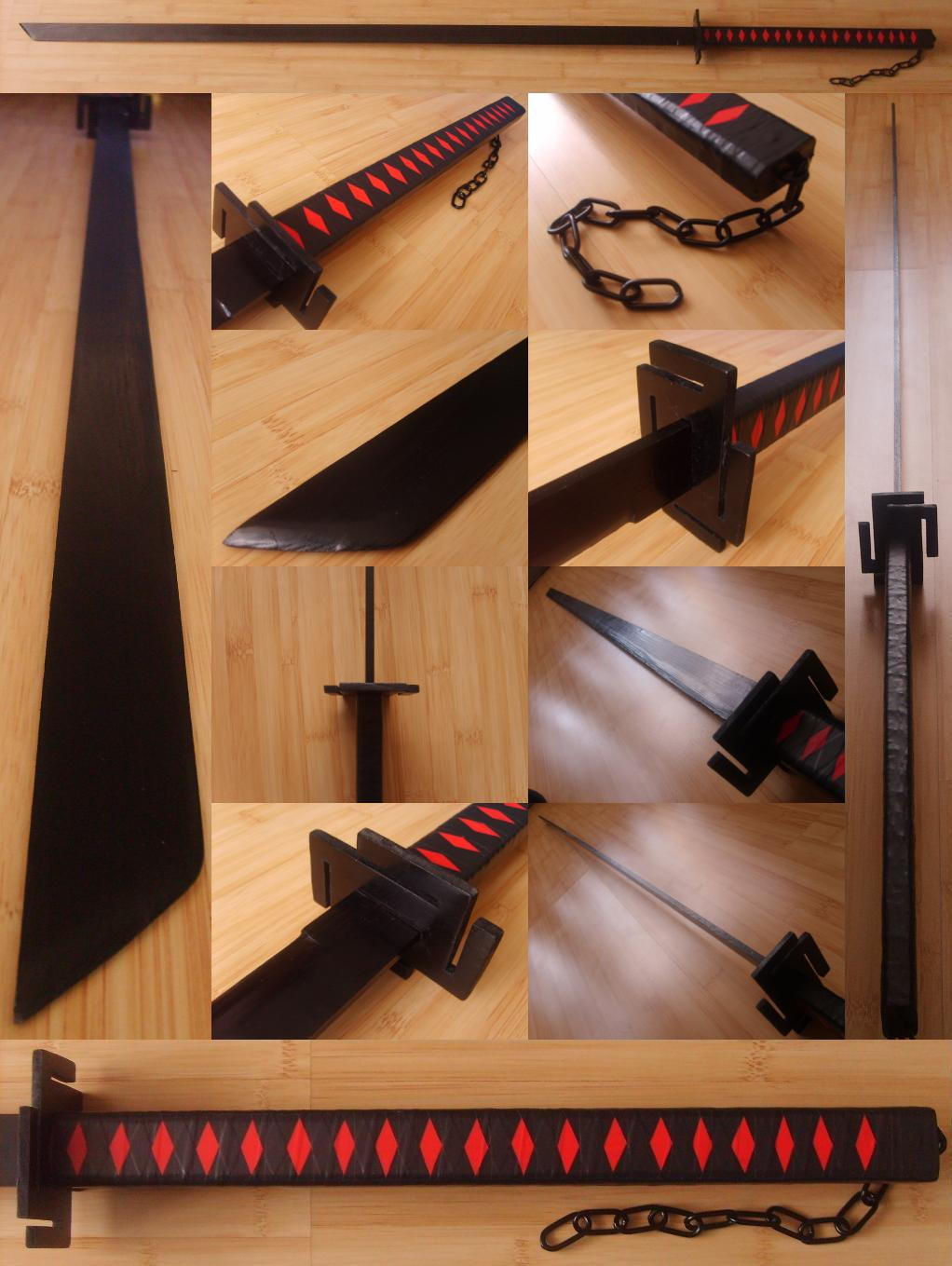 Watch
Ichigo Kurosaki: Tensa Zangetsu (Heavenly Chains Moon Cutter) [link]



Blade Length: 49 inches


Handle Length: 16 inches


Chain Length: 10 inches


Total Length: 65 inches
This sword is handmade with no power tools (except a drill) out of strip pine wood and its full tang. The sword is not curved like in the anime or manga becuase it would prove difficult to draw a curve nearly 50 inches long.
So when i got the wood the width was the same as the blade so i kept the blade straight. Hmm this sword is long and i meant long, the handle wrapping took 3 hours sanding down and the blade took 5 hours. I spray painted for several days and adding the chain was fun.
The Bleach Sword Collection:



Ichigo Kurosaki: Tensa Zangetsu [link]


Rukia Kuchiki: Sode no Shirayuki [link]


Kisuke Urahara: Benihime [link]


Gin Ichimaru: Shinso [link]


Byakuya Kuchiki: Senbonzakura [link]


Sosuke Aizen: Kyoka Suigetsu [link]


Kaname Tosen: Suzumushi [link]


Toshiro Hitsugaya: Hyorinomaru [link]


Hollow Ichigo: White Tensa Zangetsu [link]


Grimmjaw Jeagerjaques: Pantera [link]


Ulquiorra Schiffer: Murcielago [link]


Neliel Tu: Gamuza [link]


Shinji Hirako: Sakanade [link]


Rangiku Matsumoto: Haineko [link]


Coyote Starrk: Los Lobos [link]


Tia Harribel: Tiburon [link]The Swordmaking Tutorials:

Part 1 (Tools and Equipment): [link]


Part 2 (Planning and Drawing): [link]


Part 3 (Cutting out the Sword): [link]


Part 4 (Cutting out the Tsuba): [link]


Part 5 (Sharpening the Sword): [link]


Part 6 (Sculpting the Details): [link]


Part 7 (Painting and Glossing): [link]


Part 8 (Constructing the Sword): [link]
When I first got into Bleach I would browse websites and forums looking for wallpapers and cool pictures. Then one day I came onto DeviantArt and tried a search for Tensa Zangetsu, and came across this deviation. This deviation and the author Chioky showed how sword making could be done with simple hand tools and a bit of hard work.

Chiokys skills have increased exponentially since creating this sword, and his results with the Espada Zanpakutos are evidence of this.
He not only produces high quality wooden swords, but also promotes sword making. He does this by a mixture of technical drawings, tutorials and guides which has earned him lots of praise and many followers.
The Artist thought this was FAIR
98 out of 100 deviants thought this was fair.