Here we go again folks! It's the same drill as last time. If you're looking to swap or resell your roll(s), comment here!
Event can be found here: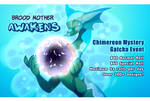 !!! When you trade or resell a gatcha, please comment who you traded/sold them to on the gatcha's stash file !!!
The only things you can change about the design of a gatcha you get are the patterns and/or the saturation of the colors.
NOTHING ELSE
. As always, you can buy extra items for them in the cham shop like horns or more colors.
EDIT:
Please don't bump your trade offer more than 2-3 times. It spams the comment section. Or at least hide your old comment so it doesn't clutter up the comments! I might go through and hide deals that have already been finalized.