I'll have you know I park at
excellent
45 degree angles.
If you're visiting wondering who the hell I am or why this bitch took so damn long to leave a comment on art made for her, HELLO AND SORRY LOL. I just FINALLY graduated college, so after like three years of backlog I'm just now catching up.
---
[ J a n u a r y 1 ]
I survived working retail during the holidays! Alas no vacations to speak of for it... bUT commissions are still getting done. I'm really eager to finish them this January, so keeping my fingers crossed on that (even with my current not-at-all ideal hours, but oh well lol). Hope everyone had lovely holidays, and may your new year start out well!
---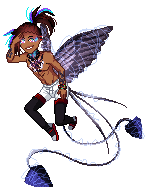 CLICK HERE
for my point/paypal commissions <3
CLICK HERE
for a chance to have your DGM OC cameo in my fanfictions.
CLICK HERE
for DGM OC Guides and Resources I've collected.
---
Having a bad day?
Look at these pole-dancing cats.
Still not enough?
Have more cats.
Favourite Movies
Spiderman: Into the Spiderverse, The Assassin's Bodyguard, Black Panther
Favourite TV Shows
D.Gray-Man, NCIS, Brooklyn99, Supernatural, FullMetal Alchemist, Natsume Yuujinchou, One-Punch Man
Favourite Bands / Musical Artists
i'mma ho for dubstep, trap, etc
Favourite Books
Discworld, Harry Potter, Percy Jackson & The Olympians, The Bone People
Tools of the Trade
Paint Tool SAI, blood, sweat, and tears (lots of tears)