2018 edit: I've watermarked all of my old work because they're constantly stolen, sorry they're huge and ugly!
A medium quality illustration for

her friends as german shepherds! This was a pretty fun order to work on and it was refreshing to paint a dog instead of a wolf for once (i do love my wolves doe)
Thank you so much for ordering this, I really appreciate it!
I struggled with many aspects of this piece, mostly with the background. I don't believe I've drawn an autumn-y forest before, so the colors were new to me and it was challenging to use them. The trees were difficult at first but adding the leaves was enjoyable

Other stuff: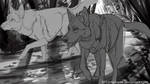 ---
Image details
Image size
1024x579px 459.97 KB