EDIT: Hi all! I'm going to livestream the random number picking of the winners tomorrow at 7pm EST. No need to be there to win, I'll note our 4 lucky winners after the stream. Good luck to all 101 of you! Like Dalmatians, you kids. Livestream link:
www.livestream.com/chibisilver…
---
Alright I decided I should do this early to make sure I'm not busy with Christmas orders. Please read carefully and good luck to you all!
------
I'm holding a raffle for a few free sculptures. This raffle is totally free - I cover the costs of all prizes and shipping worldwide. JOY to the world!
THE PRIZES:
1 winner will win a custom 3-5 inch sculpture by me of any character you choose (OC, fan character, or official character). In style it will resemble: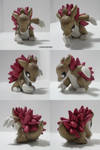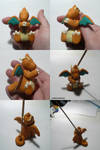 3* runners-up will win a cellcharm of any non-original character they choose, as long as I haven't made that character before. You can also choose to claim this prize as a pair of custom earrings.
*I'll add another cellcharm runner-up slot for every 35 raffle entries I receive
These are some examples of cellcharms: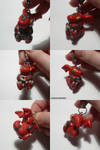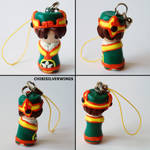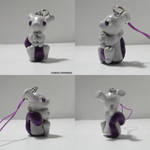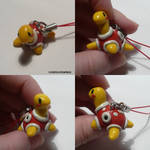 --
RULES:
1. Post a journal telling other people about this contest and linking to it. You can copy this text, or just write a short summary with a link.
2. Post a comment here with a link to your journal about the contest, and include the word "Tsushi" in the comment to show you've read the rules

3. If you've done it correctly, within a day or two I'll comment back to give you a number.
4. This raffle IS completely free, however if you would like to donate anything to offset my costs to hold it, my PayPal is sharksgotyou@gmail.com  
As a perk If you donate more than $1, I'll give you 2 raffle numbers to enter with.
Just make sure to include your DA name in the memo on paypal please!
Raffle will be open for one month (ending on September 12th) and then I'll use a random number generator to pick the winners. I'll do so on a livestream so you can hear it live if you want to! The winners will be noted by me, and then they must note me back what they want! If you don't note me back to tell me what you want/where to send it, I can't deliver your prize!
Prizes will be finished and sent within one month of me finding out what the winner wants as a prize.
--
Thanks guys! I hope you're excited

----
Current Personal (non-commission) Queue
Majora Mask Trish
Sarah gift
Okami Chess Set (9/32 pieces made)
Charms I want to make: Rampardos, Yamask, Togekiss, Wobbuffet, Blissey
Arceus Incense Burner
Pharoeh (Vesperia)
----
Original Character Ref Sheets:
Tsushi:
fav.me/d3af9e7
Billy:
fav.me/d3a3yjm
(guy on the left)
Scarlett:
fav.me/d4rafrj
Yew:
fav.me/d2jmdxp
Aeolian:
fav.me/d3jfybn
Tracy:
fav.me/d1vbnfl
Chant:
fav.me/d48qpp1
List of conventions

and I plan to attend this year:
Kollision Con November 23-25 in St. Charles, Illinois
TABLE RESERVED
Anime Apocalypse December 20-23 in Rockford, Illinois
Shuto Con 2013 April 5th-7th in Lansing, Michigan
TABLE RESERVED
Who owes me art (just for personal reference so I don't forget XD):

Scarlett

Billy and Curio
EatherStar Robbie and Amical