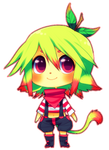 Elma , our awesome mascot, is © to Kiwibon , his creator.
Our adorable icon is © lovelyfantasy, the lovely iconist!

Hello there and welcome to Chibigamiz!
We are a group dedicated to chibis. Your chibis will be accepted as long as they are not taller than four heads!
If you would like to join please read the rules first!
If you like chibis but do not draw them you may still participate in this group. Feel free to watch us!

★ DIRECTORY ★

---

This is a short directory that should help you find your way around. If you still have questions send us a note.




★ THE GOLDEN RULES ★

---

Be respectful to everybody.

Submit only your work.

We do not allow chibis drawn from bases.

Consider decent quality of your submissions! Sketches and drawings on lined paper are not allowed.

Submit chibis only! If not so your submission will be declined.

Submit to the correct folder please.

We consider ourselves a G-rated group. Absolutely no mature content is allowed! No submissions containing nudity, gore, or strong language will be accepted.

If you leave the group, please take your art with you.

~ Other useful entries ~
Folders Explained
Member's Suggestion Blog



★ MEMBERS' ADS ★
---
:thumb245406260::thumb245399749::thumb245407630::thumb245734771:
If you want to be advertised for, please send us a
note
titled
"Commission Ad,"
. Please include your pricing information and the list(s) you want your ad to be placed on.
~
Members' Contests
~
---
Tell us if you've got one!
~
Members' Projects and Free Commissions
~
---

" Hey everyone. Make a wish ... free art ? Your servese is my command c: "
Check out
Melatose
who is doing free requests in order to finish her project (( 1 thousand artworks ))
current slot status :
on hold