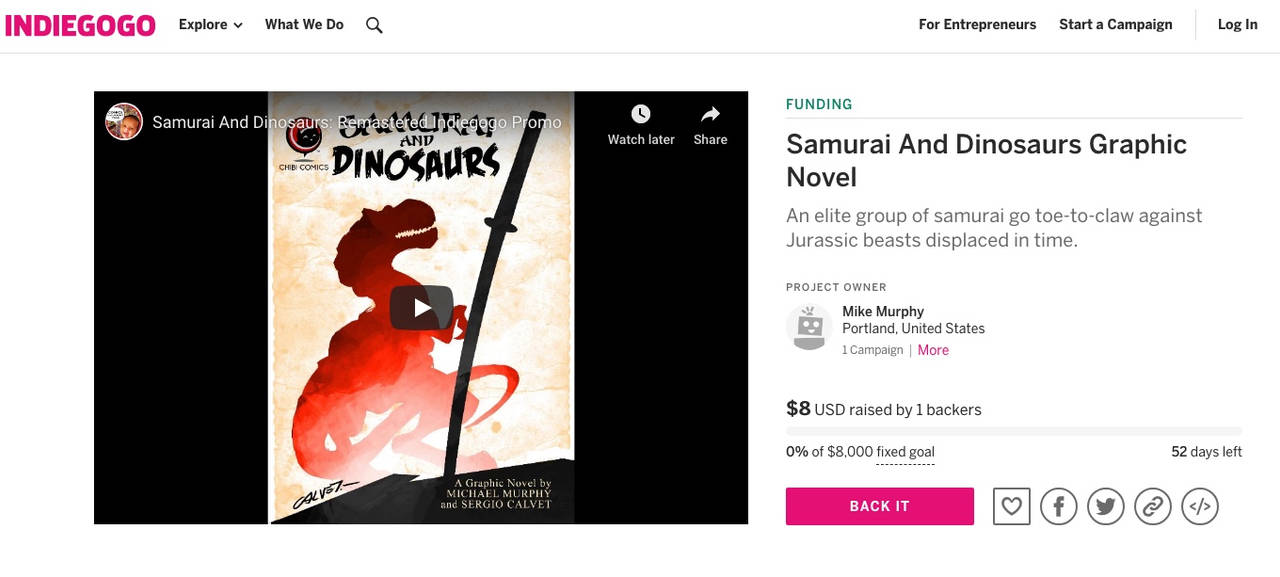 Fund
SAMURAI AND DINOSAURS
on
INDIEGOGO
and FOLLOW
chibimikemurphy
and
sergicr
START 2019 OFF RIGHT AND SHOW YOUR SUPPORT FOR
SAMURAI AND DINOSAURS
ON
IDIEGOGO!
"Hello, potential backers- I'm Mike Murphy, one-half of the creative team behind Samurai And Dinosaurs. Written by myself and drawn by powerhouse European cartoonist and comic artist, Sergio Calvet, this tale was an early collaboration of ours dating back to 2010.
Samurai and Dinosaurs focuses on an elite group of Samurai dispatched into the Japanese wilderness to explore a meteor that came crashing down from the heavens a little over a year prior. What they discover is a thorn in time that is bleeding one era into another. Will they survive the journey, fight some dinosaurs, and stop time from bleeding? That's where you come in.
Sergio and I would like to enhance the original script and art, add pages, and make the overall presentation live up to our original expectations. We're asking for your help to make this dream a reality, and in exchange for your hard-earned money, you'll receive a copy of Samurai And Dinosaurs fresh off the press.
If this campaign proves a success, we have stretch goals we're considering, but for now our focus is on meeting our target goal. This book is an homage to the works of Director Akira Kurosawa (Seven Samurai) and visual-effects legend Ray Harryhausen (Clash Of The Titans), is filled with gorgeous art, and we're positive you'll have a great time with it. Will you help us bring Samurai And Dinosaurs: Remastered to the world at large? Sergio and I hope that you will."