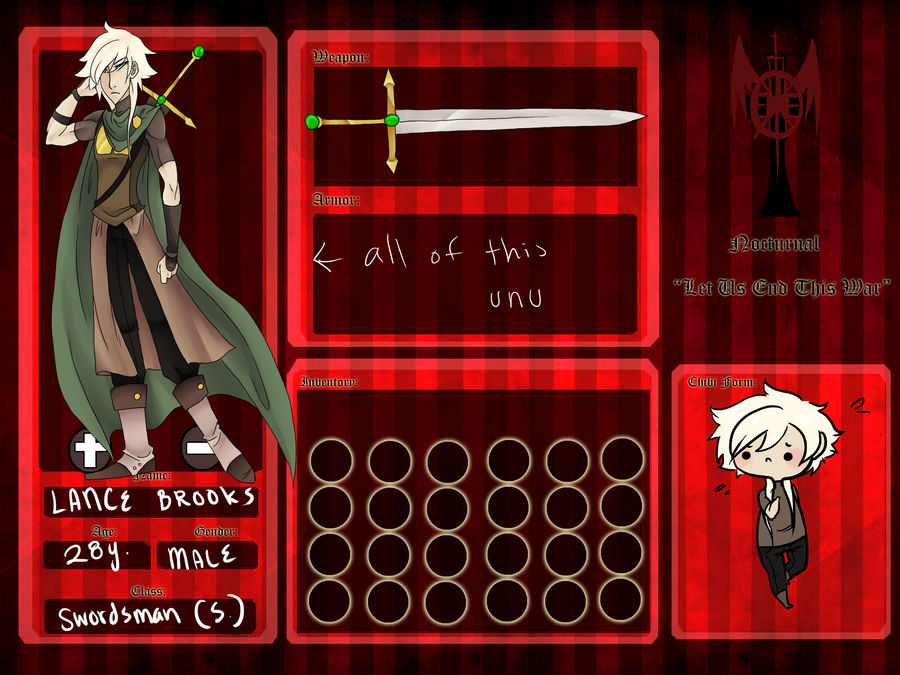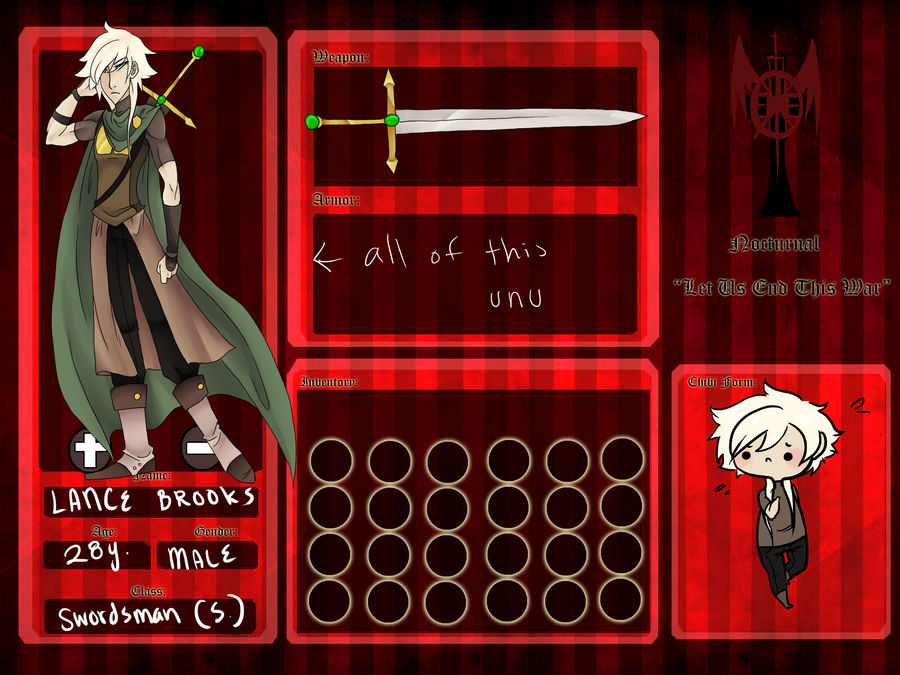 Watch

NameAgeBirthdayRole :
| | Human; Swordsman; superior
Weapon :Personality :
• Stoic at first; dry humor and sarcasm- if anything.
• Gentle giant; though this is only after he is befriended.
• Kind; cares for people, whether he likes them or not.
• Justice driven; this may lead to moral conflict sometimes.
Likes :
▲ People; although he won't admit he, he enjoys company.
▲ Fighting; adrenaline is always great [ as long as friends are not in real harm, he loves it ]
▲ Gold; a lovely color.
▲ Food; especially meats
Dislikes:
▼ Stupid people; he has a hard time being mean, so of course stupid people are hard to deal with.
▼ Vegetables; yuk.
▼ Demons; only the bad ones though
▼ Self righteous people; he feels like they're usually wrong.
Special Abilities :
☼ Strength; despite his slightly shorter than average height, he is very muscled.
☼ Swordsmanship; he spent most of his life learning how to use a sword, maybe in the future he can become a master.
☼ Blacksmithing; he can make swords and knives as well as perfectly upkeep his swords.
History :
| | Ever since Lance could remember, his mother had never been in the picture. His father had practically raised him alone. He taught his son the great art of blacksmithing, which he had learned from his father when he was young. It was somewhat of a family trade.

When Lance was old enough, he asked his father's best friend to teach him how to use a sword. He was gifted, learning the basics was a breeze. His father and teacher thought he was gifted, a prodigy, even. Though, slowly, he began to slow his progress, then a few years later, his progress halted completely.

That's when he decided he'd go on an adventure. He felt that maybe there were some personal problems that had done this, even if he though he was completely happy, perhaps there was something he was unaware of.

He left to become stronger, maybe even find himself. He traveled far, slaying demons. He had heard of their reign of terror, and although he wasn't particularly bother by them, nor did it hurt him directly, he knew they were bad.

After a few years on the road, Lance returned to his father and teacher, telling them of his adventures. He had pictures, stories and books. His father was beyond proud of him. After another few years, Lance was a very skilled and talented swordsman. His father was old, and dying. He had one request for his son before he passed.

At the age of 26, Lance's father passed away, and Lance went on another journey to fulfill his father's final request- to join the Exorcists and rid the world of the demons.
Additional Info :
|| It was rumored Lance's mother was part demon; this though is unconfirmed
|| He loves getting along with people, even if he doesn't show it
|| Lance isn't interested in a relationship, he thinks he might weigh someone down and doesn't want to become a liability
|| He is 5'8" and 164lbs, slightly below average height, but extremely muscled, compact body type.
|| </b>more to be added later</b>
Quote :
|| "Can I help you?"
|| ".....What?"
may be edited in the future; will add inventory later
---
art, character © =
Chibi-15

Reply

Reply

Reply

Lance : *smiles and nods,* Thank you, angel~

aslkdjf Thank you bby ; U ; ♥
I hope so too!
Reply

Reply

Reply