So you've read news features on vexel art and vector art... you've seen a few Daily Deviations under the vexel or vector art category... you've even started to become a fan of the art form, now you want to take that leap into actually creating it yourself!
Well it's a good job you're reading this article as I'm about to give you some advice on how easy it is to get into this art form and how enjoyable it can be... even addictive!
Introduction
First thing you have to understand is that vexel and vector art are not a STYLE. It's a common misconception that these categories are a style when infact they are just the medium. Specificially with vectors, it may look like an airbrushed piece, but infact it's vector meshes!
Without going into theory work, vexels and vectors are based upon the same production techniques however the main and significant difference between the mediums are that vexels are based on raster (pixel) layers and vectors are based on vector layers. This means a vector can be increased to any size imaginable and it will not pixelate... where as a vexel will.
Now you know this, we can move onto your new creative path... of course the first thing you need to know what you need to produce these fantastic pieces of art.
What do you need?
</u>
For those of you wanting to try it out and have no art programs installed, TheGimp is a free piece of software you can download to create both vexel and vector art. However if you've got the cash or the programs already installed, I can highly recommend using Paintshop Pro or Photoshop for vexelling... and Illustrator, Flash or Corel Draw for vector art.
Now it is true you can create vectors in Photoshop, however if you'd like much more options available to you, Illustrator and Corel Draw offer a lot more to you.
To create this art, you don't need anything else which is fancy... you can use a mouse or you can use a tablet, it's completely up to yourself. I've always used a mouse... a cheap one at that! Although I do recommend if you use a mouse to make sure you have a browser mouse so you can zoom in and out of your art work!
Other than a program and a mouse/tablet, you will need a lot of time and patience. I know very very few people who have been able to produce mind blowing vexel or vector art from their first piece. Practise certainly makes perfect.
Learning your craft
Now it's fair to say, the easiest way of learning how to vexel or vector is to follow tutorials. However, do not follow them step by step... use them as a guide on how to achieve certain elements and take from them little tid bits and work on a style of your own. A lot of tutorials talk specifically of either vexel or vector art, however remembering the key difference is the layer type... these tutorials can be used in either instance. These tutorials focus mainly on portrait referenced art and I find they cover a variety of styles and processes which you can carry over to other subjects.
Without further ado, here are some links to some great tutorials:
Vexel/Vectoring for Beginners
:thumb38531790:
Vexel Start Tutorial
by
binjoo
This is a fantastic introduction into vexelling and the technics can be brought over to vectoring also. It's specifically for Photoshop users, however the process of creating new layers of colour and building up to make a final image can be brought over to any other program. This process/style is very common and a good way to slowly introduce yourself into vexels and vector making from a reference image.
Human Vector Tutorial
by
AdRoiT-Designs
Such a professionally presented tutorial, I had to feature it! This tutorial is separated into sections... skin, hair etc... and is a good insight to how he made one of his popular pieces. Well worth a look and a favourite!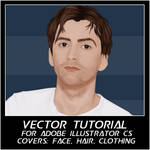 VectorTutorial for Illustrator
by
ChewedKandi
Ok ok ok, I had to feature my own tutorial on doing a portrait. Not only is it over the drool worthy David Tennant but also an indepth tutorial separated into different sections for easy reference. Although I've pointed out it's for Illustrator, you can carry the same processes and tips over to any other program.
Lemon's Vector Guide - Ver 3.0
by
lemontea
Hard to feature a set of vexel/vector tutorials without this one! Grab a cuppa and open up Photoshop... if there was a vectoring manual, this would be it. From using the tools to starting your first vector, this tutorial has it all. Looking at tips, errors and even a walk through of a vector, this daddy is a must read.
Maybe you'd like to learn something more advanced?

The Lineart Tutorial
by
sashas
This is a good all rounder tutorial on lineart which can be applied to vexelling/vectoring. It goes more into the theory work behind line art which can often be something hard to grasp for some. It's worth a good read through and then a thought on how to apply it in your work.
Vexelling Hair
by
Ilaria84
So you're wanting to make a vexel/vector of a portrait and one of the most frustrating elements has to be the hair! Here is a tutorial which shows you some great tips on how to "do" hair. It states it's for Photoshop but the processes described can be taken over to any other program.

Gradient Mesh Tutorial
by
wakdor
A very detailed tutorial on how to do gradient meshing... this is specifically a vector art tool, not something in vexel art. It's a walk through of an object which goes into using meshes. Highly recommend this tutorial if you're curious about meshes!
Of course the tutorials I've featured are only a nibble of the whole variety of tutorials which are out there. Just by doing a simple search on "vexel art tutorial" or "vector art tutorial" you can find a huge variety of hints, tips and guides to help you... you just have to know how to find them!
In closing
I hope my first ever article has maybe helped to introduce any new budding artists to these fantastic genres and I would be interested in hearing any feedback from this for any future articles I may write. Thank you for reading and enjoy your new path into points, paths and layers!