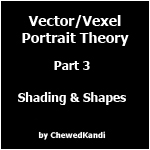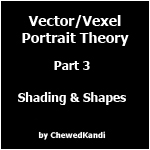 Watch
The Introduction
The purpose of this set of tutorials is to help expand on any vector/vexel knowledge you may have on working from reference images. Most advice will come from working on portraits using a reference, which is why I have named it as such.
These tutorials are going to be more to do with theory work behind using references, rather than showing you a step by step tutorial. In this way, I hope to teach you how to create your own work from reference in your own style.
As it is not program based (unless specified), this theory work can be applied to either vectors or vexel, or even digital painting... and any program you use.
This tutorial will feature stock from =
mumbojumbo89
's stock account and can be found
here
. Permission is granted from her to feature and talk about this image in the context of this tutorial.
At this point I'd like you to open
this deviation example
into a new tab/window as I will be referring to this during the tutorial. At present I am unable to set a preview image for it, hence being loaded into another deviation.
For the sake of saving my fingers from typing, vectoring/vexelling etc... will be referred to as rendering.
The Shading
In this tutorial, we'll look at shading. There are several methods you can use for shading... vector blending, gradient meshing, solid layers of varying opacities and so on... I bet you could come up with more. However since I'm explaining how I do things I'm going to talk about using solid colours (non gradients) with varied opacities.
What this means is I will create a shape and then lower the transparency of the shape to maybe about 5-20% then use the same colour to build up on other areas of shadow or highlighting.
I will then go on to use a different colour - a shade darker or lighter - do do the same. With this method you still get to see some of the edges of the shapes, but it's also faded into the render you'd have to pay real close attention.
To be able to do this, you really need to be able to see where the blocks of colour are on a reference image and the whole point of these tutorials is to get away from posterizing. This is probably the most important "skill" you'll need to get away from posterizing.
After you've prepped your reference you may be able to tell straight away where the darkest areas are and where the lightest areas are. But it's trying to work out the areas inbetween that to give you a smooth transistion between which is where you need to work.
What I find a very good way to start doing a piece is starting from the biggest areas first in shadow then working onto middle ground sort of detail... as in going to some detail, but not a great amount - as in the detail required for say the highlighting on lips or the eyelashes on the eye.
The more detailed I get, I like to change the shade I'm working with. So if I'm working in the shadows/darker areas, I like to change the shade I'm using to make that area look darker. They are details because they stand out more... and this may be because they are either darker or lighter or even a different colour to each other.
The Skill
Enough talking... lets take that first leap into seeing your first shapes.
Looking at a new image can be overwhelming, so calm down and just study the image you have.
Imagine the image was in black and white... not graytone... but just 2 colours... black and white. What areas would be black and what areas would be white.
This is the first example... I've imagined what I would have as the white showing through. I've ignored the eyes for now and just the facial area.
The second example... imagine I've included ALL areas with even a little bit shadow darker than the mid tone of skin. See how big the black area is now?
The third example... imagine I've decided to only include the very very dark of the shadow into the black area. More of the white appears.
Looking at all 3 side by side, you can only see little details showing... around the nose... the left side of the face. But it's not until you put them on top of each other than you can tell the difference. This is the fourth example... I'm just showing you the outlines of the shapes I've done.
This is effectively how you think about doing the shapes... especially in the darker areas. Imagine it as two tones and draw the shapes accordingly.
So what we'll do now for the fifth example, we'll just lower the opacity of the shapes to say 25%... now you can see what the layers look like on top of each other with a reduced opacity.
Effectively what you're doing is recognising the shapes of shadow, the darker areas, certain colours... and it's this method you need to apply to creating the shapes for vectoring from a reference... and depending how detailed you want it and how smooth... would determine how many shapes you use and how much you lower the opacity by.
The Colour Selection
In the style I do my renders, I select colours from the reference directly using the eye dropper tool. In the same way I select colours for the bases... I go for colours which cover a large area for the shade, darker shade, base, highlight and an even brighter highlight... I use these to create the different areas.
For more details on colour selection, read back on the
past tutorial
.
The Detailing Tips
There are a few tips I want to give here to do with detailing which might be worth taking in consideration:

The lips are an area of skin, be it a slight different colour depending on make-up - but they are part of the skin. When you are shading the skin/face, shade the lips as well as you're going along. Include them into the shapes you're using. This will help them look as if they are part of the face and not an element which is just floating on the face.

Skin is not just one colour/shade... around your eyes you can find grey tones, cheeks might be weather beaten or have blusher on, around the nose might be a little rosey... a good way to blend a colour into these areas and is also good for makeup around the eyes is using
vector blending
or even radial gradients. Try some colours and play with opacities and colour modes.

Don't be afraid of shadow... if an area requires bold shadow or bold highlights, try to illustrate this by using much darker colours. If it doesn't look right then maybe consider using gradients to bring the harsh edge off it.

Talking about shadows... if your reference shows the inner nostril... it's dark in there... show it.
The Conclusion & The Homework
This is the end of this portion of the tutorial which focuses on shading and shapes. To test yourself and some homework, try picking on the shades and shapes of
this stock image
. It's a simple image, so just focus on the face and neck area. Upload it and link me it and lets see how you're going.
I hope you enjoyed this one and any feedback is appreciated.
The Vector/Vexel Portrait Theory Tutorials:

Lesson 1:
Prepation

Lesson 2:
Colour & Base Layers

Lesson 3:
Shading & Shapes

thanks for these references!! it helps a beginner like me to know that it's possible to not use those posterize types.. thanks!
Reply

This is an AMAZING tutorial! Thanks so much!

I've been looking everywhere for vector portrait tutorials, especially for GIMP!

I thought I would never find a nice, detailed one... Until I stumbled upon this!

It's like my computer screen is glowing with victory music playing in the background.

I've been so use to using the posterization method... So this method is pretty difficult for me, especially with spotting out all the shapes of colours... And how to work the layers... And spot right colour combinations.... @___@
I really liked how this tutorial helps us create our own style when doing vector art, while providing the basics.

Thank you so much~! This is really an awesome tutorial!

Reply

I am so glad you enjoyed and found this useful

a lot of people like tutorials with pictures but this is theory based.
Reply

Nice tutorial Shar! I`ve used the "posterize" method for quite some time, so to do it this way is kind of scary. The colors I get, but its the shapes I have a hard time with. Posterization always seemed to help me find the shapes, and I can`t seem to get them this way...at least with the image I`m using.
[link]
Reply

Start simple... that's a very complex image to try to vector. Try setting out the base layers first and get the colours... then try adding simple shading and build your way up.
Reply

Great tutorial! Thanks for uploading it!

Reply

This is going to help a lot! I'm going to try to find some time today to really start on this. Thanks again!
Reply

Excellent tutorial! Still waiting for my computer to come back from the technician!
I wish I could install Illustrator on my sisters computer, but she won't let me

Excellent idea to use that stock! I will start it as soon as I get my PC back! (The motherboard is faulty or whatever...)
Thanks again for being such a big helping hand!!
Reply