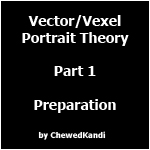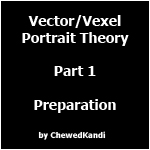 Watch
The Introduction
The purpose of this set of tutorials is to help expand on any vector/vexel knowledge you may have on working from reference images. Most advice will come from working on portraits using a reference, which is why I have named it as such.
These tutorials are going to be more to do with theory work behind using references, rather than showing you a step by step tutorial. In this way, I hope to teach you how to create your own work from reference in your own style.
As it is not program based (unless specified), this theory work can be applied to either vectors or vexel, or even digital painting... and any program you use.
This tutorial is about choosing and preparing your reference photo... which will feature stock from =
mumbojumbo89
's stock account and can be found
here
. Permission is granted from her to feature and talk about this image in the context of this tutorial.
At this point I'd like you to open
this deviation example
into a new tab/window as I will be referring to this during the tutorial. At present I am unable to set a preview image for it, hence being loaded into another deviation.
For the sake of saving my fingers from typing, vectoring/vexelling etc... will be referred to as rendering.
The Reference Image
When starting a new portrait, half the battle is the reference image you use. So picking out a great stock image will help you a great deal. Not only will it make the final product look good, but also you'll enjoy rendering it much more.
For me personally, it can take anything up to 30-40 hours to create a portrait depending on details, so if you are going to spend a great deal of time on your work, render something you find pleasing to the eyes. Your taste might not be to everyone's standard, but this is your art, not theirs.
A
recent poll
I ran resulted in over 70% of people noticing most the eyes on a portrait, so this might be something to take in consideration.
I'm not going to go into how to select a stock image and what tips, however you can find out more by reading an article I once did on
stock tips and hints for new vexel/vector artists
.
Now that you've selected your image, let's look at making it more personal to you and your portrait rendering experience.
The Modifications
Time after time you will see many portraits which have been produced as carbon copies of the original image. They have used the same colours, the same lighting effects and the same cropping as the original. Although this is fine for some, why not consider changing it?
The first piece of advice on this I would give is to try playing about with the contrast and curves of your stock image. Many standard photo processing programs such as Photoshop and Paintshop pro have these effects/filters to adjust the colouring of the image.
Try playing around with the settings and see if you can come up with a colouring/lighting set up you feel comfortable with, which you find visually appealing.
Maybe you want to focus on one element of the portrait more than others. For instance, when I look at the original image in the examples... I really do want to bring out the eyes... but I feel the whiteness of the jumper may distract from it. Others might think it adds to the image. But for me, what I'd want to do is turn those white bits black. So then I have dark hair and the face/eyes to work with.
Let your imagination go wild... maybe you want to add something to the reference image... maybe you want to put a flower in her hair? Maybe you imagine her with bolder make up? What if she had zombie eyes (ode to teh
Thistle
), or what about if her eyes and hair were of a different colour?
Modifying your image even before you put pen tool to canvas is good idea... you get to visualise better what you are wanting to achieve and you also get to experiment before you spend hours upon hours to later find it didn't go as planned. It's a time saver.
So get your creativity on!
Tip from *phig
: "
ok I love how you explained about modifying reference. but i think you are lack of how to make it more creative, i.e modifying curves with photoshop or else,
you can tell people to go crazy with that. just don't worry if they lost the essence of dark-midtone-highlight or even realistic color later, edit it with some color blending and curve tweaking with photoshop.
i don't care how crappy the edited reference's looks, i just imagining further more, that the best color in vector/vexel piece is pastel and muted color domination. (and also pink! LOL)

because sometime a good well-toned realistic ref. ain't become a good vector/vexel piece.
"
The Preparation
Now that you've played about with your stock image, let's get preparing your reference for rendering.
I've got my issues with renders which are from posterized images - as can be seen in the example. This is when people have used a posterizing filter on the stock image and then have traced the lines and colours of the filter to produce their work. Although this is good for practicing with the pen tool, it's not something I would advise.
The main purpose of these tutorials is for you to use your eyes to work out the colours. By posterizing you have applied a "filter style" to the image... this doesn't give you your own style but a style created from a program. Think of it as a manufactured style. It's not personal to you.
If you've used a vector/vexel program before, you will know that the portrait is made up on layered shapes of colour... and when you're starting out, maybe recognising those colours are not as easy to do. So in order to "see" them more clearly, from experience, I'd recommend 1 of 2 methods.
The first is using curves - again a common tool within photo editing programs such as Photoshop and paintshop pro, usually found under the colour options. Change it so dark areas are darker and the light areas are lighter. This makes these areas more obvious and thus easy to draw your shapes.
The second method is one I picked up from paintshop pro - if there is a Photoshop/gimp etc... alternative, please tell me so I can add and credit you in this. This is the Edge Smooth Preserving filter. And what this does is it smoothes the colours into each other. I used to find this a lot easier to see big blocks of colour, but without showing you lines which happens with posterizing.
Tip from *rehael for Gimp users:
"
In GIMP we have Selective Gaussian Blur (SGB) - it "posterizes" nicely with low Max. delta value (about 20-30 is nice) and Blur radius od 10 to 20. The difference with Edge Preserving Filter is that SGB doesn't touch the little details, like the eyelashes - which I think is good.
"
The Conclusion & The Homework
This is the end of this portion of the tutorial which focuses on the prep stages of rendering from a portrait. If you'd like to follow along with me on this tutorial like ~
nellies
then take your first task/homework on this as picking out a stock image and preparing it. Add your creative elements (if any) and get it ready for a good hard rendering, upload it to your scraps and link me it so I can link you in this tutorial

The next tutorial/theory work is going to be colours and base layers. I hope you enjoyed this one and any feedback is appreciated.
The Vector/Vexel Portrait Theory Tutorials:

Lesson 1:
Prepation

Lesson 2:
Colour & Base Layers

Lesson 3:
Shading & Shapes