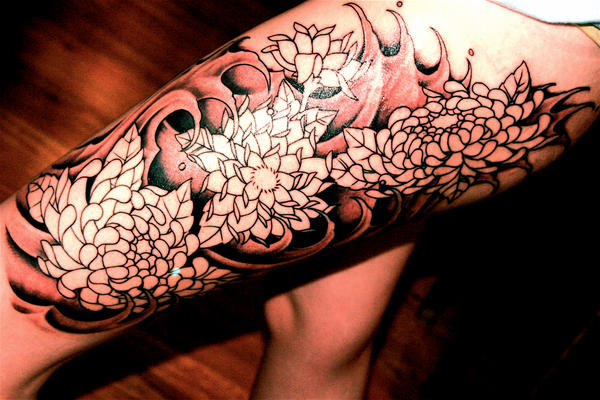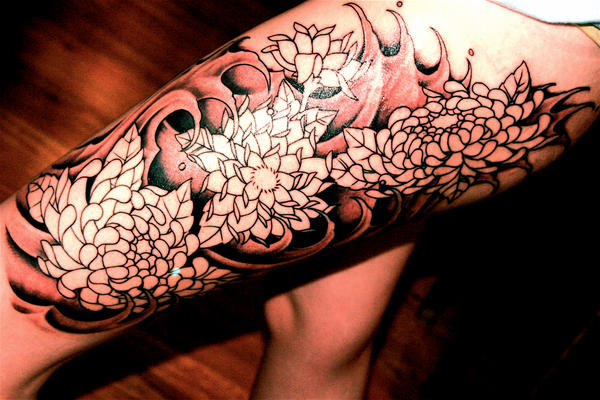 This. Hurt. Shading. Sucks.

Tattoo - Tim Senecal, Pisst Fish, West Springfield, MA

all i did was tell him 'tim. i want chrysanthemums HERE (pats thigh/buttcheek area)' and this is what i get.

5 hours. no breaks.

yea. i'm xcore.

Awesome! How much was it? Cause that was some intense work!
Reply

That is an awsome and gorgeous tattoo...is that white ink...
and how much did it hurt...I am very curious.
Reply

no, no white ink. thats the skin that didnt get hit with the needle. my real skin color lol
at this point, when i took the pic, it BURNED. getting it done wasnt too bad, until we took a break. after words... if you can imagine what branding in all the red areas would feel like, you might be in the ball park lol
Reply

uhhgg sorry it took so long for me to respond. ummm it's been almost a year. i feel a bit silly

(there was something messed up with my account for months and then i just stopped trying to make it work) i got an email and am now back on. i have yet to get the tattoo. i am sad about this. i have had plans to get it, but each time they seem to fall through.
thankyou for your explanation! it is largely appreciated!!
haha yea and i'm like totally looking forward for the "branding" feeling...not!

Reply

Reply

this is absolutely amazing! it reminds me of my side tattoo!
i really want shading like that added in the background of mine too
Reply

the shading HURTS ALOT. the artist has to keep going over the area really fast. in the end you feel like a raw hamburger. and it burns. haha its worth it though. it didn't heal dark enough and theres not enough black to contrast with the colour so my friend who did it is gonna go over that part again.
Reply

o holy crap i just got my first shading done last night, not on the flowers, a new one on my hip. haha not looking forward to the color so much anymore lol, on your descriotion is very accurate, my leg feels like a raw hamburger lol
Reply

Reply

so beautiful,

Reply

Reply