Journal Entry:
Fri Aug 5, 2011, 12:32 PM
~Winners!~
Sorry for the delay, but below are the winners of the fanart contest, who each win a free copy of the game. Thank you so much for entering! Even though the contest is over, I'll still be giving out 15% discount codes to anyone sending me Lucky Rabbit Reflex fanart / fanfiction etc, so please feel free!
by
aestate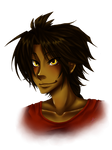 by
Misuzee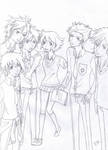 by
MomoiroGirl
Thanks again, guys~!

~~~
So my dating sim,
Lucky Rabbit Reflex
, was released a little while back (I'm going to keep plugging this until it kills me!). If you'd like a shot at winning a free copy of the game, I'll be holding a fanart contest between now and the 19th of August, with all entrants receiving a 15% discount and the winner(s) getting some free game goodness. If you're up for it, please send your entries to
admin at luckyrabbitreflex dot com
or send me a note to your entry if you post it on deviantart. Be sure to check out the demo available over at the official site for references!
In other news, hopefully I should actually have something to submit at some point. Maybe. Hopefully?

...*tumbleweed*
Watching: X-Men: First Class
Playing: Ocarina of Time 3D

Watch

Just wondering, is there a timeslot deadline? And if so, which timezone, etc.? XD Otherise im alredy too late DX
Reply

Don't worry about it - I'm going to wait until the 19th has passed in all timezones, so you've got well over a day left.

(I probably should have specified that, sorry!

)
Reply

I already bought the game and I'm loving it~<3
I even though I already have it want to enter~
I doth curse my urges to draw thy n dating sim characters~ XP
Now I shall have to go hunt down my scanner! =w=
Reply

That "some point. Maybe. Hopefully?" does raise my hopes!

How's the game doing? Decent sales? I should doodle one of your characters at some point, though again.. may be a bit weird for me to actually own the game haha xD
Reply

The sales have been going great, thank you! Way more than I'd originally expected, anyway.

(And what do you mean, weird? All of the cool guys are totally buying it, honest!

)
Reply