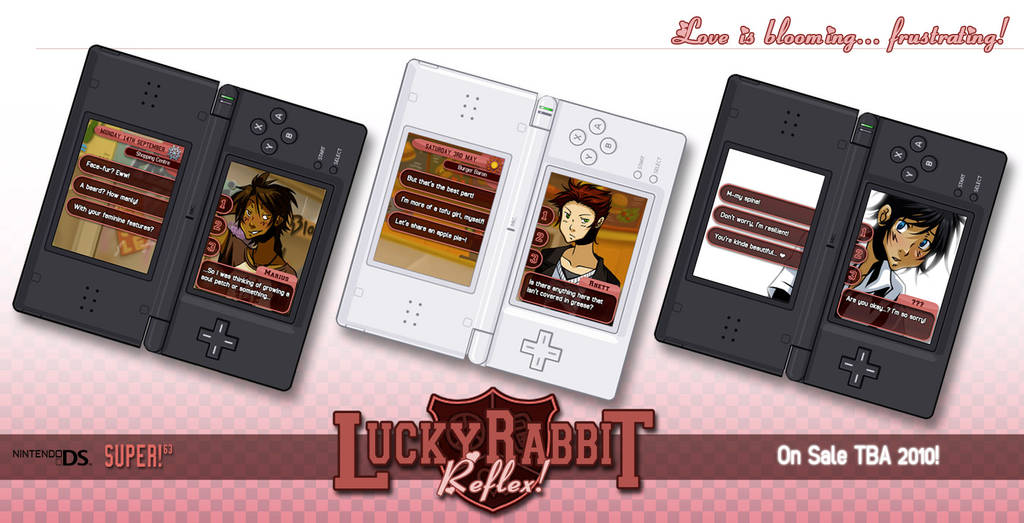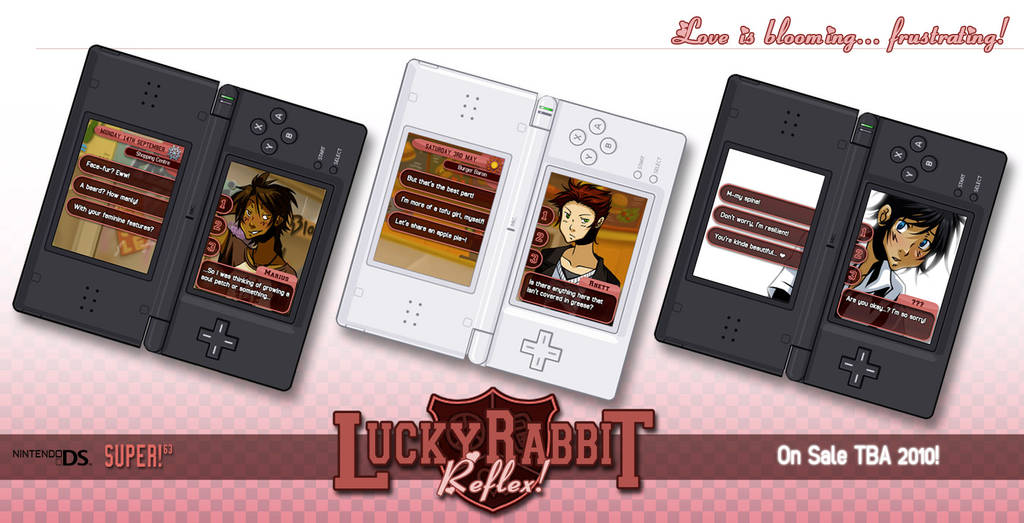 Watch
...The result of yet another day spent not working. Huzzah! On the up side, I'm being surprisingly productive...

Mock screenshots for my dating sim,
Lucky Rabbit Reflex!
, which I'm sure everyone's sick of me mentioning by now, hurhur

Ah, well. The real game totally does exist, and is playable, just, y'know, not for DS. I doubt they'd ever allow it on there anyway, even if I had the means - it's pretty much just Tokimeki Memorial in English. But eh.

Download to squint at the tiny, tiny text!
~~
DS template downloaded from here:
[link]
(you might need a Pixiv account)
Marius, Rhett and Shuppin (c) Moi~

bwaaaahhhh i wish x-x then i can play it all over again on the go and potentually scare people at my school more as he squeal when something cute happens xD
Reply

Omg, that would be soo cool though, 'cause the setup looks really great!

Haven't played the whole game though, since I'm kinda poor TT___TT NO FEAR! I'm entering the fanart contest, and then I'd at least get a discount, lol!!! XD
Reply

I am so looking forward to this! Keep up the epic work. It'll be awesome.
Reply

Princess Debut is just Osu! Tatakae! Ouendan for little girls, and Osu! Tatakae! Ouendan 2 is just Elite Beat Agents in Japanese. So take that!
Reply

Reply

Are these actual questions + options that are available for the game? I died laughing at the last one. Especially the you "you're kinda beautiful" XDXD
Reply

Haha - glad you liked 'em, tbh! A few of them are from the game, but that one's just for fun, unfortunately! (I might try and shoehorn it in somewhere, though...

)
Thanks for the comment!

Reply

Hrm... I'd be interested in playing.
Is it for sale? Or free?
Reply

I'm not actually sure yet, to be honest - at the moment, it's going to be free, but I'm thinking about maybe selling it if it gets much bigger... I doubt I'd charge very much, though.

Thanks for the comment!

Reply

omg wanttttttt to plaaaaayyyyyy

You know with Homebrew you COULD make a port for DS!
Reply

Heh, sure - but then I'd need to actually learn how to do that! I can barely code in the program I'm using as it is...

Maybe someday, eh!

Reply

It looks cool!

You said it's playable? Is it down-loadable from somewhere?
Reply