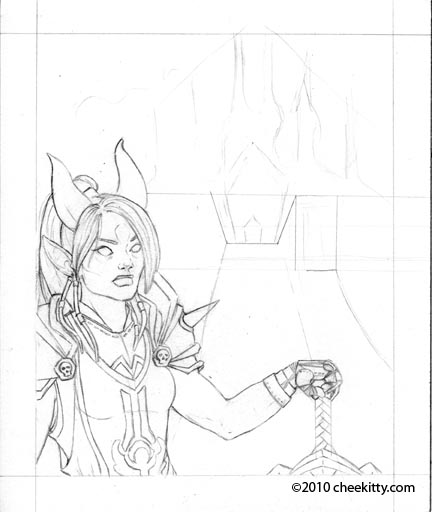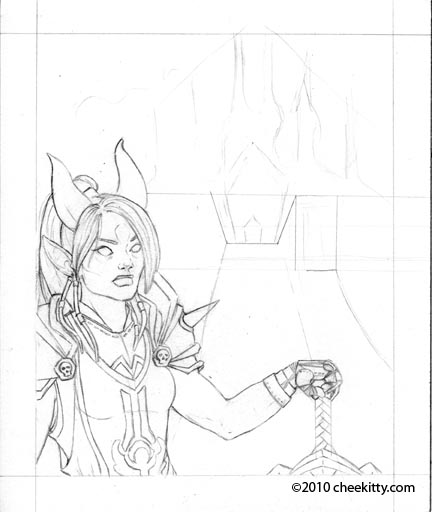 Watch
I've had a really busy few weeks, and not had time to sit down and actually paint, so I was able to work on a few drawings while I was doing other things for Anthrocon preparation.
This is my friend Aurélia *. She is a Death Knight from Azeroth, and one of the sweetest people I've ever had the pleasure of meeting online. She was having a really rotten week, so I surprised her with an illio that fits into her story (I play on a roleplay realm).
She's had a really rough time of the transition from living to dead, and she...went a bit mad when the Lich King lost control over the Knights.
That isn't a metal glove. Fortunately, gnomish and goblin engineers were skilled enough to create a mechanical prosthetic for her, and most of us never notice anymore.
.oOo.
This will be painted between commissions, for those familiar with the setting, she's standing in front of Icecrown Citadel. I need to flesh out her sword, finish all the details in her hand, then work on the background. This is a personal project between commission work.
If I can find a public posting of Aurélia's backstory, I'll link it! Her player is a talented writer, and I believe even those unfamiliar with the game can enjoy it.
* The piece is titled incorrectly, since DA does not allow special characters in titles. Boo! Her name actually is Aurélia.