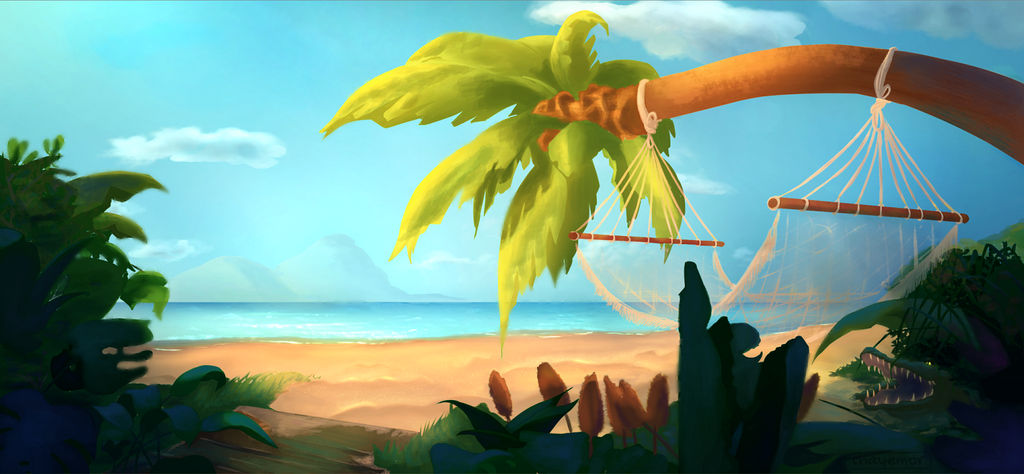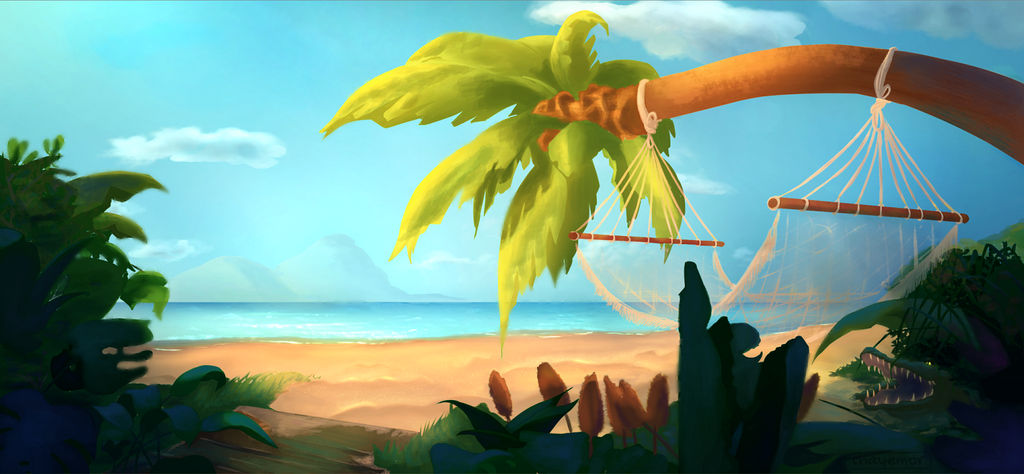 Watch
I wanted to do something a bit comical, can you see the part that is not what it seems? Nice relaxing day, but fear might be lurking around.
I messed around and approached this painting using Correction Layers instead of Multiply/Overlay. Definitely different, now I don´t know which I like better, hahaha.

Hey! I'm here from
ProjectComment
!
My first impression was... Wow, it's a really beautiful painting! I love the way you colored the foliage. The colors are also vibrant yet not overpowering. Then I read the title and looked again and I thought that was such an interesting concept! I really love the way you portray the crocodile (alligator?) in the darkness. I thought it might be cooler if there was someone on the beach being unaware though haha. One thing that I thought could be improved is the netting of the hammock. It looks a little blurred and unclear, as if you weren't sure how to draw it (I don't blame you at all if that is really the case, these things are difficult). It might look better being as clear as the rest of the picture. Also the rope tied to the tree on the right side of the picture shows a little bit of the tree, which I think you might have overlooked.
Overall I still really love this piece! Please keep it up and I look forward to more works from you. (Gonna give you a watch because I love your work; feel free to watch back xD)
Reply

You are so right, the rope looks as if it was see through because I selected the tree trunk, added shadow, and moved on, but didn´t notice that bit of rope that is not within that trunk selection, hahaha. Thanks for that!

Quite appreciate the critique! Yes, a person would have been good to add to show the fear, to really feel it. In this case I abstained from it since I just wanted to focus on the environment, but next time I will add a character to get the emotional aspect of it too. Thanks once again!

Also, thanks so much for the support, feels so nice to know you like the piece

Reply

I see! You really did well on the environment though! And yeah we all forget little things here and there xD I wish I could draw environments as good as you!
Reply

If you get the chance, I highly recommend Schoolism. That´s how I did this piece, I have the subscription model. They usually do two sales a year, and it ends being like 15$ a month for a whole year.
Reply

Hey there, I was sent here by this journal -
No Constructive Comments #11
and what do you mean by don't get too relaxed? It looks perfectly safe...... oh no. Oh jeez. Welp, I sure wasn't expecting that to suddenly come to my attention. Well played Chayemor, well played. Anyways, I'm not the best at criticizing art of this caliber so take this critique with a grain of salt.
First, off I'll say what I like and oh my god this is gonna be long. I absolutely love how the light and 'safe' beach contrasts with the darker side, how the crocodile is just hidden enough to give the viewer long enough to give comfortable before they notice what's off and how absolutely stunning your lineless, painting-like style looks. Everything is done so, so well from the proportions to the depth and the general theme. I. Love. It. The way you color and shade is probably my personal favorite part of this piece, it's at the perfect spot between realism and softness.
As for what I'm not so fond of, some shapes seem a little too blurry and the crocodile looks more like a decapitated head than an actual living creature, showing a tiny bit more of its body would help fix this problem without making the crocs location too obvious. Oh, and the fact that this doesn't have more faves and comments

This is DEFINITELY going into my faves, 8.8/10
Reply

Hi thanks so much for the comment and critique. Mmmm, I can see how the crocodile might look like a decapitated head, hahahah, don´t know if that´s worse for fear or even better! I will need to see about not blending his body too much into the foliage. Good eye! Also, could I ask you about the blurry shapes? Some of the shapes are purposely blurry, since I don´t want contrast to call attention to them. If you look at the leaves on the left, the ones right in front of the bright sky, they are blurry alright. But that was to lower their silhouette contrast , since there´s nothing interesting there for the viewer to look at. I kind of liked it it rough like that, reminds me of how when I go to the beach and I get my glasses damped, that´s how I see things, blurred out, hehehe.
Thanks so much for the support, it´s so nice to read comments like these

Reply

You're welcome, I'm always happy to give support to my fellow artists, especially those they really deserve it *wink wink nudge nudge* In regards to the blurry thing, I totally understand why you left in blurred now. It's a pretty neat idea really. And thanks for commenting back too! It makes my day to know I made someone feel even just a little bit happier!
Reply