Been busy getting my ducks in a row for the 2014 con season

lots of shows lined up, and I'm pumped!!
slowly but surely making more time for US shows, and hopefully I'll be making a jump across the pond for a Europe show before too long. Australia was on the list for this year, but my selfish best friends getting married haha, so that's on hold for now.
I'm going to be at the 2015 San Diego show, as well. For sure for sure. tired of missing out on that.
Winnipeg AiKon Winterfest
February 8
Winnipeg Wonderland Anime Festival
March 1,2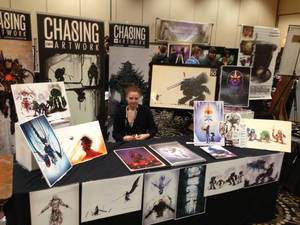 Another Smaller con, the very first year its been held. Bit tinnier than we had hoped, but a good chance to network with local artists and plan some big plans

Toronto Comicon
March 7-9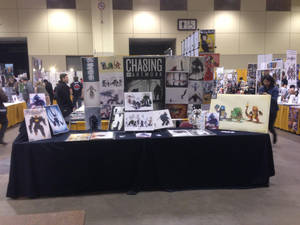 First big show of the year! was a little hectic to man a 2 table endcap without any help, but with the aid of red bull, coffee, and Granola bars, I made er!
The Pokemon Poster on display caused a massive spike in that pieces interest- good trick to remember.
I also think I forgot a piece of my banner stand at the show

Also, never trust


to lead you anywhere. Ever. every time we go off on an adventure to find a magical Sushi place, or a mythicaly awesome pasta restaurant, it turns into a never ending quest

Emerald City Comicon
March 28-30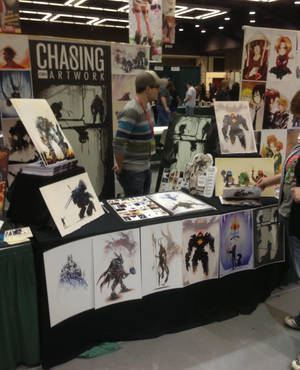 This con had a stupid amount of talent setting up shop, my area in particular felt like a Disney concept art book exploded onto the floor. so much AAA cuteness. Loved the city of Seattle, very friendly and chill place, the weather was nice (especially in comparison to Winnipeg). One of the best aspects of the trip was adventuring around the city with friends after show hours.
Cannot wait for next year! only thing I'm going to change is the amount of table space :0 need moooaaar!

Fan Expo Vancouver April 18-20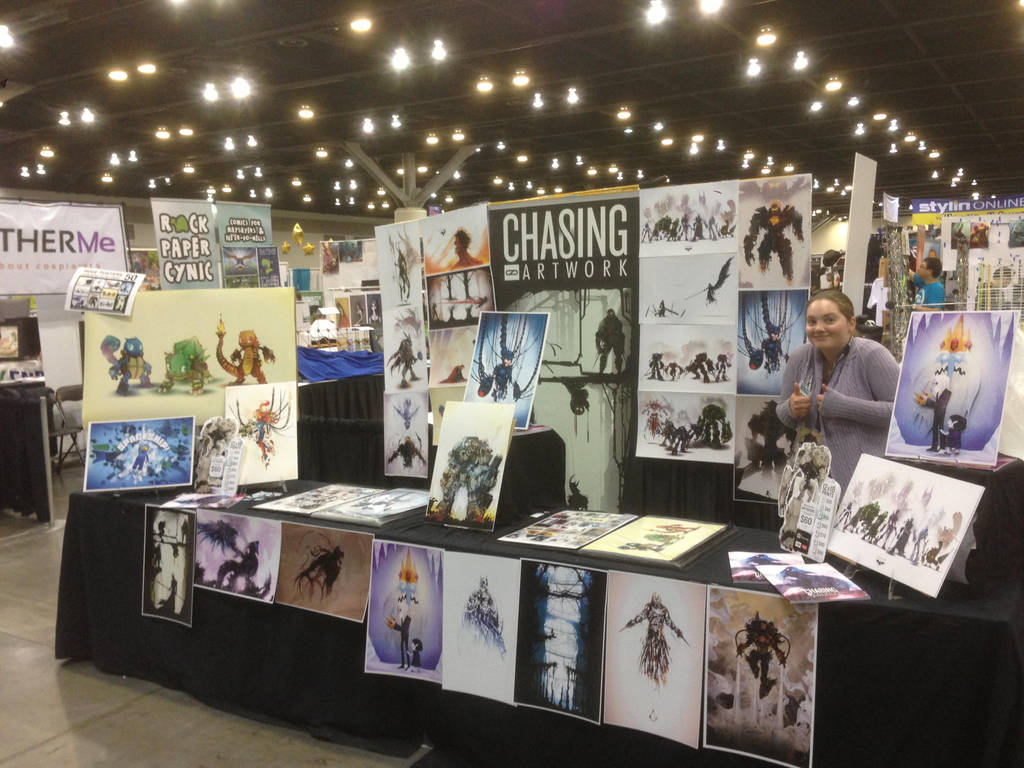 Lil sis came to help me out

was a super fun trip, and I was pleasantly surprised how many return customers remembered me from last year and were excited to pick up the new stuff- always nice to leave an impression in the sea of crazy talent that is artists alley

Calgary Expo
April 24-27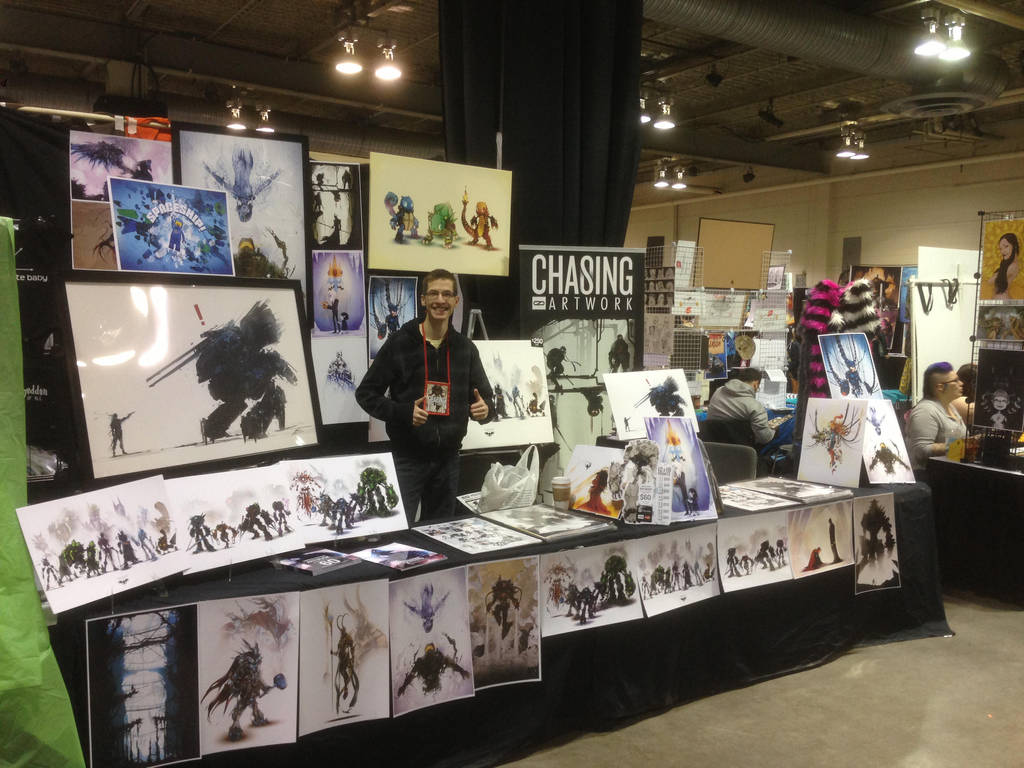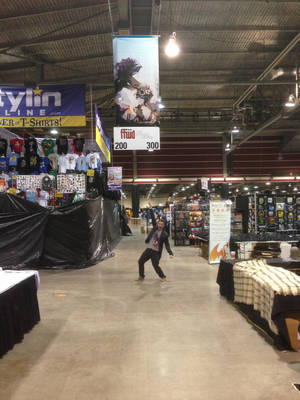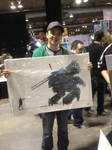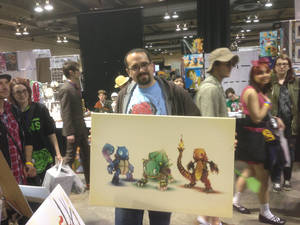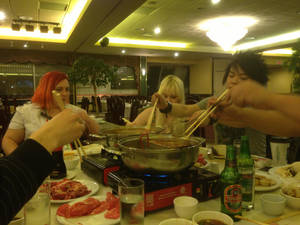 Not sure where to start with how the Calgary Comic and Entertainment Expo went this year... Splendidly epic.
To kick things off, they used my Cassie and Tonk artbook submission as a aisle banner, completely unknown to me, so day one of the show I suddenly stumbled upon my own original characters printed the size of truck. The best. It will be used at the con every year from now on (I tried to buy it from them, but they like it too much, haha)
I've never had so many return customers, almost everyone had visited the booth in years past, and was hungry for this years new pieces. One of the best con crowds an artist could hope for.
After a dozen or so customers took my ninja turtles pieces to the voice cast to sign, I was informed the actors wanted their own copies, I promptly sprinted across the halls and had the opportunity to meet the entire voice cast my fav childhood show! All really nice dudes. Cowabunga.
Every day after the show Andrea Tamme and Quirkilicious took us out for crazy delicious eats, I'll be haunted by those savoury meats until next year
So ya, amazing show, great attendees, hauntingly great meals. I'll be back next year with more stuff than you can shake a stick at!
Fan Expo Regina May 3-4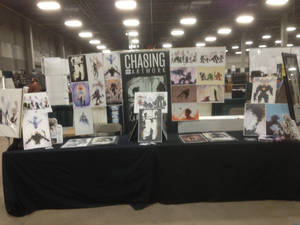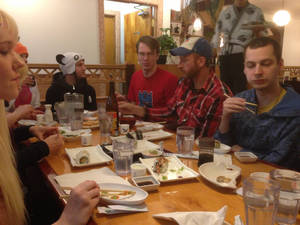 Think everyone was pretty shocked at the turnout this con pulled, was a great success for a shows 1st year, and next to no artists tried this show out- so we killed!

and of course yummy eats afterwards, this time with some Total Drama Island voice actors.
Ottawa Comicon
Good show! only compliant is that its too far away from the city! will post pics etc soon
May 9-11
Anime North
May 23-25
Winnipeg's Aikon
July__
Chicago Wizard Con
Aug 21-24
Toronto Fan Expo
Aug 28-31
Montreal Comic con
Sept 12-14
Edmonton Expo
Sept__
New York Comic Con
Oct 9-12
Winnipeg C4 Comic Con
Oct 31 - Nov 2
You can also buy my work as a print/phone case/canvas/pillow from my
Online Store