I like doing things to celebrate DA's various birthdays, so I am going to do so again! C:
1. How long have you been on DeviantArt?
I have been looking at posts on DeviantArt since 2007, but I actually got my own account two years later in 2009!
2. What does your username mean?
When I was walking around fantasizing about all of the sites I wanted to join when I started becoming more active on various internet communities, I had no idea what I wanted my username to be. Suddenly the phrase "Charred Pineapple Tart" came to me and I giggled. Shortly after I started actually using that phrase as one word, but at the time I made my DA account, I couldn't fit the whole thing because of a character limit. Being stubborn, I decided to just remove the "e" in "Pineapple," effectively changing the username to "CharredPinappleTart"
3. Describe yourself in three words.
Gamer, loyal, and inquisitive
4. Are you left or right handed?
Right handed!
5. What was your first deviation?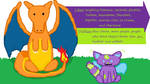 This is the first ID that I tried to use, but it didn't really work as intended so I quickly made another haha
6. What is your favorite type of art to create?
As evident by my gallery, I love making sculptures with Sculpey III oven-bake modelling clay! Mostly of Pokémon and other creatures.
7. If you could instantly master a different art style, what would it be?
I think it'd be awesome to be able to draw in a sort of hyper realistic, yet still cartoon-like style with a lot of motion evident in the poses of characters.
8. What was your first favorite?
Goodness it would take ages to find, but I am pretty sure it was a Diamond and Pearl male trainer protagonist riding on a Torterra.
9. What type of art do you tend to favorite the most?
Highly detailed fanart of my favorite characters!
10. Who is your all-time favorite deviant artist?
Goodness that's very hard to say @_@ If I am pressed to say, I will say
SeaSaltShrimp
C:
11. If you could meet anyone on DeviantArt in person, who would it be?
I think it would be a lot of fun to hang out with
Miguelphantasy
because we've collaborated on so much and it'd be awesome to actually play video games together or something :'D
12. How has a fellow deviant impacted your life?
So many people I watch on DeviantART have impacted my life in so many wonderful ways because we have known each other forever on other sites too. Everybody who I watch on here from Route50 have changed my life for the better in ways that are hard to put into words. They make me feel welcomed and loved when I otherwise would not. They have cheered me up more times than I can count. They have believed in my ability to persevere in life where I probably would have broken down without them. There is so much more I could probably say, but I am unsure how to really express my emotions.
13. What are your preferred tools to create art?
I prefer modelling clay, while I also love using mechanical and colored pencils.
14. What is the most inspirational place for you to create art?
I'm not sure if it's inspirational at all, but I have always sculpted on the same desk over the years. It has lots of clay stains and is marked up by clay tools, and I think that gives it character.
15. What is your favorite DeviantArt memory?
I loved the series of drawings that my friends and I made for DeviantArt portraying Palkia, Dialga, and Giratina as happy dorks instead of the awesome beasts they usually are. That was the first time I really collaborated with somebody on an art idea and I still love it.
This is the first journal I have written in a very long time, so yay for that! Happy birthday to DeviantArt! Here's to many more years of artistic expression!
#deviantartistquestionnaire