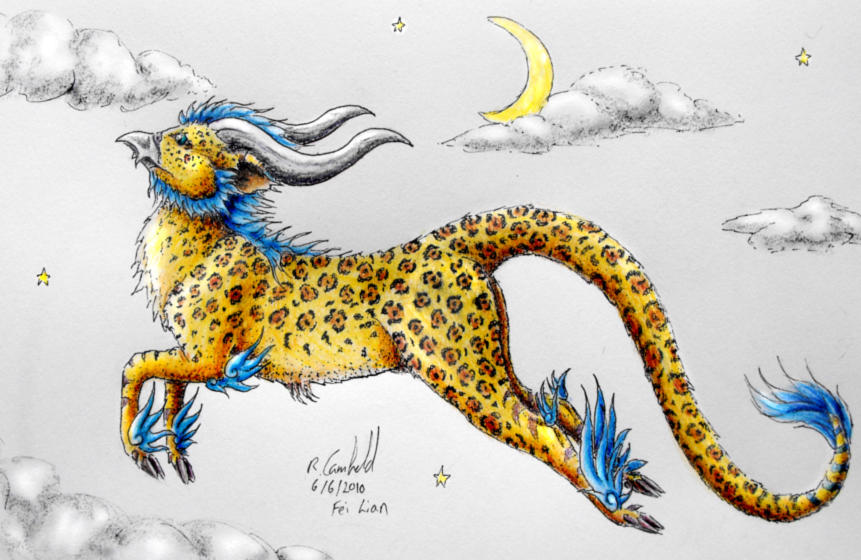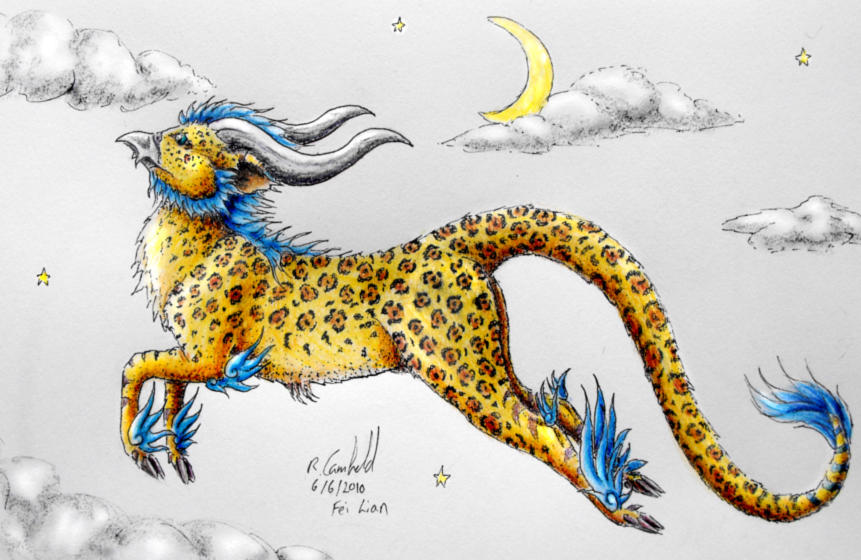 Watch
The Fei Lian was a remarkable creature in Chinese Mythology,exhibiting five different animal species within its family tree. With the body and legs of a stag, it was as swift as wind, gliding through its forest dwell with ease.A long,serpentine tail balanced the beast's heavy head, resembling that of a sparrow with gleaming white bull horns with stripes. Its elegant body was covered in golden fur and dark spots, rather like the pelt of a leopard.
These beasts were not carnivores,but would kill any creature that threatened them.
Like most Chinese beasts, the Fei Lian (also called feng bo,meaning 'wind lord') lacked wings, but was sometime portrayed in flight.

I tried to draw it in a similar style to an older creature feature the Qilian. The blue feather tufts a sign to show it can fly and bounce among the clouds. I was lazy on background but I forced myself to draw this critter as my muses seem to want to no art currently. I supoose an art block in a ways.
I coloured him with pencils and yellow is hard...

Your Fei Lian is so cool!
Reply

Reply

Cool! The latest CF at WC!

Yours is magnificent!
I love that background!
Your version of the Fei-Lian is both beautiful and elegant! You always blend those animal parts seamlessly!
You have a block too

we are in the same boat

I guess it is anatomy and hand practice for awhile.

from tarpalsfan/Kathryn
Reply

Thankies Kathryn, I even merged the 'fangs' from a Chinese water deer into his beak, give him something to attack with.
Well least the practice will help on future drawings. I just back to doodling dragon head designs as usual. Though got a couple of sea critters in amongst them.
Reply

I watched something that (nature program) that showed Chinese Water deer-tiny little things, and so fascinating!

Sea Creatures! I love them! And of course your ever marvelous dragons!
I hope you get over your block soon!
At least your drawing something cool! I am drawing hips-lol!

from tarp
Reply

Awwwww...he's beautiful Chaosia! Outstanding detail, as always. I agree the yellow had to be a pain, but it was definitely worth it! I'm still working on mine. I'm still trying to decide on its form.
Reply