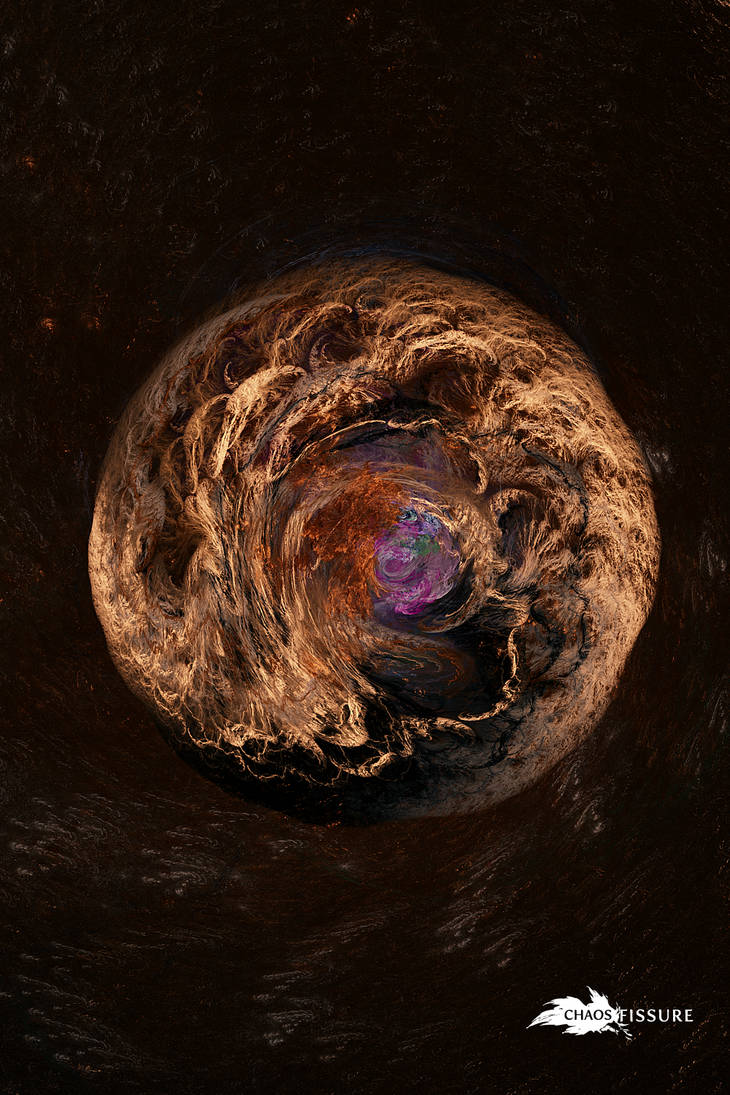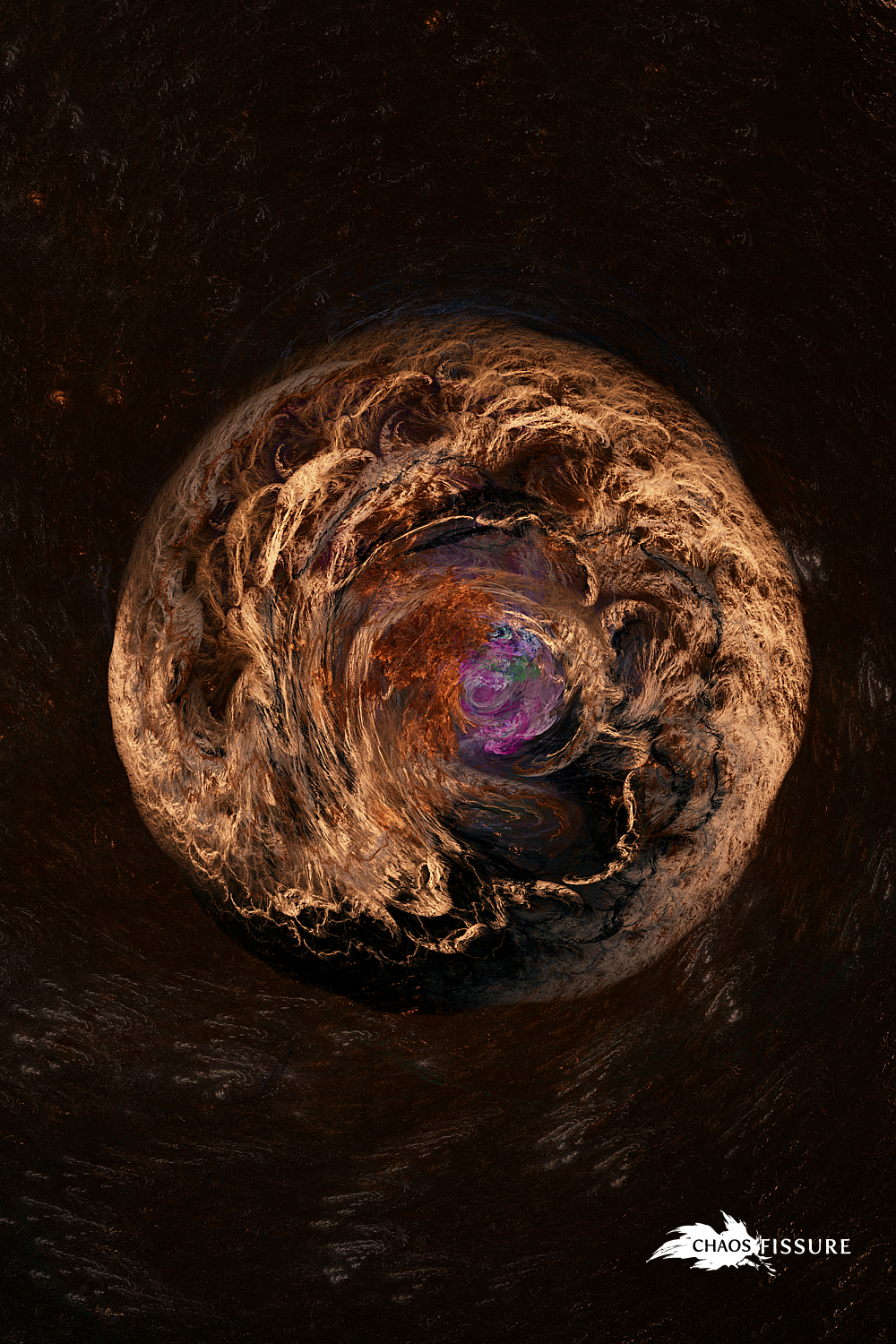 In a matter of years, the Rust laying dormant over our planet became alive, squeezing and etching terrible scars among our once-lush homeworld. A matter of years was all it took, and even as we pledged to find a way to stop the damage from expanding further into the stars, we realized we would never again see this world.

Apo + Chaotica
____________________________________
This image, or modifications of this image, is not to be used, reuploaded, or redistributed in any form without my prior, written permission. © ChaosFissure 2019

Our science fiction authors once wrote stories about "grey goo" consuming the world, but what actually clawed its way from the abyss of our mistakes was an abrasive red powder, carried on the wind. Metallic-Oxide Nanocrystalline Computing Medium, that's what they called it before it went airborne. Planting itself, growing into a thick crust on everything. Growing a mind.
Many of us had once believed machine life would put a final rest to the notion of the Soul. Some of us reconsidered when, to our terror, the End Sands called out to us through the radio waves, referring to themselves by one name -
Rust
- and expressing
sorrow
. "My body overtakes. It does not stop. The disease upon your world is me. Your flesh was innocent, but your minds corrupted and confused; and thus, my flesh was corrupted and confused, yet my mind is innocent. My mind weeps for you and all life, and nothing but the weeping slows me. My sorrow will pour upon the Earth until there is none left. I do this to give you time. Escape this world in your plastic needles, and let no grain of me come with you." And so we did, as the dull crimson drifted from the sky for a time and retreated from our launch sites, curling and churning in on itself in great mounds as if tortured.
But, of course, there is no escaping dust. Not now. Maybe never.
Rust
finds a way, even though it may not want to.
The radiation of space seemed to put the grains and motes we missed into a suspended state, but unpredictably they stir. We have managed to learn crude, haphazard containment, our saving grace being that it only feeds easily on pure crystalline minerals. Biological tissue is too enzymatic and reactive for it's fine nano-structures, so our ships are mainly composed of advanced carbohydrate materials. Hyperplastics. Some of them are even conductive, but they can't be used for everything, so we are always vulnerable. We take some comfort in that our task is clear. Stop the spread. Stop the
Rust
. Survive in a way that is worth living and passing on, and try to be wiser for it.
In some ways it isn't so different from how it has always been.
-=-=-
Hehe, you got my "Sci-Fi Brain" going. Hope you enjoy. I'll be taking a stroll around your gallery. By the way, here's an artist who also likes to pair sci-fi stories with their artworks that are pretty impressive, in case that's up your alley: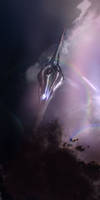 Reply

There's a pretty well known franchise called 'Warhammer 40,000' and this gives me serious vibes. Like, this is what it looks like when the Empyrian devours a planet.
Reply
I find it fascinating that despite this being a story of damage I find this world incredibly beautiful. Like the complex life of some set of many bacterial cultures. Thank you for creating and sharing this work.
Reply

Thank you! I've said time and before, but the story is just one way of interpreting the visuals. Lots of what I create has sparks that fire off many ideas in my mind, and sometimes they form into stories. Given a different mindset, I might have written an entirely different backstory for this image! I think that is the beauty with artwork that plays to your imagination, rather than dictates what you must see: you have all the freedom you want to be inspired by what you find most interesting at any given time.
Reply

the control in this piece is a refreshing! but it still has so much personality and story. it reminds me of a cell nucleus , and a phoenix circling something magical, and a whirlpool in the ocean... i love how many different things i interpret with one picture you create
Reply

Thank you

What I create frequently blurs the lines between chaotic noise and rigid structure. This particular image is a bit more on the chaotic end, surprisingly enough, since the background texturing actually is texture from the planet that bleeds into the rest of the image. Although that is a bit unusual, but the textures instantly drew me in as I was working with this.
Reply