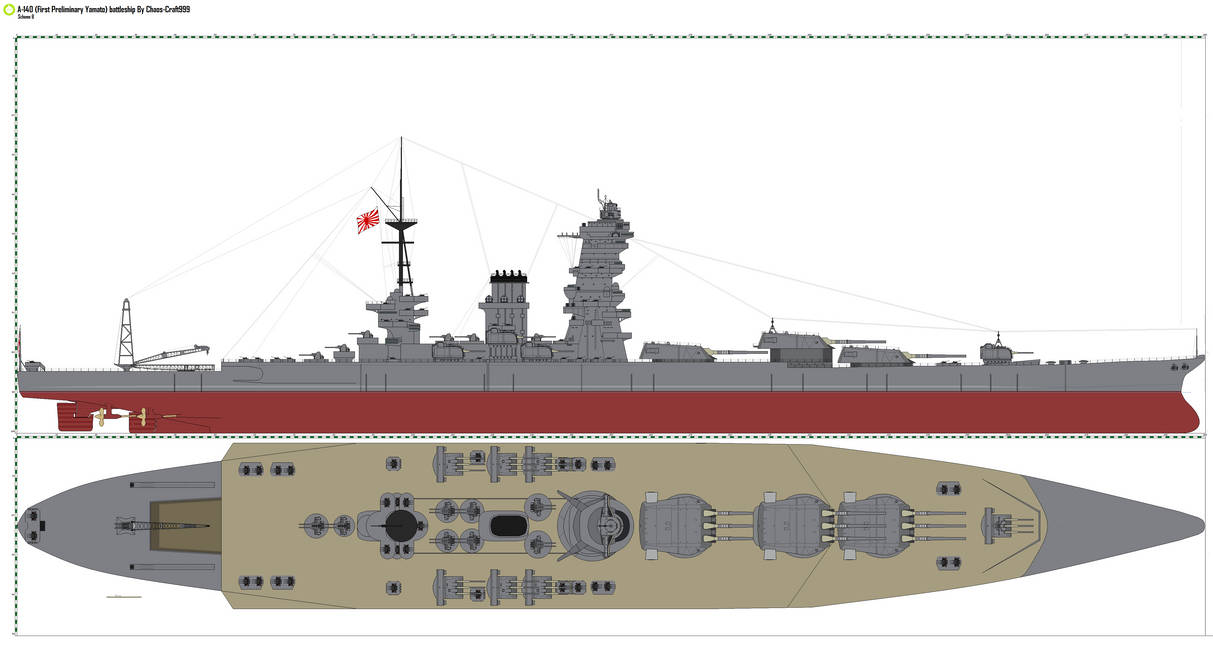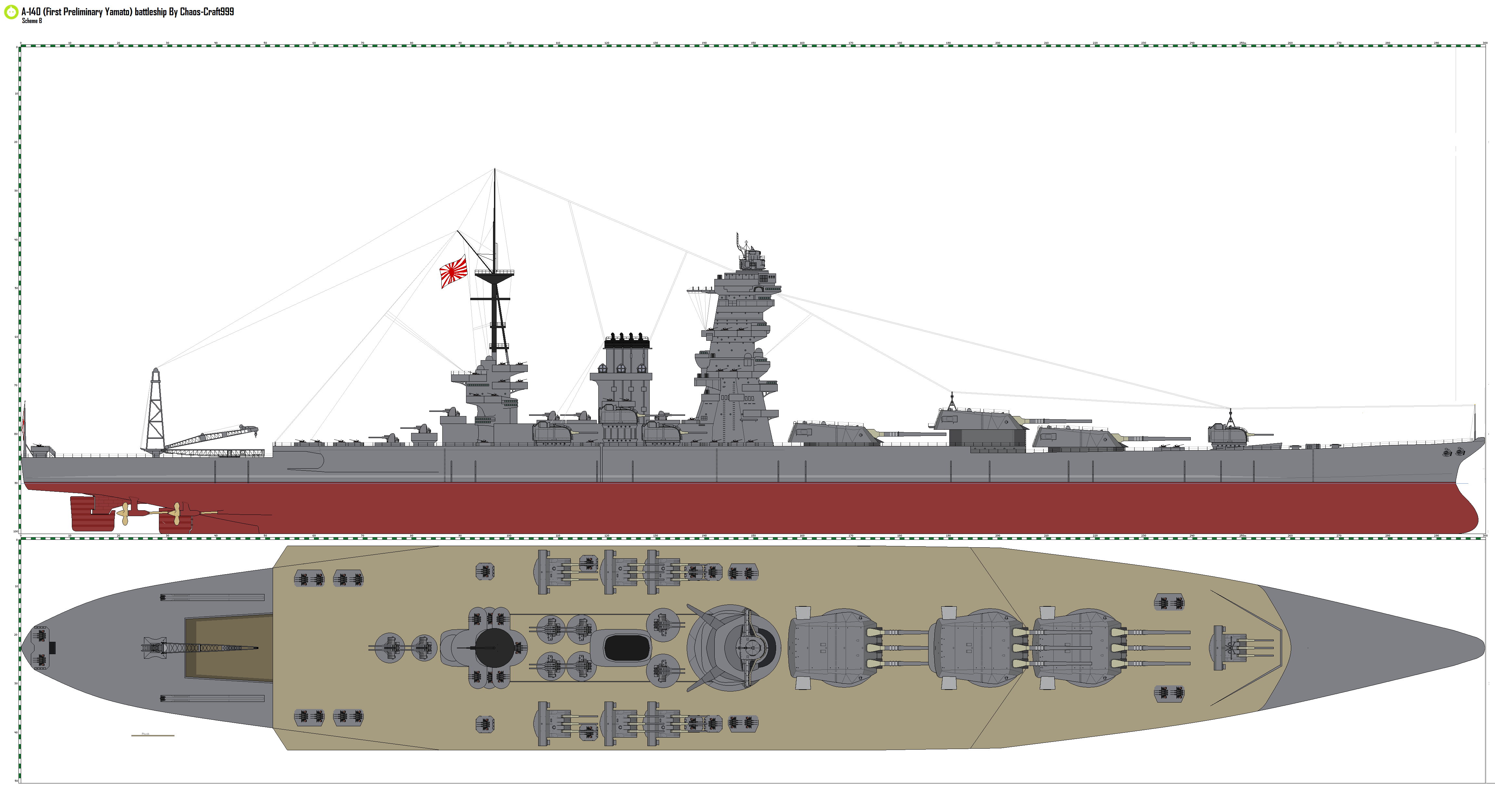 Watch
What's New About This? they looked the same!

It has a big difference! This is the accurate and improvised version of what i made, i decreased some freeboard and draft/draught size and there are Big difference as you can see, increased the overall legnth into 300m, while it's waterline is 294m in scheme B/2.

Description
The most biggest,strongest, and the first preliminary battleship of Yamato.
This battleship could've dominated the pacific if it became a reality, but it didn't, she was the First A-140 or yamato's preliminary.
this warship was given large hull because she was designed to be fast by giving her an extra engine,very dangerous to engage her in crosing the T(wether you're in horizontal line or crossing line, still you are doomed), this warship is not clumsy as much as yamato and izumo(A140 G0-1)
what makes this ship unsinkable(even though its not) is giving it an american Radars and AAs.
luckily for american, and sadly for japanese this ship was too expensive and requires larger dock which the japanese doesnt have, same fate happened to their 4x3 , 4x2 , and 3x3 20.1" guns arrangement of A-150, making it 6x

Overview:
Weight:69,000 tons(empty load)(the full load can almost reach 80,000 tons)
Length: 294m in Waterline/300m in overall(this is the Accurate length of the A140)
Beam: 42m
Draught:10.4 m
Power: 200,000shp(the ships is long because it was designed to equip more engine, and have more speed)
Speed:31 knots(full load)/33 knots(if not full load)
Armor belt:16"
penetratable range:20,000m(12miles)~30,000m(18miles)
Armament:
main gun: 3x3 (9x)18.1"/18.9 6th year type gun(i will be working on the japanese 19"/18.9")
secondaries: 7x3 (21x) 15cm 3rd year type gun
tertiaries: 6x2 (12x)12 cm/5 in gun
AAs:12x2 shitty 25mm type 97 gun(most produced gun because it's horrible at accuracy and range)



Later update, i will try the Scheme D/4 with the practical 19in/sixth year type.

Reply

Reply

Yes, you can as you wish.
Reply

So you taken Fujimoto's last battleship proposal (Aka Fujimoto's dream battleship) altered it and put older weaponry on it: 46cm/50 Type 6 (1917) instead of the Yamato's 46cm/45 Type 94 (1934) cannons?
Reply

the 18.9" sixth year type gun?
i might have made one but it made it larger than yamato's turret.
chaos-craft999.deviantart.com/…
i am replacing the 18.1" with 18.9" in Scheme D/4.
Reply

Reply

Sry but i rushed it! I will make the twin and n13 style and its alternatives.
I believe i made the a140 style turret.
Reply

The A-140A layout is the Nelson layout where all turrets face forward (instead of the 3rd facing aft as on Nelson) and all secondary guns Aft. I can provide Japanese drawings of the various preliminaries. Only Fujimoto's designs of the 1935/36 last battleship of his, and his Kongo replacement feature secondary turrets forward of the main turrets:
Last battleship:
orig14.deviantart.net/a2c6/f/2…
Kongo Replacement variant:
orig03.deviantart.net/252d/f/2…
this can clarify:
i1135.photobucket.com/albums/m…
sometimes (erroneously) they are known as Fuso and Kongo replacement battleships
Also look at Yuzuru Hiraga's Proto-Yamato from 1929:
3x3 46cm, 3x3 20cm
orig10.deviantart.net/a46b/f/2…
Reply

I suppose these are all weird and odd designs but i will take it.
Reply

Not necessary, they were designed to fit in the Washington Naval Treaty Limits and would had been built if the first London Naval Treaty would not extend the battleship building holiday. They are maximum on minimum design meaning the best armour and armament on the smallest hull possible.
Reply

Reply

Use the Nagato's 41cm turret as a base which is influenced by British turrets. I've used that for the 46cm Type 5 twin and triple turrets to be used for the No.13 class (No it would not be armed with 48cm cannons but with 46cm ones as evident from original Japanese sources)

For 1930's design warship use the Yamato turrets and scale them to 41 or 48cm weaponry. The 51cm twin turret would had been looked the same as the 46cm triple. I've used this method for my weaponry for the no.13 preliminaries which I will eventually post (13+3 designs)
Reply