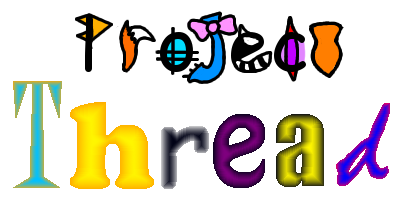 Guess what... main character time baby.
Taylor: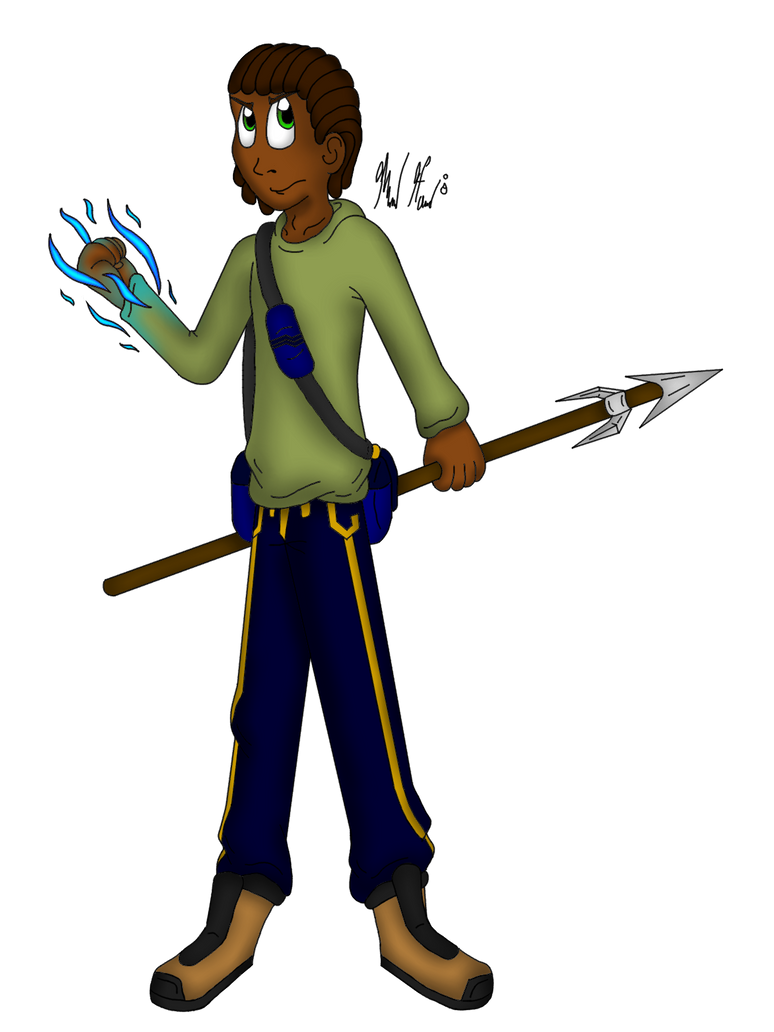 Taylor is the main character of the game. His main weapon is a spear, allowing his attacks to do damage from slightly further distances than most characters (except for Peanut, Freddy, Mace, of course). He has a very balanced set of stats, making his chance of survival in all areas easier. This also allows players to spread out their strategies when playing as him. He can learn most if not all magic spells, and even has a small set of character exclusive spells that are un-teachable to the rest of the party. Right now, he takes an average ammount of EXP to level up, but that may change since he will always be in your party: giving him the most exp. There will be times where you will have to play as Taylor only, and for that matter, play as some of the other characters by themselves. Unlike most allies (again, except for Freddy), he will be able to learn more than one summon. These summons will be either characters from webcomics that don't have their own world and/or party member, fan comics (comics based around other web comics), or OC's that come from Project Thread. Here are some screen shots of the game play with Taylor: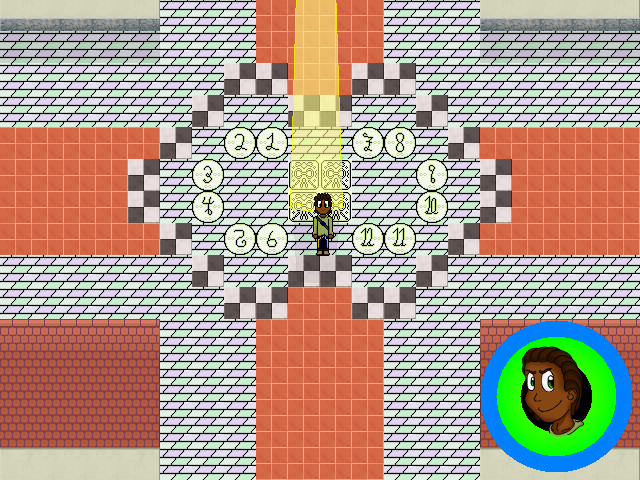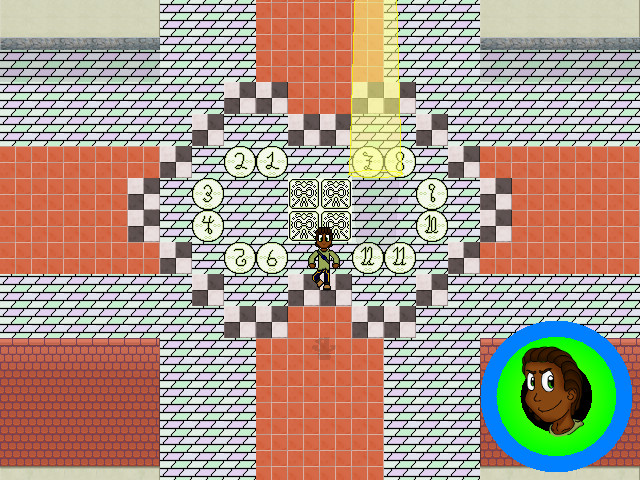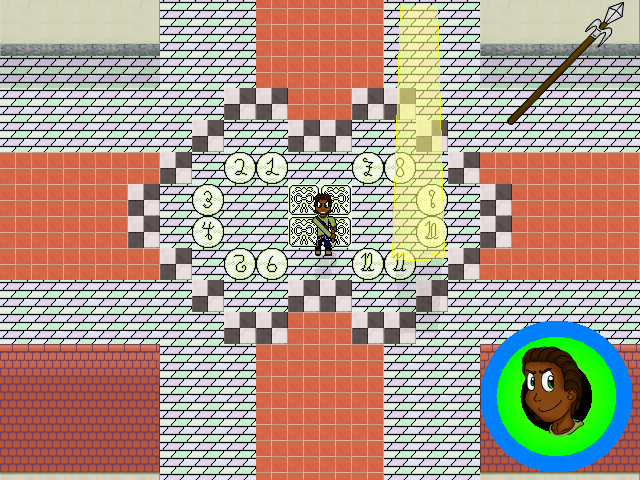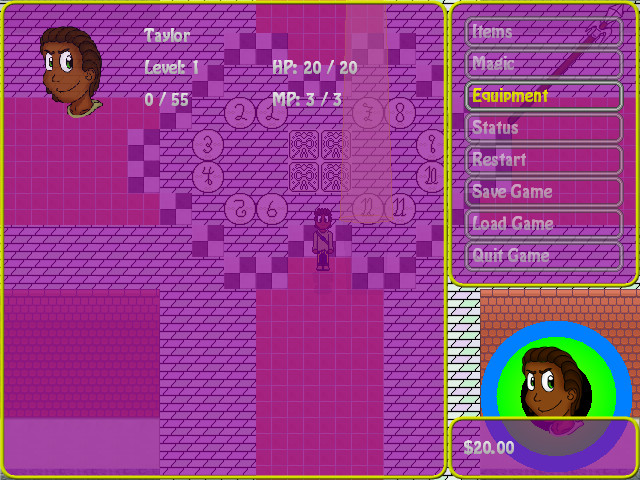 (okay, I did not predict the buildings would look perfect when placing the pictures

)
Now a couple of things:
Title: At this current moment in time, I've decided that the title of the game is Thread Bound. This may change later, but for right now I am pretty sure this is what the game is called.
Friend system: I want to try and apply a "friendship system" into the game. A friendship system is like the thing in Dragon Age where your characters will like or dislike you more depending on what you do. Depending on a companions friend stat, they will treat you differently, creating a variety of dialog. This system mainly kicks in during special companion events, in which two or more companions are having an argument or different opinions on what should be done. These arguments can range from different beliefs, opinions, strategies, attitudes, or even the choice of weapon a certain character uses (there's only one argument I have planned for the weapon topic so far). Depending on what you say, you can either gain a friend point or loose one. If you play it right, you can even end the conflict by choosing the right words. You can even make everyone angry by saying the completely wrong thing. The most tricky part of this is knowing how companions will react to what you say.
One More Companion: As I said, there will be no more webcomic companions. But, there might be a Thread Bound OC companion. That is all I will say regarding that.

Secret Boss Fights: After completion of the game (or possibly during it), you will be allowed to free roam everywhere you have been on your adventure. To give you a challenge, there will be web comic themed secret bosses in each world. Some will be side quest related, and others will be just from going to a certain location. These bosses can be from any web comic OR fan comic, so be prepared for anything! They will be very difficult, but not like Mysterious Figure from Kingdom Hearts: Birth By Sleep, NEVER LIKE MYSTERIOUS FIGURE... Anyway, some of them will require you to have specific characters in your party, or play solely as one character. On that note, remember to keep your team at an even level and never neglect any of them.
Weapons?: I can design weapons and all, but making multiple for 9 or 10 companions might get a little hard (depending on how many weapons will be available) If you want to design some weapons for the character to use, feel free to tell me via the comment section, send me a note, or email me (mason.hardison@gmail.com). Anyone who participates in any way for the development for Thread Bound will get their name put in the credits for whatever way they participated.
NPC Sprites: There will be alot of them, so at some point I am going to create a base template for my sprite style. You guys can use those to make the characters in specific web comics. If you want to help with that, feel free to tell me via the comment section, send me a note, or email me (mason.hardison@gmail.com). I will have more info on this subject later.
If you'd like to make any suggestions as to what I should add to the game, or suggestion as to any web comics I should read, please feel free to say so in the comments section bellow. Not quite sure when the next Thread Bound journal will be realeased, but it will probably be when the blog is finished. You can also expect to see some more concept for the game in the coming days, so stay tuned.
Till then... TAKE CARE!