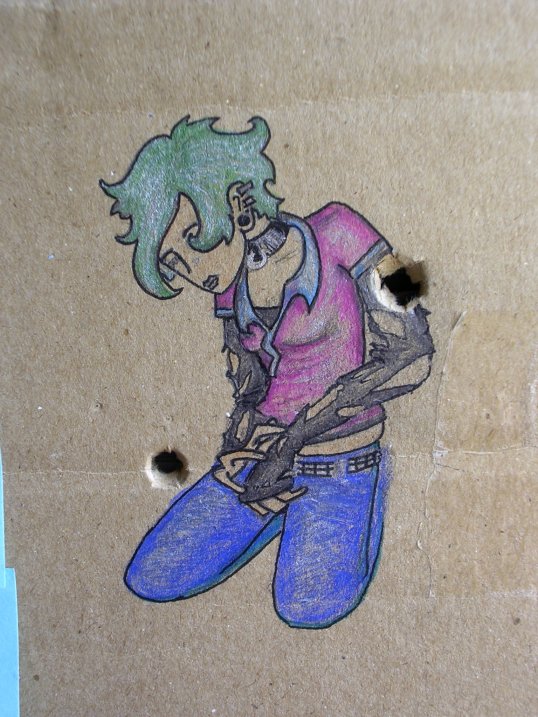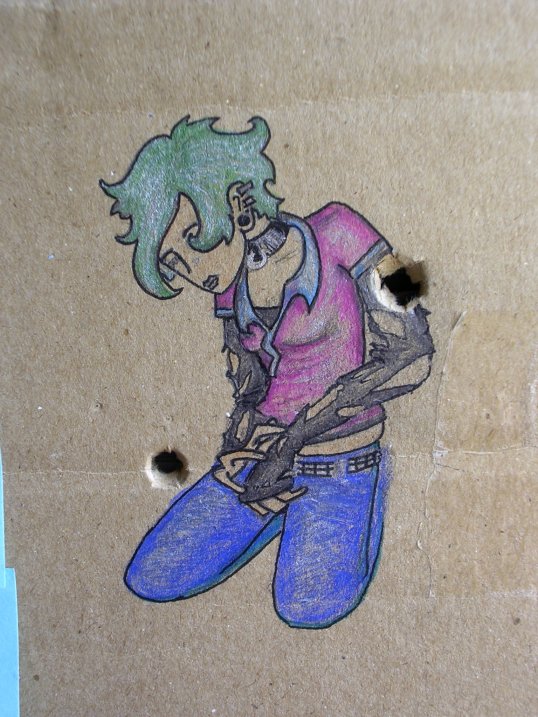 Watch
So this past week, after several nights of 3 hours of sleep, I was braindead and incapable of producing a coherent lab report. Of course, whenever I get sleep-deprived, the other side of my brain always develops this burning
necessity
to create.
This is a bad picture of a green-haired girl on a carboardboard box. The holes are pencil-puncture wounds. And she is created with every silly desk supply I could find.
[link]
<--That's why I was drawing on a cardboard box. It's part of my room, next to my bed.
(P.S. I got sick of the hazy fadey look, so I inked it and uploaded the new image.)

Awesome.

So very cool.

And props for doing it on a vertical surface. I suck at using easels.
Reply

Oh God, me too. My neck ached for a day afterwards, 'cos the thing is to the right of my bed, and that's the only way I could approach it. Ow.

In favor of easels, though, I've been finding lately that my work tends to be... off, because I draw it from a certain angle, and it looks good from that angle, but it looks like shit from straight-on. Sooner or later, I might be posting a self-portrait that exhibits this angular characteristic.
Reply

Well for a doodle on a bit of old cardboard I think It's great

The colours look really subtle, but then I'm a sucker for stuff done on this shade of paper, everything just seems to blend into the background so easily... Well done you!
Now go study!!!!

Reply

I love stuff done on this shade of paper, too! I tried to find some white-out, to really make it pop, but the best I could find was a silver gel pen... which reflected something awful in the photograph.
The subtlety, though, I'm not crazy about. I think I'm going to trace the pencil-line skin with ink and repost this later.
Studies are done! My last lab report was handed in yesterday.

Reply

very interesting

Reply