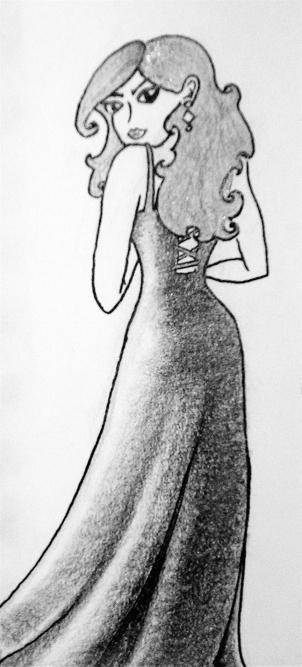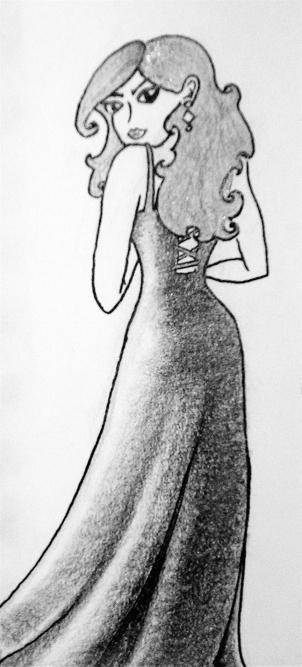 Watch
I don't know. Six months ago, I wanted to draw something pretty. She's out of focus and looks much better on paper.

Considering how her hair turned out, I am ashamed to admit how long I spent on it.

GAH.

(Not, in fact, a PAH, which is a Polynuclear Aromatic Hydrocarbon, which is what I'm very definitely NOT writing a lab report about.)

I love the drape on her gown.
Excellent, darlin'.

Reply

Ack. The problem is that I haven't drawn dress folds from an actual reference picture since, like, 6th grade, and there's always a lot of guessing and bullshitting involved, in addition to (as I mentioned) a lot of shading to distract people from my crappy linework.
But I'm glad you like it.

Thank you!
Reply

tsk tsk tsk, do your homework!

(I know it sucks but fuck, if it'll help ya to be a millionnaire then I'm all for it!)

Reply

Gah! I always forget to do this all in one nice neat tidy comment. Thank you for the favourite! And I don't think I thanked you for the Mrs. Robinson fav, either, so HERE!

Reply

I'm doin' it!
Actually, right now I'm trying to justify why you'd find a whole slew of plasticizers on a dollar bill.
(Did you know there are trace amounts of cocaine on every dollar bill in the U.S.?)

Reply

omg, really? woah...weird. plasticizers? what's that? *wonders if plasticizers is something to do with getting women's already big plastic boobs a bigger cise/size?*
Reply

Plasticizers, I think, although I really don't know and I've already handed in the lab report, are the things that make plastics bendy.

But don't quote me on that. Google it or Wikipedia it or something.

...Can we use "Wikipedia" as a verb yet?
Reply

Pretty cool shading!

Reply