Cesco the Maine Coon cat is here, hello!

I'm fan of furry art and I like to follow the best artists. I do also some draws, attempting to improve my skills and get good ideas.

FurAffinity
|
Weasyl
|
Picarto.tv
Respect and affection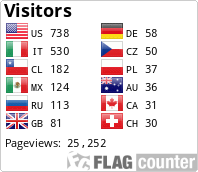 Avatar and profile ID drawn by my dear friend


and

are my best friends for the life!

Favourite Movies
Cyberpunk, Dystopian, Furry animation, Cartoons in general and Comedy genres
Favourite TV Shows
Top Gear, any Cars shows and Documentaries
Favourite Bands / Musical Artists
Lot of EDM producers and DJs
Favourite Games
Driving Simulators, Racing, Rally, 3rd Person Action Adventures, Graphic Adventures and Platform genres
Favourite Gaming Platform
PC
Other Interests
3D modeling and rendering, Computers Hardware, Photoediting, Cars, Cabaret, Voice Acting