For the longest time, I kept my gallery OC-free.
This was reflected on my commission policy, with no OC commissions accepted.
But I am realizing now that, as of March of this year, my gallery was no longer OC-free: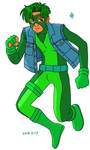 I'd started including some characters created by me when I was in high school (translation: quite a few of them, though not all, were based on my friends and myself).
So I am thinking nothing bad happened to the gallery, and now I am opening it to other people's OCs. I will be accepting OC commissions.
I can still decline any commission at any time, and all other rules still apply. But let's see what drawing other people's OCs is like.
---
If you are interested in commissioning art from me, you can read the details here:
||| C O M M I S S I O N I N F O ! |||
---
On other news, I opened a Patreon account. Please go take a look at it. As rewards for the patrons, I will be uploading lineart versions of the drawings I create.
Here is the link to my profile:
patreon.com/icecypher
Thanks!
---
César.
---