YCH Sketch Commissions ~Sleepy~
you can choose any gender for this YCH!
Sample :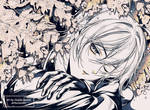 This auction will closed 48 hours from the start bid,
Serious bidder only please,
I will accept Paypal and DA Points 1$ = 100

SB :
26$/2600

MI :
2$/200

AB :
80$/8000

SLOT 1

RULES

I will accept Paypal and DA Points only.
Please contact me and pay within 24 hours after you win the bid.
I can draw the character/s as a male or female, but humanoid only.
I can't accept furry characters, kemonomimi character is OK.

Payment is first, when full payment has been received
I will send you the sketch and if you approve it I will continue to finish the picture.
Please be patient, sometimes I take my time to work on complicated piece.
And after I finish the picture, I will send the high-res image through sta.sh.
You can upload the picture in your gallery or websites, but please give me credit of the picture.
And please remember that the commissioned picture is for non commercial use only!
(If you pay with points, Please pay within the commission menu!)
©Cerylia Rectris Art's
Image details
Image size
850x1450px 1.38 MB