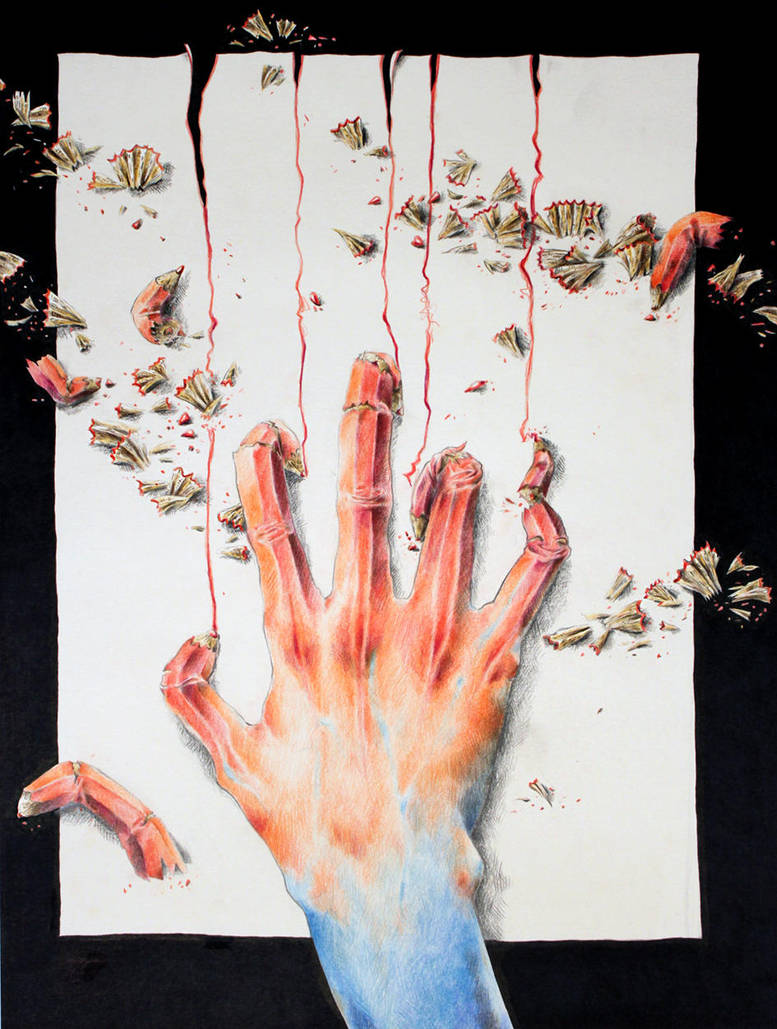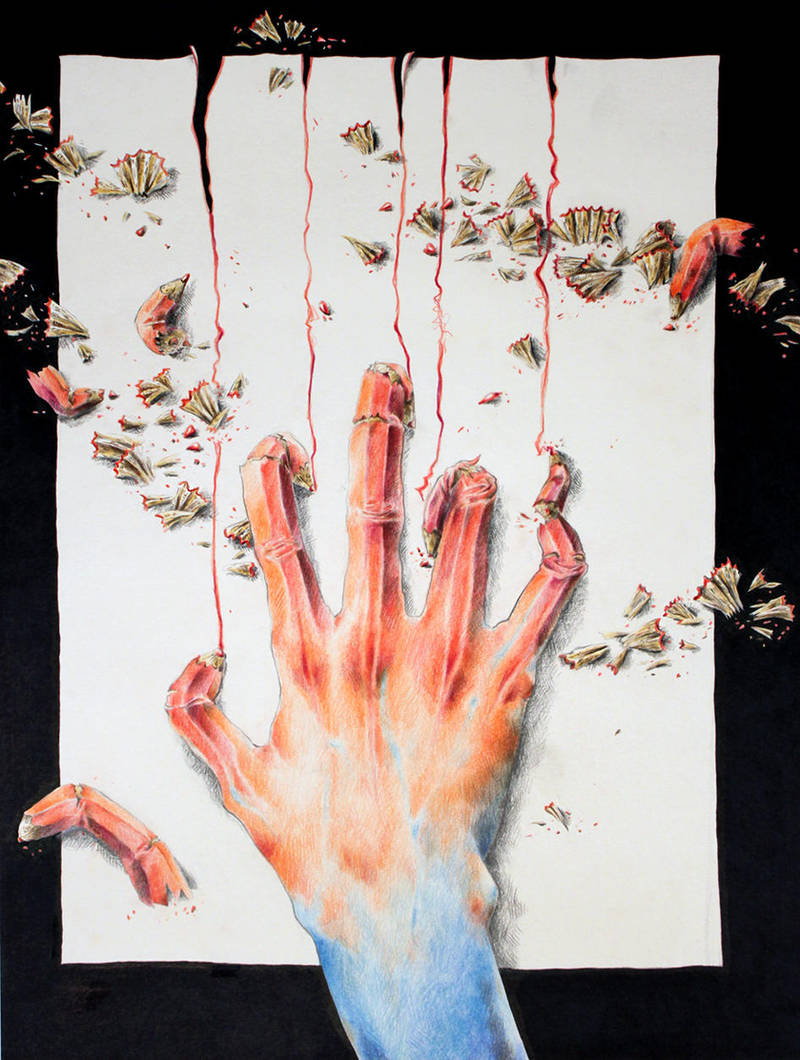 Oh yes, I do!
I hate it so much. So much I can't stop doing it.
I tried to stop drawing for once and for all so many times already. But regardless of how often and how long I managed to lay down all pencils and brushes, it always came back to me sooner or later.
I don't draw because it's my passion. I can't even remember when drawing was purely fun for me the last time. There's this horrible urge inside me that just makes me do it!
I feel bad if I don't draw and I feel bad if I do draw. It really makes me insane sometimes! But I simply can't stop it. It's like a love-hate-relationship between me and my drawings...Am I weird?

Anyway, I tried to depict this inner conflict with this drawing.
The fingers in form of pencils are totally worn out. They crumble, they break, it's so painful to keep drawing! But it doesn't matter, my hand still won't stop...
Daily Deviation
Given 2015-01-17
The amount of emotion that you seemed to put into this piece is incredible, I absolutely love how you have been able to take something that is already hard enough to recreate and make it even more uniquely fantastic and creative. The originality is awesome, and the colors you used are just perfectly selected. If there was one thing bad I could say about this work I would, fact is..To me this is stunning and perfectly placed together. Honestly, this is one of those pieces that can speak to someone in many ways, and it is one of those pieces that I think a lot of Artists wish they thought of. GREAT STUFF HERE!!!
The Artist thought this was FAIR
75 out of 75 deviants thought this was fair.
Just a few words in introduction, as I want to make this distinction clear. What I am writing here for you is not a criticism, but a critique, written with full respect from one artist to a fellow artist. As I have stated elsewhere, I think you are a fabulous artist, and I agree with what others have said that you deserve to be recognized.

First, although this piece is not my personal favorite of what I've seen of your work, I can see that you strive to be meticulous in your technique, consistent in your shading and shadows. The lower two-thirds of the hand before it transitions to the surreal pencil fingers indicates that you pay attention to anatomy and observation.

In reading the comments made on other compositions of yours, including this one, one thing that people notice immediately is the emotion and passion that your art expresses. In my opinion that is one of the strongest qualities of your art in general.

I would respectfully disagree with your self-assessment that you "hate drawing". Here are my reasons: Much of your art, this one definitely included, expresses intense personal pain. You have stated in other locations some of the circumstances that cause your pain, which are considerable.

I believe that you hate your pain, and justifiably so. But your drawing is a means of expression. And because your pain is great, and your art is a major – if not THE major – outlet for the expression of your pain, you are associating your drawing with your pain.

If I might make an analogy, with the understanding that analogies only go so far: if I get hurt badly, mentally or physically, maybe I will cry. If I get hurt many times, maybe I will cry many times. I might also cry with joy, cry with sympathy for others or other situations sad or otherwise. But my tears are a way of expressing my emotion over situations and feelings, such as experiencing hurt, grieving loss, and so forth. So, I might say that I hate those situations and circumstances that hurt me and that cause me to express myself through tears. But I don't hate my ability to cry. In fact it would be so much worse if I could not. (Believe me, in this society and culture, men have traditionally been taught not to cry -- and that culture f*cks us up big time.) Am I making any sense at all? As I said, analogies only go so far.

Your drawing and making art is a major tool of your self-expression.

In my life, I have experienced many bad things happening over many years. But through good times and bad, I always had my art. Art and the making of art helped pull me through. My opinion is that the same seems to be similar for you, though you were obviously going through a real rough patch when you made this drawing, maybe still are.

When you do a beautiful painting like "Fairy Slumber", or when you make a piece of art for someone, either as a labor of love and friendship, or a collaboration, you don't hate your drawing then, do you? I may be wrong, but I doubt it.

So, you will experience pain, and feel bad, maybe hate it. You will find ways to deal with it, or not. But you can't stop making art -- because it's a vital part of you. You don't hate your drawing. Whether you feel joy or sorrow, you express it through your art. It's your toolbox, your voice and your soul.

Of course, this is simply my opinion, and you are well within your rights to reject it. I would ask that you consider if I may be telling the truth, though. Please never stop drawing and making art.

(I warned you that I can get wordy.)

-- Ed
The Artist thought this was FAIR
50 out of 51 deviants thought this was fair.