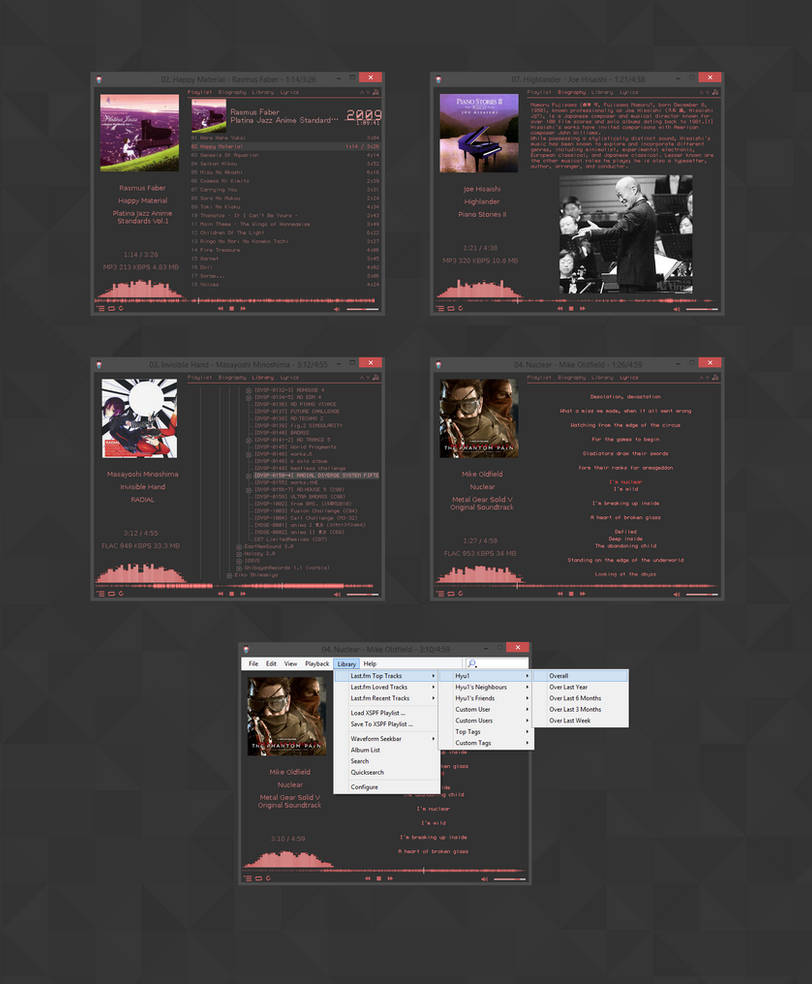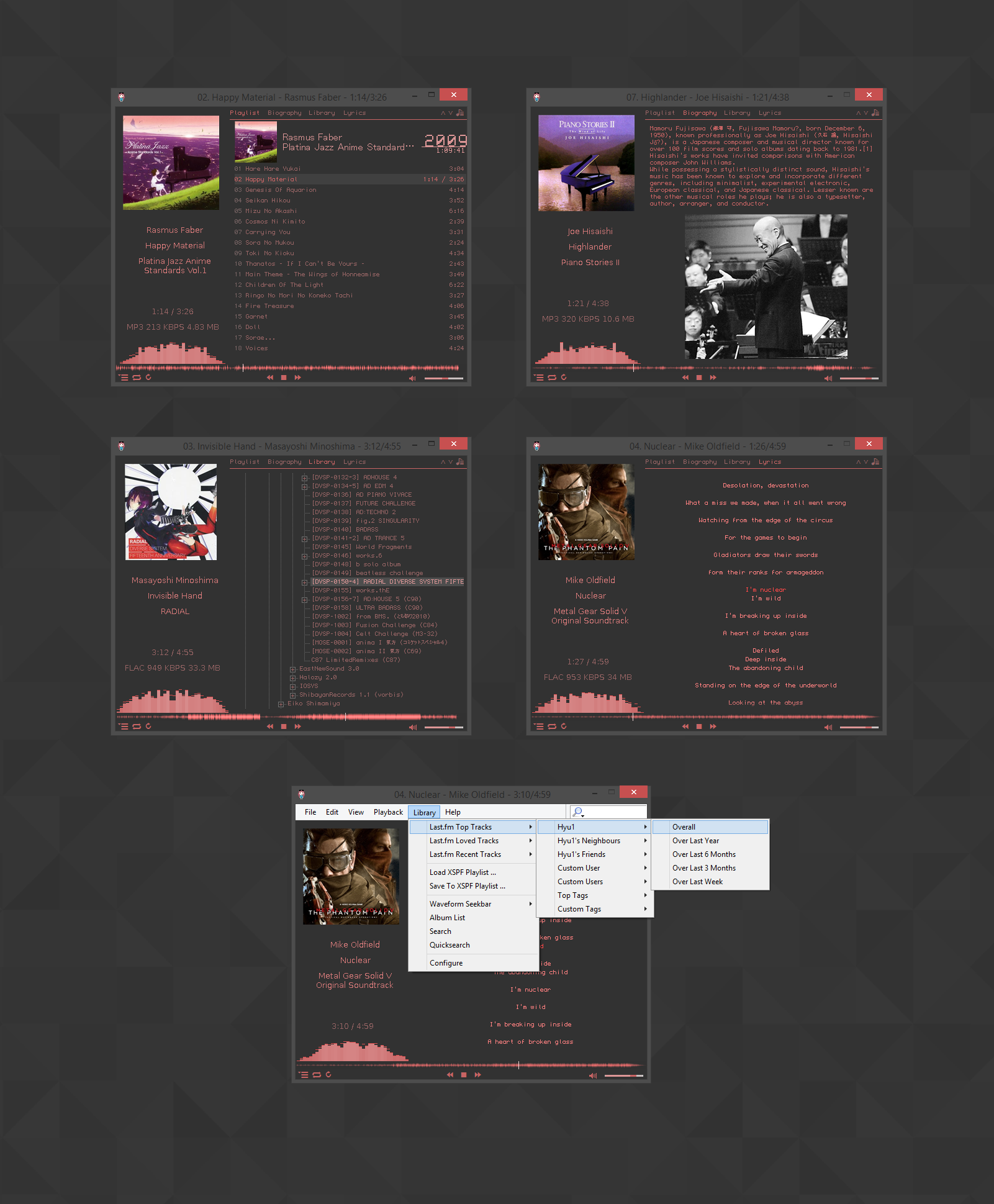 This skin is an edit of Nightlife2 by TheSmurth:
www.deviantart.com/art/NightLi…
Background from subtlepatterns.
www.toptal.com/designers/subtl…
1. Install the fonts included in the fonts folder.
2A. Standard installation:
I. Paste the user-components and configuration folders in \AppData\Roaming\foobar2000
II. Paste the skins folder in the folder foobar2000 is installed (default is C:\Program Files (x86)\foobar2000) then start foobar2000.
III.Import "foobar2000 Nightlife2 Mod by Hyu.fcl" in File>Preferences>Columns UI>Import...
2B. Portable installation:
I. Paste the contents of the user components folder into the components folder.
II. Paste the skins and configuration folders into the foobar2000 portable folder then start foobar2000.
III.Import "foobar2000 Nightlife2 Mod by Hyu.fcl" in File>Preferences>Columns UI>Import...
v1.1 changelog:
New components included:
-Pre/Post track Silence (available under Playback>DSP manager>Skip silence
www.foobar2000.org/components/…
)
-Replaygain override (
www.foobar2000.org/components/…
)
-Soft Playlists (Love tracks on last.fm, create playlists, and more.
www.foobar2000.org/components/…
)
Updated components:
-Columns UI 0.3.7.8 to 0.5
-Lyric Show Panel 3
-Biography view
Other:
-Added 2 run services scripts
-New Lyrics Panel
-Modified the Layout in Columns UI to allow the Lyrics panel to function without overlapping onto other panels
-Replaced two icons
-Added a global hotkey to show/hide the menu toolbar (Alt+M), this allows quick access to Library>Last.fm top, loved and recent tracks playlist creation.
-Changed some info to be displayed using DejaVu Sans font, should be included in the fonts folder.
For gapless playback I recommend using Skip Silence together with Crossfader under DSP manager
The same skin but with the old Crisp font for my friend 10k32
www.dropbox.com/s/oxwcpwd5rb6s…

where did the wallpaper go?
Reply
Is there a way to change the colors?
Reply

Looks very nice! I only have one problem with it, can't see cyrillic letter with it. Is there some way to change the font?
Reply

Right click> splitter settings>Behaviour>Default font...
Right click on playlist panel> Settings >Field definition. Edit TEXT.PLAY.FONT ; GROUP.TEXT.FONT ; GROUP.DATE.FONT
Reply

Very compact and detailed, no issues besides the biography tab repeating itself a few times. It's not a major issue.
I can't think of anything this doesn't have, besides a rateyourmusic search option, which would be nice.
Great job
Reply

I'd suggest trying to set up
github.com/MaciekBaron/lastfm-…
as the biography component included has some issues like downloading the text 2-4 times. It may take some time to get it working however, only do it if it's essential to you.
Reply

After re-coding it to work under Python 3.5.2 it worked great... outside of foobar. Apparently the component is bugged and when it sends the command to execute the python script it simply fails to do anything even though there is no errors in the console. The component itself will still load data, that much I know as I tested it by setting it to load bio data from a txt file my script spits out.
I eventually just got tired of the whole thing and switched to a JScript panel running the Biography JScript which works flawlessly. (at least this one:
hydrogenaud.io/index.php/topic…
)
Seems the Biography View component has reached the end of its life, hasn't been updated in 6 years, last.fm support is broken, and so is external commands :/
A bit of tweaking later and..:
i.imgur.com/VhKsAcM.png
Didn't take much, just removed Biography from the panel, inserted the JScript panel running the script I linked above and made sure to place it where Biography View was (using the same Name + settings).
Then its just a matter of right clicking the new panel and adjusting its settings to override the color and make it match the current theme.
Reply

It's a nice one and with a compact point of view.
Good work.
Reply