Ever heard that saying that pets and their owners look alike?
And here we have Klayton and his famous pet, Stutter -
Can't see the resemblance? Well, now's your chance to fix it!


(OK they look alike here -
)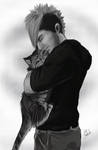 (and here -



THEME



YOUR MISSION (should you choose to accept it) is to either get an existing photo of Stutter and paint over it, or alter it in some way, so it matches Klayton's hair. Or you can choose to draw Stutter from scratch, therefore digital art or traditional art is also accepted.

OPTIONAL: give it a holiday theme! Having Klayton in the image is also optional.
(all found by Googling "Stutter Klayton" )
Video -
vine.co/v/b2Yun1E6dn6



ENTRIES



All entries in this folder

cell-mates.deviantart.com/gall…

NOTE: if you've used a photo of Stutter which you didn't take, please credit and link in the description of your piece.



DEADLINE



Now it's April 10th.




PRIZES



Club can do features for the top 3.
(and who would've thought that thumbs work in club journals now

)
Prize donations welcome!
Can the resemblance be found? You guys going to have fun with this? Are we nuts? You decide!

The future is YOURS!


~daz
DISCLAIMER: this is meant to be a fun activity.  We're not actually advocating that Klayton spill his bottle of hair dye over Stutter.
- - -
Want more activities?

SPEECH BUBBLES
(you decide what they're saying or thinking in these photos by leaving a comment on the pic!)
Speech Bubbles 1: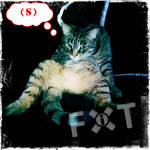 Speech Bubbles 2: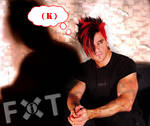 List of more ideas...
-consequences game
-line-art colouring in competition (but we don't have the line-art!)
-competition - do pets like Celldweller?
- ourselves in the pose of the Blackstar balloon pic - it can be pictures, manips or a drawing, of ourselves (or personas) with a blackstar balloon, like in the Celldweller Bio. picture, where he's with a black balloon. (thanks,
0Indigo0
-scavenger hunt
-quiz
Please let us know if you have ideas!

WAYS TO PROMOTE CELLDWELLER
There are plenty of ways that you can help out to promote Celldweller!

PAGE LINKS

Speak another language? List it here

You Know You're A Celldweller Fan when...

Introduce Yourself

List of Celldweller interviews

Intro to Celldweller / Discography

Artists you may also like...