If you have a pre-existing design, you can change into a Creambun. (I'm assuming you designed it!) However, it would be considered a Creambun only, as that would be outside the bounds of the universe/game. You're welcome, of course, to make a similar looking character, though!
We do have gumball ears: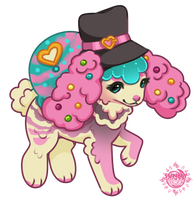 But they must be earned, or purchased with in-game currency.
If you are interested in getting a custom design, I can always make the gumballs part of the ears. (We are not currently open for MYO's.)