It's late, and snow falls gently from above. The battles have all ended, and everyone is directed to meet back at the outdoor stage area in town for the after party. When you arrive you're met with a buffet of food and a huge crowd gathered around a brightly lit stage. Standing up there, beside a covered pedestal, are King and Elsinon. When most of the participants have gathered, King will take the mic first and address everyone.
...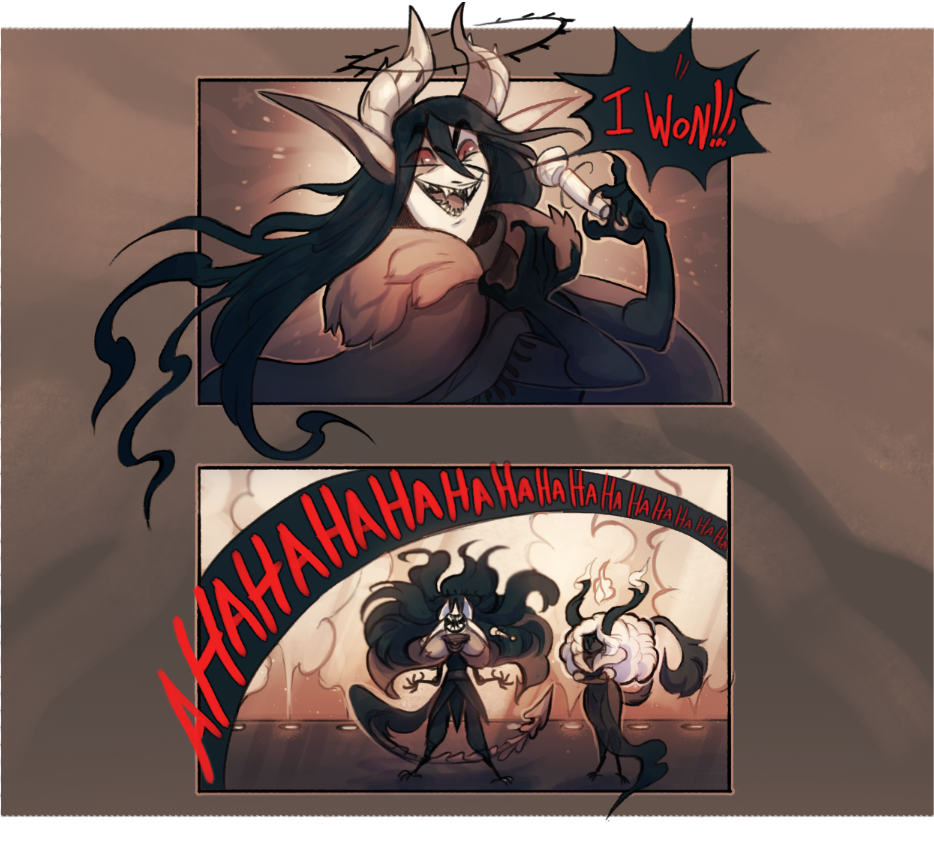 ...
"Hm. A speech. I feel the outcomes of this event should speak volumes already, but I will indulge.




Some of you stepped into this because it was simply a game. A matter of knowledge, of wit, of skill. That's what your oh, so beloved Headmaster intended. It is what Aldebast wishes to foster, is it not?" A pause, and he looks towards Elsinon with a strangely... happy. Sort of smile. If it were not from him, it might be endearing. Might is the key word.





"To push your potential, to which this lovely establishment is brimming with. We all come out of this better versions of ourselves, versions of ourselves that have grown through the friendships made, the... Fun. Had. A joyous time... That is. What I would be expected to say, for a speech such as this. That is what your Headmaster would say, if she had come out victorious. But... oh... She has not." His smile turns more smug. It's clear that he's mocking her to some degree.





"This is where I would be expected to thank you all. Actually, not all of you. Some of you. But instead I take this moment to extend the offer to thank me. For it was I who so generously extended my territory, my resources, my time... Into allowing you a taste of something you could not have received in any of your courses. Something real. Something tangible. It was not simply a game. It was a missive. It was something that required your persistence, your dedication, your perseverance. The world outside this school does not follow rules or regulation. To traverse beyond was to put your very existence at risk... And yet you did that without question... Such loyalty has not gone unnoticed."




Is that a compliment...? You assume it's probably intended as a compliment.




"And it does not stop there. This was simply a beginning. A start to something new, to something greater. To keep said loyalty, and to allow yourself to delve into stronger, more powerful magics than you could have ever imagined. And just how would you do that, you might ask?" He chuckles, looking amused. "You wouldn't. Not without me, of course. I would allow that opportunity, for the same price you have already paid. All this did was prove you made the right decision. And you should continue that decision. With me."

▄▄▄▄▄▄▄▄▄▄▄▄▄▄▄▄▄▄▄▄▄▄▄▄▄▄▄▄▄▄▄▄▄▄▄▄▄▄▄▄▄▄▄▄▄▄▄▄▄▄▄▄▄▄▄▄▄▄▄▄▄▄
...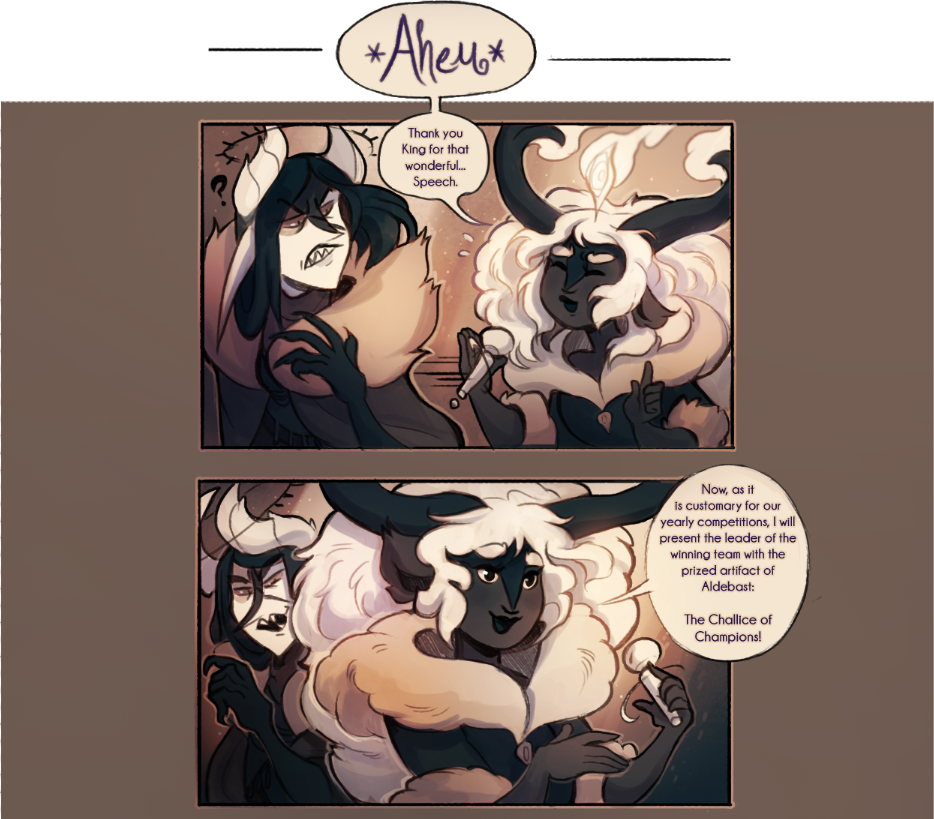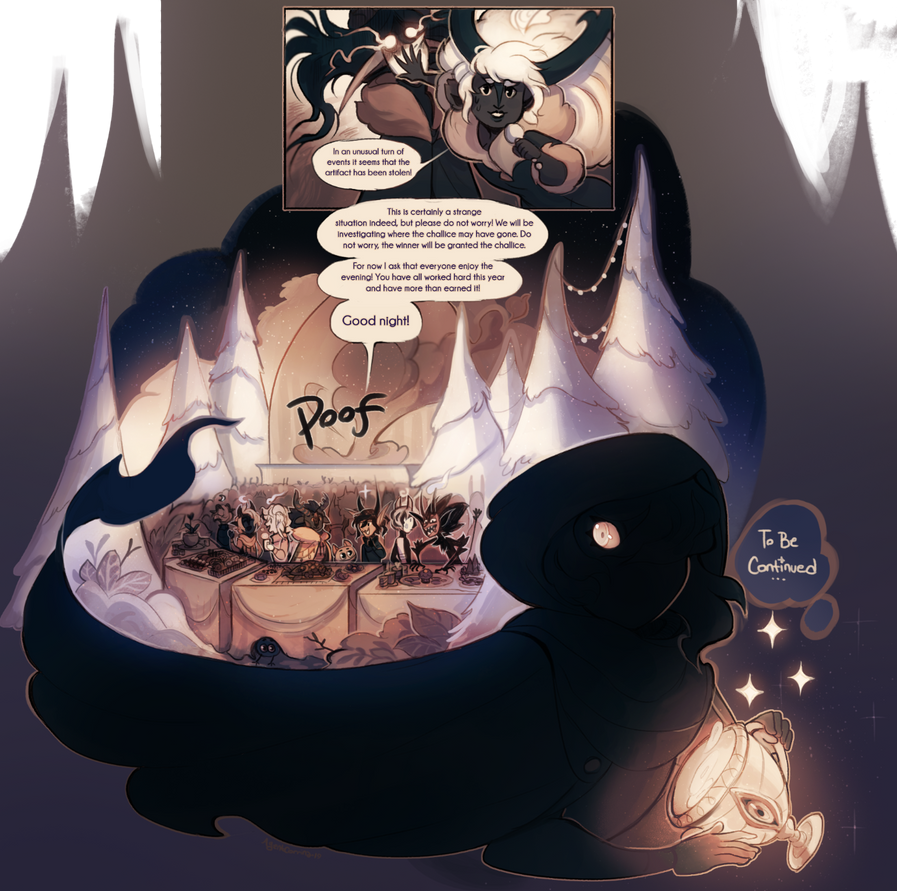 ---
Everyone has the rest of the night to enjoy the food and party! And for those who participated on King's side, be sure to pick up your extra stargold reward. I'm sure he'd still want you to have it, even if he's probably off having a tantrum right now.

Comment here
with a link to all
King entries
you completed during the event and you'll be granted stargold! Once a mod responds to your comment you are free to add it to your character tracker. Remember to link your comment as proof of the earnings as well!
One Entry --> 1 Stargold
Two Entries--> 3 Stargold
Three Entries --> 5 Stargold
Thank you so much to everyone who entered! And thank you to the mods who did so much to run the event as well! I look forward to future events and features that we have planned for the group.
If you like the comic you can check it out in it's original display here as well! Please go there and let me know if you like this sort of thing :~D !!

As a small announcement, there will not be any new large scale events for a little while to give the mods and myself a break. This is to ensure that event and asset quality remains high! In the meantime we'll be slowly working on adding more detail to the weebly, updating older information, prettying up the group, and more in preparation for new planned features. Something notable we would like to add in this year is repeatable prompts and slower paced things so there's going to be a lot to look forward to!