This
message
is addressed to all photomanipulators on DeviantArt.
We, Stock Providers
are fed up with everyone who do not respect our rules.

We are sick and tired of photomanipulators
who do not credit us under their artwork nor notify of our stock use.



When we politely ask you for credit please do not be abusive
- it's immature and unpleasant and after all we ARE entitled to ask.


By DA Rules if we ask for credit in return for free use of our work
(stock photo, texture, png/cutout, premade background etc.)
then you must do it or we are entitled to ask for your art to be taken down.
This also applied to Premiumstock - unless our stock rules state otherwise.

Whenever your artwork included our stockimages is published,
the stock-photographer is entitled to be acknowledged and credited as the author of an image.
This is commonly known as the photocredit and is an important aspect of the personality rights of the photographer.

If you are dealing with images in any way, you should be familiar with copyright.

We are seeing more and more artwork crediting Google (used alongside our stock)
- Google is NOT a stock site
- it is a search engine that displays other peoples work,
you should then ensure that you may use this work in your manipulation
(i.e. is it Creative Commons or Public Domain)
and then credit the item directly with the URL to the source site.
Be aware that many 'Free' stock sites consist of work stolen from Deviant Art.



Google doesn't own the images
and Google is NOT a stock site giving permission for the use of those images.
Using anything from Google is theft.

If you've been using images without approval from the Internet,
know that you are probably violating copyright and could be sued for it.
What is Stock Photography?
"Stock images or other resources are materials created and offered with the express intent



that they be used by other artists in their creations.
Use of these materials are subject to the artist's license,
which may or may not require the payment of fees and which may possess other specific rules or restrictions.
All creative works submitted to deviantART which uses third party resources

must follow the license set by the provider

so check to ensure that you are following all of the terms of use associated with the resources used."

Providing credit and notifying stock artists is a great way to thank them
and a good way for you to publicise your work
as we do regular Journal Features of Art Created with some of our stock.
So if you use 5 pieces of stock for example
you may get 5 features broadcast to a lot of watchers.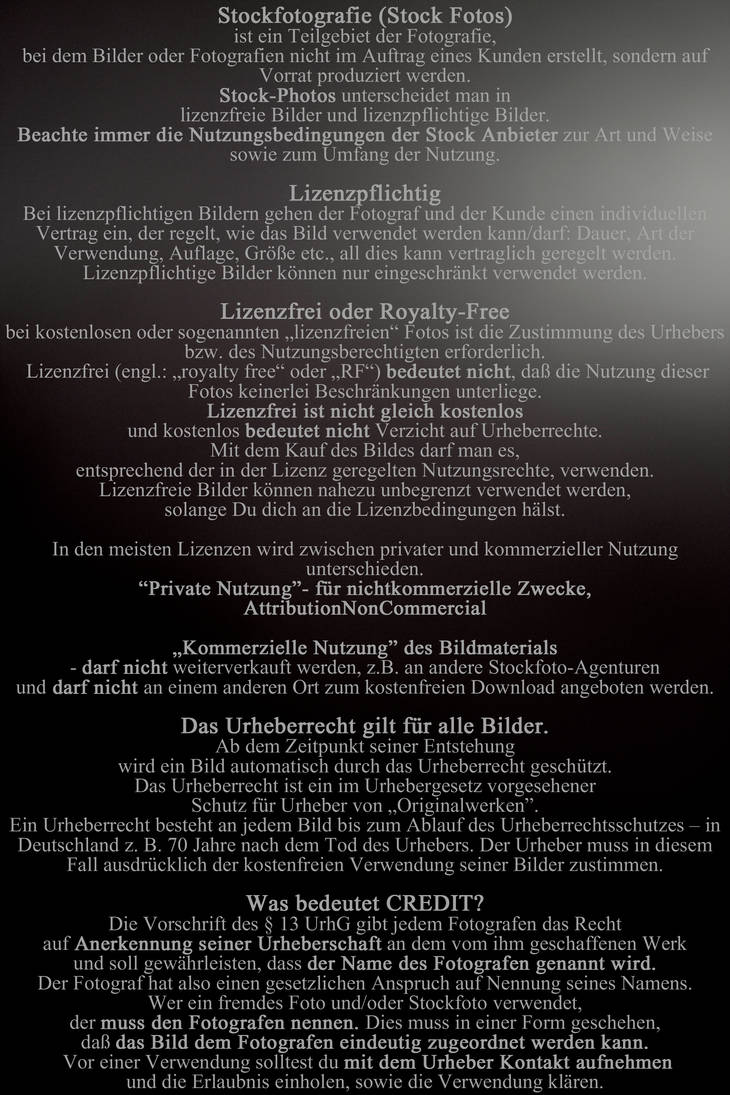 ___________________________________________________________
UPDATE:
This makes me happy and proves that this journal is a success and was well worth.
Here is a note I received yesterday from someone:
"...As a person who does give credit for the artists I use,
I wanted to say thank you for this journal as I have been a person who finds some images off google.
If it hadn't been for you saying about google, I honestly never would have thought about it like that.
Wanted to say thank you though as it has certainly opened my eyes to the fact
that I may have been committing copyright theft without even realising it."


-Thanks for sharing your thoughts with me!-