May Prompt
(This prompt runs from 5/5/2020 - 5/31/2020)
As a small note we are testing different ideas for how we want to host prompts! Each prompt may be vastly different in requirements and prizes from month to month. Thank you in advanced for your participation in our prompts through this testing period!
Ruins and Riddles
Many have traveled to watch the Sammies and Tillers in the valley as the migration takes place and in the midst of all the excitement a wonderful discovery has been made. A local archeologist named Futo was informed that a migration observer stumbled upon a set of ruins!
Futo is a small but brave individual and they are looking for your help finding a special artifact that is nestled somewhere in the ruins depths.
Legend has it that this artifact holds a hidden power that only works in a specific place in Skire.
Futo has an idea of where this is and is itching to test out his theory.
What deep mysteries await the brave adventurers that dare to enter into these ancient mazes and dwellings.
Draw/write your Skire Character exploring the ruins or helping Futo find the artifact.
Here are some ideas for what to draw/write!
-Does your character find hidden pathways?
-Perhaps your character figures out a trap puzzle to find an artifact.
-Futo is small and often needs help, perhaps your character helps them out of a sticky situation.
-What does your character find inside the ruins? Is it an underground city, a lush cave filled with glowing mosses and old wall carvings?
-Has your character found the artifact? If so what does it look like?
-Is there anything left over from the past inhabitants of the ruins? Old pots, tapestries, weapons?
-Perhaps your character spends some time with Futo learning what different carvings and symbols mean?
(Do not feel limited by these!)
-------------------------------------------------
Rules and Requirements
-Your art or writing must be related to the theme of the prompt.
-No X rated or sexual material. Gore is allowed, but needs to follow dA guidelines, have a gore warning in the title, and have a Mature Rating tag.
-You may only make one entry that can be entered into the raffle for the prize at the end of the prompt. You may make as much art as you like but only one piece may count for a entry.
-If you are drawing someone else's character please make sure you have their permission to do so.
-Prizes from this event are subject to normal CCCat/Crook/group rules.
- Do not guilt trip or harass members for entering or winning a prize. Doing so will ban you from entering future events.
- Do not enter the event if you are blacklisted or greylisted. (We have informed you if you are.)
- Your entry must be submitted to the correct event folder in the group. If you do not your entry may be missed and not counted for the event.
SUBMIT HERE –
www.deviantart.com/cccats/gall…
-----------------------------------------
~ART REQUIREMENTS~
(Should you choose to do an art entry)
- Image including your Skire character, an NPC, or other Skire character that you have permission to use for your 'focus character.
- ¾ body showing of the primary character.
- Fully colored. (Shading not required but can be added.)
- Background required. (Can be slightly simplified, but needs to be detailed enough to be clearly visible.)
- Art must be done by you. You may not commission others to make your entry for you, nor can you use bases or artwork done by others to create your entry. Collaboration pieces will not earn either person an entry but can still be done for fun. (Please state if you are doing a collab piece)
- Photography used as backgrounds will not be allowed for this event, even if it is your photo.
- Photography is allowed if you are submitting a craft entry, such as sculpted or paper CCCats interacting with the world around them.
- Entries can be digital or traditional!
______________________________________________________________________________
~WRITTEN REQUIREMENTS~
(Should you choose to do a literary entry)
- Written media including your Skire character, an NPC, or other Skire character that you have permission to use for your 'focus character.'
- Minimum of 800-1000 words per entry.
- You must create the story/literature yourself. You may not commission someone else to write it for you. Plagiarism will be checked.
------------------------------
Prizes
- 4 MYO slots will be raffled off to different participants.
The winners will be determined by RNG!
-These slots will have 1 Rare and 3 uncommon traits for the winner to work with. They can be redeemed for a CCCat or a Crook!
-If we get 30 entries we will increase the prize to 5 MYOs, and 1 new MYO every 10 entries received for this event after.
-----------------------------
NPC's and volunteers.
If you don't own a Skire character feel free to use any of these NPC characters in your entry for this prompt.
(Futo)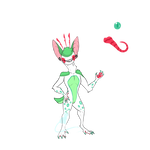 (Drent)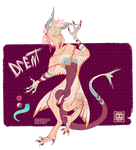 (Fin)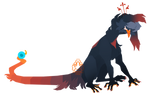 (DJ Killter)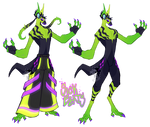 (Skipper)
sta.sh/024o5gkvl42x
If you want to use someone else's Skire character for this prompt here is a comment where owners are giving consent for their characters to be used for this prompt.
www.deviantart.com/comments/1/…
-----------------------------------
FAQ Section??
Q: Can we ask for an extension on the prompt?
A: No, it is a month long and extending it would delay other prompts.
Q: If I win can I give my prize away?
A: For the purpose of this event and limiting entries, if you win the prize will only be able to be given to the winner and not gifted to someone else, sorry!
Q: Can I enter to try and help someone else win?
A: No, it is not fair for multiple people to enter on behalf of one person.
Q: When will the event end specifically?
A: This prompt will end the 5/31/2020 at Midnight EST.
Q:When will prizes be raffled off?
A: Likely a few days after the event ends. Please give us time to make sure we have everything for the raffle. We would hate to rush and miss someone's entry.
Q:My entry was denied because it didn't meet the requirements. Can I fix it and resubmit to try and enter?
A: Yes as long as this is done so before the event ends. We will not count anything submitted after the event has ended.