43 Favourites
13 Comments
367 Views
This was a commission, not my art! Links to artist's social media below!
I arrive bearing gifts, namely, these two idiots. A complete accident.
We blame Vito in this household
. Insert Vito's "glow up" joke.
THIS WAS A JOKE BUT THEN. But then we realized these two complemented each other well, and Kichi's laid-back nature would relax Jian's constantly firing nerves. I guess Jian's..........
in luck

ANY WAY. i love them bois i hope y'all love em too.
Kichirou Fukui belongs to
uunearthly
Jianhong Yang belongs to
causticsugar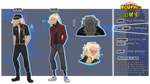 The artist, Angelica, can be found at the following:
-
zombiebasss on twitter
-
bombiezass on tumblr
BNHA belongs to Kouhei Horikoshi
IMAGE DETAILS
Image size
4200x3000px 4.71 MB
I LOVE THEM SO, SO VERY MUCH

Jian really is out here seeing Kichirou through his dumb bitch disease 😔 what a good boy... that stupid little twink WILL tame Jian with his Unconditional Love, he would full heartedly say that Jian is the best part of his life and would give anything to see him happy! Jian looks so....... strong next to Kichi, Strong Boy next to Kichirou's 22 inch waist is giving me a case of the vapors I'm Dying

So anyways, I'm ready to drop 20 bucks on their mumble rapping mix tape

oh NO, not his UNCONDITIONAL LOVE O.o jkgdfghdfg honestly it's the only way to get through to that asshole. i believe in you kichi...
i can't believe jian is dating kichi so he can look stronger next to someone. his waist size... i'm dying jian is dabbing at his own sweat right now.
i'm so glad there's a Single (1, one) person on the planet who can tame this loser. twink power. god jian loves him so much... he'd kill for kichi.
...
(:<

THEIR MUMBLE RAP MIXTAPE I'M SCREAMING BYE. THEY REALLY DO LOOK IT HUH. i, a fan of mumble rap,

oh shit, waddup!!!! i can't believe jian's into losers!! where's your houtan cool boy pride, huh

you can't make fun of jian when noru is into masato so sit back down!!!!
houtan is full of idiot morosexuals change my mind 😤

the japanese government didn't put all these kids in this school because of their crazy superpowered quirks and troubled pasts, they put them there because they didn't want these idiot morosexuals to infect the rest of the population with their idiocy and morosexuality

shhhh that's top secret information you're leaking right now LOL
god i'm so close to finishing jian's backstory i just need one more extra push and it'll be done QvQ

now we just need a bunch of these delinquent assholes sitting in a circle looking suspicious