54 Favourites
11 Comments
274 Views
This was a commission, not my art! Links to artist's social media below!
I really adore the old school retro arcade look... A cute little date with these silly boys. Jian is a master at the art of UFO catchers but who knows if Kichi is using his quirk or not as an assist LOL. Either way, Jian doesn't like keeping the various plushies he wins so I'd imagine Kichi just has. A million of them now in his room. It be like that.
Kichi: Flashes Jian with a smile.
Jian: Unable to function.
Kichirou Fukui belongs to
uunearthly
Jianhong Yang belongs to
causticsugar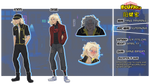 The artist can be found at the following:
-
catbishonen on deviantART
-
catbishonen on tumblr
BNHA belongs to Kouhei Horikoshi
IMAGE DETAILS
Image size
2600x2000px 1.95 MB