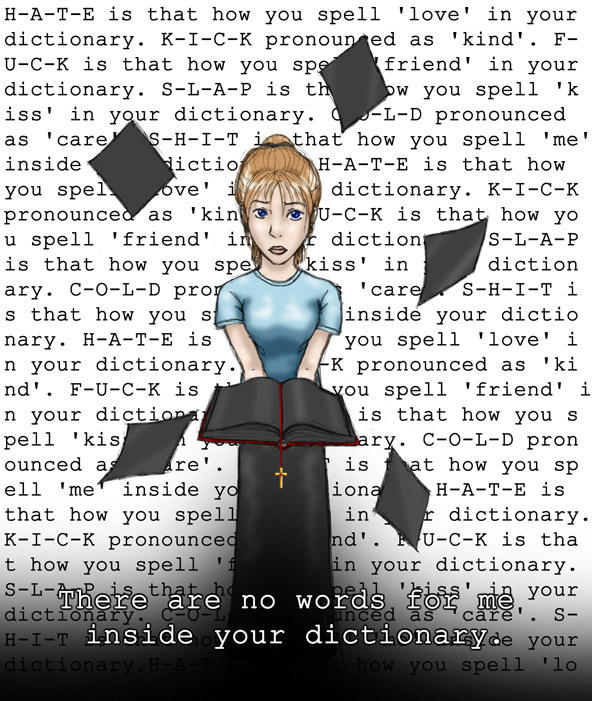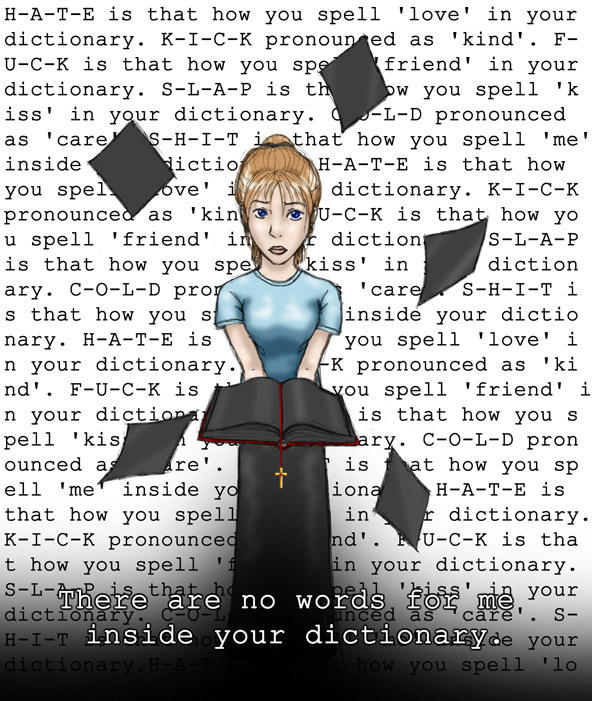 Watch
I'm going to get flames for this, I just know it. *sigh* I tried to leave the cross out, really. I resisted the urge to put a pink triangle on Grace's shirt, that has to count for something. Right?

This pic is not meant as an attack on any religion, it is an example of feelings of those who get trampled/overlooked/limmited[and a few less nice things] by people who think that only their morals are correct and force everyone else to try and live by them.

*START MINI-RANT*
Love is love. It's too rare and precious a thing to try and limit and confine with laws.
A law prohibiting a group of people from doing something that people outside that group can do is discrimination.
*END MINI-RANT*

The lyrics are from the song 'Your Dictionary' by XTC which inspired the pic. Here's the full version:

H-a-t-e
Is that how you spell love in your dictionary
K-i-c-k
Pronounced as kind
F-u-c-k
Is that how you spell friend in your dictionary
Black on black
A guidebook for the blind

Well now that I can see my eyes wonít weep
Now that I can hear your song sounds cheap
Now that I can talk all your corn Iíll reap
Iím not so sure that joey wed a virgin mary
There are no words for me inside your dictionary

S-l-a-p
Is that how you spell kiss in your dictionary
C-o-l-d
Pronounced as care
S-h-i-t
Is that how you spelt me in your dictionary
Four-eyed fool
You led íround everywhere

Now that I can see itís the queens new clothes
Now that I can hear all your poison prose
Now that I can talk with my tongue unfroze
Iím not so sure of santa or the buck-tooth fairy
There are no words for me inside your dictionary

Now your laughter has a hollow ring
But the hollow ring has no finger in
So letís close the book and let the day begin
And our marriage be undone


If GW manages to get that f*$@ed up amendment into the Constitution, I'm seriously considering immigrating to England or Canada.