Hello all, and welcome to the first article in the series Wall to Wall Art! This article series will try to bring you some wallpapers that you might not have seen before, and I'll try to feature some wallpaper packs of various sizes, as well. I have decided on abstract wallpapers to be the first theme. Enjoy, and keep your walls looking great!
:thumb113269976: :thumb113155345:
:thumb113169340: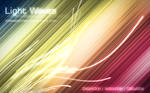 In the future, I will take suggestions for themes, and once I post the theme, I may take suggestions to feature. I will also take questions about wallpaper, and I will answer them to the best of my knowledge.
:faq813: