Welcome to another installment of Emotional Emoticons! It's really warm outside where I am, and I'd like nothing more than to dip in a pool and have some iced tea. But first, I'll show you the features for this week's issue, which were all found with the search terms of Summer and Hot.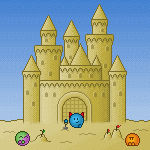 Sand castle building by
Synfull
just wows me with the amount of time put into making the sand castle, and

doesn't look to pleased, but does he ever?


Pool Party Collab by
BlissfullySarcastic
and
Synfull
makes me want to jump in the pool and cool off. CANNONBAAAAAAAAAAAAAAAALLLLLLLLLLLLLLLLLLLLL! Check out
Synfull
's version
here
.

Summer Ice tards by
Droneguard
Don't they look yummy?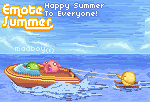 Water Ski by
madb0y
Although I've never learned to water ski, this emoticon makes me want to go out and learn! Bonus points for it being made in GIMP!


:poolparty: by
stuck-in-suburbia
makes me want to get out my swimming trunks and go for a nice refreshing swim. *does the backstroke*
Icemote by
Droneguard
makes me want to go down to the local ice cream store and ask for a cone with emoticons on it!


:atthebeach: by
stuck-in-suburbia
makes me want to hop in the car and get myself down to the nearest beach!

Ice cream unicorn by
CookiemagiK
Sure, it's messy, but fun should be a little messy!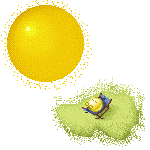 Holidays 1: Under the sun by
Pixelisto
makes me want to go hang up a hammock and just swing in it. Ah, lazy summer days...

:hot: by
The-Definition
Boy, who hasn't felt like this?
---
Emoticon News
Synfull
has released another "So i herd u liek Emotes?" It can be found at

So i herd u liek emotes?? - Volume 122Welcome to the latest volume of so i herd u liek emotes??. This is the 122nd volume in a fortnightly series aimed towards promoting emote and emoticonists from the dA community. It features emotes posted within the past few weeks from both well known and new emoticonists, as well as featuring emote projects, contests and news.


Featured Emoticons


1.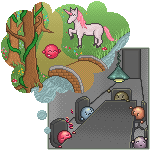 I found

litecrush

and

Indae

's entry to the 'Opposites' themed collab event a really interesting twist on the theme. Both sides have been nicely pixelled with a clever link between them to make a single great piece of work.
2.


I just love how

ROBlNHOOD

has managed to animate a range of different water themed items into H2O in one fluent emoticon. Each has a great feel to it and some of the special effects really shine through
3.


Character emotes aren't always easy to master, but :devsparklyde
CodePLZ? What the heck is that?

CodePLZ - What is the plan?

The plan, in part, is to have a discussion.
As we began to examine the Emoticons category we quickly learned that we had a bit of a mess to clean up, but fortunately it's a very cute mess and very fun to think about.


As a category, Chat Friendly Emotes isn't going to cut it anymore. There are Emotes in it that come from various inspirations, meanwhile, a very clear culture that has formed around Emotes that deviantART specifically has always supported. The ones that are 15 x 15 pixels in size doing all wonders of things. Providing a category for this specific, and very popular style is a must and this would split those Emotes from intermingling with other sized, shaped and styled Emotes.
The thought was to make this style reside within the new category, "Chat Friendly PLZ" but let's discuss that! Changing a category name takes us a matter of seconds to do, so we would love your input on the final name for the category - home to the adorable
For a more user-friendly guide, see

CodePLZ - the emoticonist version

hq

has just announced some more information on the whole 'codePLZ' concept and tbh, i had to read through the journal about 3 times to understand the termonology used. Therefore i decided to write up an 'emoticonists' version. This is my interpretation of what has been written. Let me know if any of the details are wrong.
What is codePLZ?
CodePLZ is a new feature that is currently in production to replace the current Emoticon Legend to allow more emotes to be used anywhere around the site. This means we wont be confined to only emotes on the 'official list' but allowed to pick and choose any 'chat friendly' emoticon available.
This feature would be implemented in the place of the long awaited 'emote dictionary' you may have heard about.
How will it work?
When you submit a chat friendly emote to your gallery, it will be given a unique code (similar to a thumbcode - possibly :emote2523422: ) which could be used in areas of the site where thumbcodes are not normally allowed (ie regul
---
Previous Editions
---
---