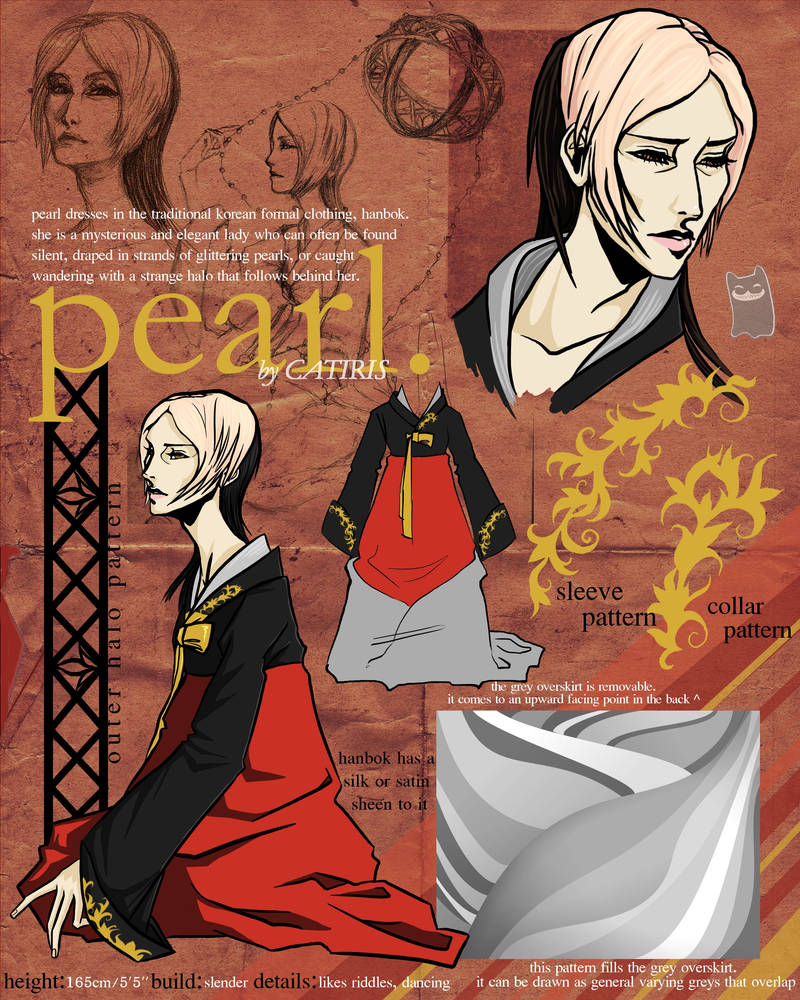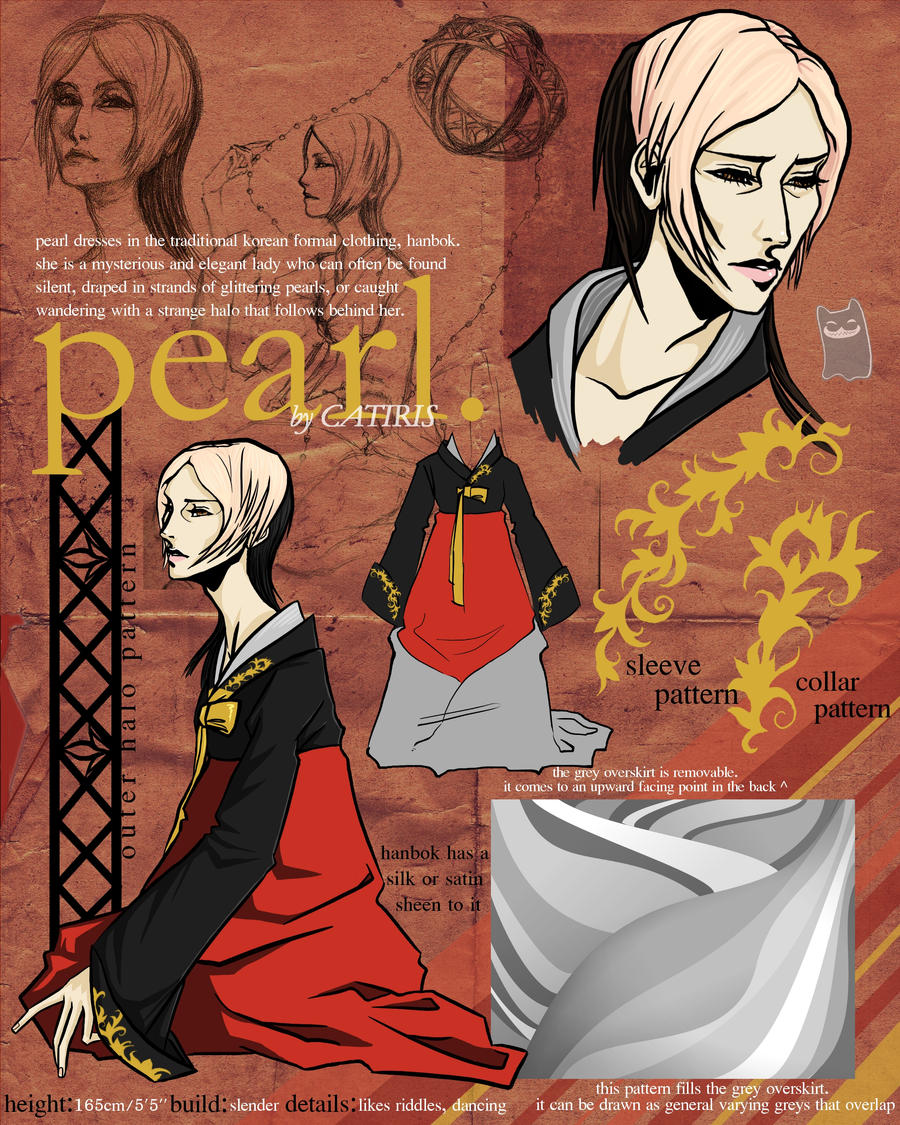 Watch

~
YeunJu

Inspired by the beautiful & unique Korean culutre & their traditional clothing, hanbok, I created Pearl. I researched to make sure that the little details were correct, but I did put my own twist to it~
Hopefully you can read all the text. It has information about her personality & how to render the clothing.
Please do not draw my characters unless you have my permission, or are creating loving giftart x)
Always credit me on the piece if you draw my characters.
Pearl will probably be developed more in the future.
Meanwhile, I am happy to be almost healthy again, and really want to create some more art.
oh, this piece is created with OC 1.1 (for character drawings) & the GIMP (textures/details/text)
Original Character Pearl (c) =Catiris

xD never mind you have pearl up!!
Yeay~ now i can do my part *u* Sorry i'm never on DA as much D:

uwahh~ you made her hanbok so pretty Cx

Definitely on my priority list ;D I noticed that I never subscribe to peoples journals..and then i saw yours all fancy and pretty *u* and then i missed out on congratulating you on your birthday ;A;
I'm so not in sync with DA >,<
Happy be-lated birthday! >3 and i'm glad you put me on your friends section *u* makes me feel happy haah~
Reply

haha, it's okay~

Glad you like it



Really?? I guess I always check journals because that is where people post the reasons they have not been online, or excuses for being late x) or contests, oo~

Thank you for the birthday wish!!

Of course, because you are my friend *3*
Reply

I love the sleeves *u* oh, question, so the dress is completely red from waist down?..and the other one has a grey over skirt..is the over skirt attatched or just falling loosely in the picture above.
Reply

Yes, the regular dress is red from the waist down, but it has a silky sort of iridescent sheen, and it could have a soft pattern if you like. Creative license x)

Also, the grey overskirt seems to magically stay up... (sits at about the knees) but I imagine she is draped in strands of pearls a lot, so if you feel the need to obey the law of physics with you art (xD) then you can use strands of pearls to attach on its sides and drape over her shoulders, sort of like overalls P:
Reply

I likez. 8D Is she a friend of Mouse?
Reply

I don't think so... I suppose they could travel between Korea & Japan to meet each other (tentatively they live in the same place as their traditional clothes dictate), but Mouse is pretty much scared of all of womankind, so I don't know if that would go over well.
Reply

Aww. XD Now I wants to hug him and give him marshmellow hell.

I thought these original characters were from a story you were doing. They should be. I demand it. Nao. XD

Reply

:< aww, you are so mean!
He would DIE.
But really... It's probably one of the more awkward ways to get him to have a fit. He is sooo timid he just freezes up.
cardiac arrest, hahaha
There will probably be at least one such similar situation told in his tale.

Technically Mouse has a full background story, but all the scenery & characters are "control" variables... basically his story could develop with only a few necessary characters, and the rest could be whoever I wanted them to. It would be ideal for an OC tournament, but I don't have the time ;__; (meanwhile, his character sheet tells a bit about the basic plot)

And Pearl actually has a leeeetle background, but I hate to divulge... it seems pretty secretive & bizarre currently. It involves a dual dimensional hospital and ailing characters who find a way to express themselves by living a second life...... possibly. I don't know if I will actually put that into motion; I might just steal the idea and tuck it away for future use.

See, I have just as many stories as you! :D
Reply

YAY! Storietiemz! Sounds good. I still say they should mesh together because it would make me happy. 8D Btw, I'm working on an OC meme andI'm tagging you when I'm done. XD Gather 10 of your OCs and be ready!
Reply

Haha, I dunno...
Aw goodness, nuuu D: I probably won't finish it until... the sun has exploded. That busy.
I once started one, though. But I realized I fail at drawing decent sketches & quick compositions. I like to take way more time than should be necessary to fill out a character meme.
But I do love to give my babies some attention~ x)
Reply

This looks really nice o3o I like her hair style and how you put your own twist on the traditional dress <3 very nice
Reply