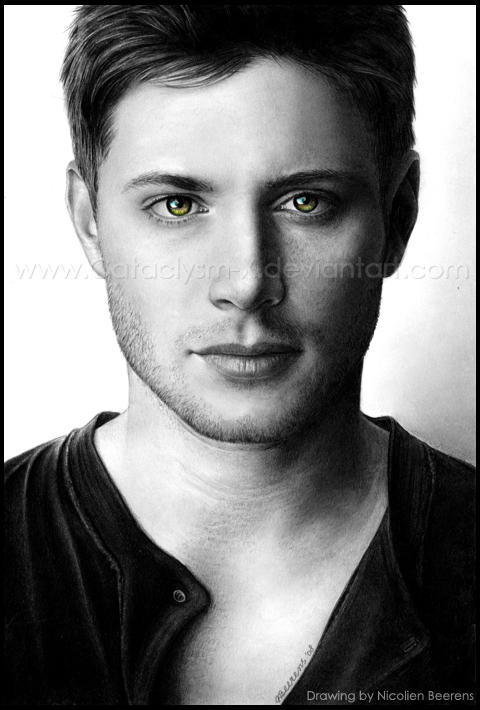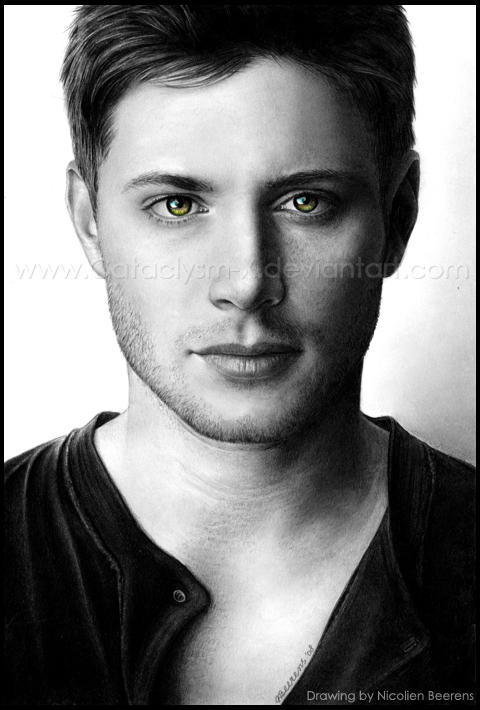 ...EDIT...
This drawing got signed on March 29th, 2009!!! Hope to get a good scan of it soon.

...So after the drawing of Jared Padalecki was done, and many people were looking forward to a portrait of Jensen Ackles as well, I decided to take a 3-day break from studies and start a new drawing.
I said to myself:
'I want to make the best thing I've ever made.'
And honestly... I have never been so proud of a drawing before as this one. In 3 days, more than 12 hours a day, I worked on this drawing until I got headaches.

As finishing touch I added my signature and proudly looked at my drawing.
I challenged myself by using coloured pencils too.

I was scared at first, but it's good to push my boundries this way. So what I did was using 7 different colours for drawing the eyes.
Jensen Ackles reminds me of Jeff Buckley who happens to be my favourite musician

hence the title 'Dream Brother' which also connects to his role in Supernatural where he appears as Dean Winchester, the brother of Sam Winchester played by Jared Padalecki.
Stuff I used
4H mech pencil for background
2H, H, HB, H mech pencils for the skin & facial features
2B, 3B mech pencil + 7B regular pencil for dark parts
reference image
Italian coloured pencils
tissues for blending large areas
tortillions for blending small areas
Hahnemühle Nostalgie sketchbook paper A4 size
Time spent
: approx 35 to 40 hours
Very special thanks to =
DavidDeb
and *
EatToast
for encouraging me to use coloured pencils.

The technical aspect of this piece is very near flawless. This probably is one of your best renderings to date. Though it is not without imperfections. Certain areas where the image goes into shadow seem to get a little too rough. For instance, the darkest parts of the neck appear as if they were rushed a little bit and they don't have that same flowing quality that we see in the rest of neck and face. Also, his shirt doesn't look as if it was given the same care and precision as his facial features. The values were rendered well, but the details seem rather sloppy compared to the rest of the image and from what we've seen from you in the past. But overall, the skin is textured beautifully, and the layers of hair read very well, making this one of the high points of your technical skill.

Now, the composition of the piece more than makes up for the couple little flaws in technique. Because the face is center-aligned, the focal point of the image immediately becomes the eyes, and your venture into colored pencils was actually the brilliance stroke of the drawing. With the rest of the image rendered in grayscale, adding color to the center of the drawing enhances that focal point and draws the viewer into Jensen's eyes. It reinforces the notion of the title of Dream Brother with the viewer being pulled into his eyes as sort of a way of venturing into his soul and getting lost in a trance-like state. But they are subtly rendered, which allows the viewer to drift away from the dream in order to observe the rest of the piece. They are drawn with just enough brightness and color to draw one in, but not too much to distract from the rest of the image. One never would have guessed this was one of your first serious attempts at colored pencils. The luminous colors of yellow, green, and blue are such smoothly executed to create a wonderful contrast with the rough, rugged quality of his skin and facial hair. It provides great balance to the piece.

The lighting is rendered well and it aides in the same theme mentioned before. The single hard light coming from his right creates an added affect of him sort of emerging from the darkness of a void and into the vastness of an infinite light; both extremes symbolizing the limitlessness of space and dreams. It also mirrors the idea of contrast between the eyes and skin, establishing a subtle metaphor between dream and reality.

I too was reminded of Jeff Buckley when seeing this image. So that plus the reasons both you and I have said, "Dream Brother" really is a perfect title for such an image. Well done, and definitely one of your best works.
The Artist thought this was FAIR
508 out of 528 deviants thought this was fair.