Greetings Castle Folk...
Yes, I'm in a SP (Steampunk) mood again.
And thanks to the new series on Showtime,
"Penny Dreadful,
" my mood is more on the dark side as well. So, with that
in mind this challenge will be to create a Tarot card that
includes both SP elements AND the vibe of a
"Penny Dreadful" 'zine from the Victorian era.
A "Penny Dreadful" as defined by dictionary.com is:
an inexpensive novel of violent adventure or crime
that was especially popular in mid-to-late Victorian England.
Penny dreadfuls were often issued in eight-page installments.
The appellation, like dime novel and shilling shocker,
usually connotes rather careless and second-rate writing
as well as gory themes. Consider Mary Shelley's
"Frankenstein's Monster" and Oscar Wilde's
"The Picture of Dorian Gray" as well as others
for inspiration on this theme.  
I know that this could be a REAL challenge for
many here in the Castle but I'd love to see y'all
tackle it. (In fact, I just might come knocking
on your cyber door to pester you individually to do so.

)
I look forward to seeing the creativity I've seen
displayed in EACH of you folks' galleries, put to task here.

Here are the details:

For this challenge ANY card from the Tarot is allowed.
So, if you are drawn to one of the Minors-you are free to choose it.

there MUST be elements or background imagery that are Steampunk.

The "vibe" of your card needs to come across as "story"
that might have been usable in a Victorian era "penny dreadful."
Think dark, gothic, eery, unnatural or supernatural here.

you must include the card's numerical numbering or word description.

Any media accepted

size requirement is 5x7 (portrait view)

frame or border is suggested but not required

Due date is July 20th
I'll be adding examples of artwork that captures the
concepts that I'm looking for, as I find them.
Check back here for that.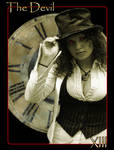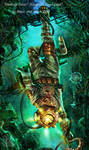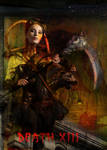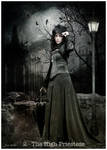 There WILL be prizes! Either points, artwork or exclusive stock.
OK, I think this covers it all. If we have a healthy
participation number, I'll organize similar challenges
for other cards-so tell your friends and groups
you have influence in about our game.

General instructions for submission
castle-of-cards.deviantart.com…</div>